I was feeling too full, thus too uncomfortable, after gorging myself on mom's turkey dinner to write last night. Now that I feel human again, rather than like a partially deflated Goodyear blimp, here's my thoughts regarding the Thanksgiving Day massacre at Ford Field. Here's the linkage to my bitter holiday screams of Lions pain...

BRETT FAVRE'S TOUCH CAN CURE CANCER: 1st quarter Lions - Packers thoughts

FAVRE IS A GOD AMONGST MEN: 2nd quarter Lions - Packers thoughts

YOU CAN BE CERTAIN OF 3 THINGS IN LIFE : DEATH, TAXES, AND THE MSM LOVE FOR BRETT FAVRE - 3rd quarter Lions - Packers thoughts

FAVREFAVREFAVREFAVRE - 4th quarter Lions - Packers thoughts

1. Thanks to the Lions raising expectations after their fast start, the 2007 season is now on the verge of becoming an EPIC FAIL.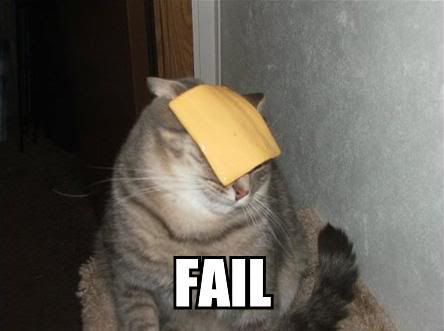 I went against by better judgment, putting aside the years upon years of being bitterly disappointed by the Lions, and gave them the benefit of the doubt during their 6-2 start. The past 3 Lions losses, all awful in one way or another, shows what I get for going against my gut.

My gut told me that despite the 6-2 record, the Lions would find some way to piss it away. But I really wanted to believe, and to be honest, a 6-2 record at the halfway point, in a not good NFC, should have a team sitting pretty, that the playoffs were a near sure thing.

I'd forgotten that you should never think anything involving the Lions is a sure thing.

The way the Lions are currently playing, it's a stretch to think they'll even finish .500. It's entirely possible they could finish with just those 6 wins. But don't give me the "If I told you the Lions would win 7 games before the season started, you'd have been happy" argument. The 6-2 start changed EVERYTHING, including expectations.

The last few weeks couldn't have gone ANY worse for the Lions,. as 4 of their 5 losses were against teams that they were fighting with for a playoff berth. Now the Packers have all but locked up the NFC north, so a division championship is out of the question. Even worse, the Cardinals, Redskins, and Giants all hold the wild card tie-breaker advantage over the Lions. The playoffs are damn near out of reach, barring a miracle. I hope Jon Kitna's God is in the mood to perform one...

I've accepted the fact that the playoffs aren't going to happen.

2. I was warming up to Jon Kitna as the Lions QB over the season's first half. The team obviously responded his leadership (The Vikings win was mostly in thanks to Kitna), and he was keeping his biggest issue, committing turnovers, to a bare minimum. The good feelings have done a complete 180 over the past several games. Kitna been exposed for what he is, an average QB who would be a great backup, a mentor for a good young QB, but won't take a team anywhere other than a mediocre season as their starter.

Kitna was not good against the Packers. Yes, he was under constant pressure from the Packers pass rush. But he didn't handle it well, continually holding the ball too long while the pocket collapsed around him. He's been inaccurate, immobile, and turnover prone.

The Lions will go as far as Kitna will take them. But that's only to an 8-8 record, at best.

3. The Lions locker room and behind the scene issues are beginning to rear their ugly head.

FOX's sideline reporter, Pam Oliver, reported during the broadcast that the Lions were arguing amongst themselves, with lots of yelling and helmet throwing on the bench. Roy Williams is reportedly unhappy with his non-use in yesterday's game. The "Worst columnist in America" claims his inside contacts on the Lions said that William Clay Ford told his coaching staff to play Calvin Johnson. The 2 players that the Lions received in return for Dre' Bly, Tatum Bell and George Foster, were placed on the inactive list against the Packers. Kitna, when asked what he's thankful for, replied "That I don't have to go to Hell."

Sounds more like a team in turmoil, than in Rod Marinelli inspired harmony. How long before we see a Bobby Ross-like meltdown from Marinelli?

4. How is it possible to root for a team, yet also despise them with a burning passion? I desperately want the Lions to win, yet they piss me off beyond belief nearly every week. Then I come back the next Sunday, hoping for the best, just to be heaped with more abuse. During Lions games, I'm bipolar, going from one mood swing to another, literally a Dr. Jeckyl/Mr.Hyde.

Talk about an abusive love/hate relationship. I think I need counseling...

5. I found this posted on the Motownsports.com Lions message board. I thought it was quite fitting.