Live blog links are below the low flying Shaun Rogers...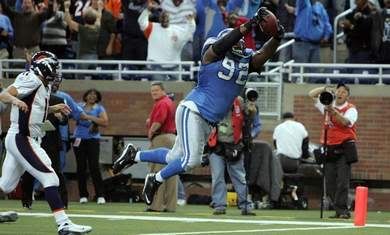 Dre' Bly is in the house: 1st quarter Lions - Broncos thoughts

Lions defense rules: 2nd quarter Lions - Broncos thoughts

It's officially a blowout: 3rd quarter Lions - Broncos thoughts

This game is long over: 4th quarter Lions - Broncos thoughts

1. At 6-2, I think it's safe to say that the Detroit Lions are legitimate playoff contenders. I found an enlightening stat in the AP game recap...


In the Super Bowl era, 76 percent of the 146 teams that started 6-2 made the playoffs.
If that doesn't fully show what shockingly heady territory the Lions find themselves in, nothing will. Here's a few other nuggets to chew on. Jon Kitna, a turnover machine, hasn't had a giveaway in 3 games. The Lions haven't had a 3 game winning streak since 2000. It's their best start since 1999. The Lions are undefeated at home. (For a quick does of reality, neither of those teams made the postseason) A .500 record in the second half of the season will give Detroit 10 wins. They are 6 and God damn 2 after 8 games, for chrissakes!
Vikings
Adrian Petersons, and two games against the
Brett Favres. But to miss the playoffs now would be a crushing blow to a franchise and fanbase that has suffered more than their fair share of body shots...

2. I'm sure that the Lions' offense of the past few weeks is not quite how we envisioned it before the season, but it sure is effective. It's not a full throttle all the time, throw40+ passes a game free for all, but a well balanced machine with quick strike capabilities. We saw a little of each against the Broncos.

In the first half, the Lions had 4, grind it out, run lots of clock, drives, taking over 18 minutes in total. In the 2nd half, the Lion had a 2 play, 95 yard drive, if you can call 2 plays a drive. It wasn't thanks to the Lions' big guns, but featured 2 of the more unsung Lions, TE Sean McHugh, and WR Shawn McDonald, who was also the Lions leading receiver.

As I said last Monday's "Burning questions," it's no coincidence that the Lions found their running game, and became a more balanced team, once Kevin Jones was deemed healthy. He wasn't spectacular today, but put together a nice 17 carry, 71 yard game. He was most effective in the 1st half, when the Lions were grinding out those 4 scoring drives.

It's become obvious. As Kevin Jones goes, so goes the Lions' offense.


3. Dre' Bly's stat line: 3 tackles, 2 solo, 1 assist, then nothing but goose eggs.

Roy Williams was correct in calling out Bly as a "No hitter." (Even though Bly did take down Williams for a loss on an end around) As bad as I thought the Lions defensive backfield would be, especially without a certain former pro bowl corner, they have more than held their own as the season has progressed. With many thanks going to the Lions' dominant defensive line pressuring quarterbacks, taking some strain off of the D-backs. And the D-line has been dominant in their wins.

4. For all the much deserved grief the Lions have taken for their awful free agent signings in the past, you have to give them props for striking gold with Dewayne White and Shawn McDonald. White has become a playmaker at defensive end. His stat line wasn't much today, as he is playing hurt, and missed much of the 2nd half. But White still made an impact, with his huge fumble recovery for a TD in the 3rd quarter. So far White has been worth every penny of his big contract.

McDonald proves the theory that if you know Mike Martz's offense well enough, you

will

get open. Today, he was
Kitna's safety valve option, always
found open in space, and turning short passes into big gains. There's hasn't been a bigger bang for the buck off season pickup in the NFL. And to think that Kevin Curtis, who the Lions wanted instead of McDonald, got millions more than McDonald.

5. If there is one indicator that the Lions have fully bought into the Rod Marinelli way, it's the performance of Shaun Rogers this season. Big Baby was a force today, as he has been all season. seeing Rogers play with passion is a sight for Lions fan's eyes. In 2006, Rogers had the monster opening game against the Seahawks, then disappeared for the rest of the season. In 2007, you have Rogers dominating the interior line, getting 2.5 sacks, and a pick he turned into a highlight reel return TD...In game 8.

One play that stood out for me, other than his Barry Sanders-esque straight arm on his TD return, was on a 1st half sack. Rogers was on top of Jay Cutler with the snap of the ball, while the center, unable to block Big Baby, just held on for dear life, and was drug along for the ride. Cutler was done for the game, while Rogers was just getting started. It's just another show of his immense talent. When Rogers wants to be, he's one of, if not the, best defensive tackle in the NFL.


Last season, he was a locker room disruption, leading the D-line on a media boycott, taking entire series off, getting suspended for 4 games, and then having knee surgery, as his knee injury was exacerbated by his not being anywhere near NFL game shape.

This season, Rogers, though he still has to take plays off do to issues lingering back to the knee surgery, and is part of a D-line rotation, is becoming what Rod Marinelli envisioned of him when he came to Detroit. Another Warren Sapp.

6. I still can't believe it. The Detroit Lions, the dregs of the league 11 months ago, a laughingstock for years, are now 6-2.
I'm thrilled to death, but
I'm at a loss to explain how they've done it. So I'm just going to enjoy the ride, as long as it lasts. Hopefully well into January...