In the weeks leading up to the 2007 NFL draft, otherwise known as the Detroit Lions' Super Bowl, rumors are running rampant. Rumors don't mean a thing to Lions fans, as we already know the incompetent boob running the Lions is going to blow another draft.

Despite knowing what the future holds, humor me. Let's talk about the 3 most often heard Lions draft strategies, and cut through all the BS.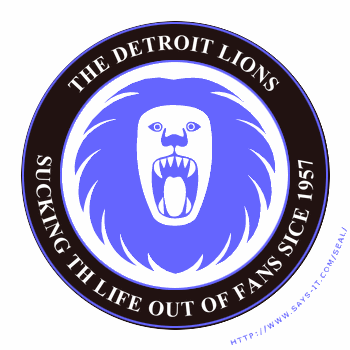 The Lions want to trade down: Of course they want to trade down. A team with more holes than than the number of times Jon Kitna was turfed obviously needs bodies. Lots of 'em. Preferably with talent. At very least, breathing.

So who wouldn't want to trade down for a handful of extra picks? But saying you want to move, and actually doing so, are 2 wholly different things.

Haven't we heard this same draft song and dance every year of the Millen regime? And nothing ever comes of it. We fans hear the same platitudes, and know them by heart.

"We are keeping all options open." "We are talking with every team." "We'll listen to any offer."

And you know when the best offers will come in? While the Lions are on the clock, which will be either after the Raiders sign their new QB before the draft, or on draft day.

Till then, nothing is going to happen Nothing. Even then, I don't think dropping down will be an option. Read on as to why...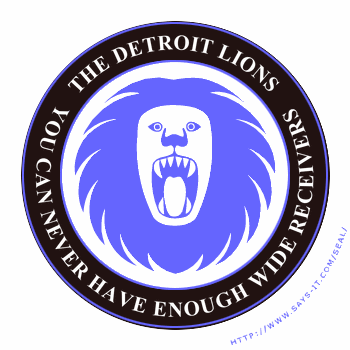 The Lions are open to drafting a skill position player: First off, anything the Lions say at this point is nothing more than a pre draft smokescreen. In other words, believe nothing, and if Millen's, Marinelli's, or Martz's lips are moving, they're lying. But the odds of the Lions drafting a QB, WR, or RB are longer than the list of Millen personnel miscues.

Thanks to Millen's boneheaded buffoonery in past drafts, the Lions are only going to take a offensive or defensive lineman (There will be one exception, more on that later). Millen will get pilloried for taking a skill position player, even if that player (JaMarcus Russell, Calvin Johnson, Brady Quinn) is the highest ranked left on the draft board. Considering the past track record, deservedly so.

Rod Marinelli has been saying that they need to build from the inside out. Marinelli's track record was built upon interior line play. That means going the safe route, and picking the likes of a Joe Thomas, Jamall Anderson, or Gaines Adams.

The one exception? As the Killer says in his excellent combine blogging, if Kevin Jones shows he's not going to be recovering from his foot injury as fast as currently expected, the Lions interest in RB Adrian Peterson will rise exponentially. A full season of Shawn Bryson, Brian Calhoun, and a washed up veteran free agent back to be named later as your backfield options is a legitimately scary thought. Kitna will have to throw for 5000+ yards, as there will be no running game without a healthy Jones or a drafted Peterson.

Other than that one exception, I think the entirety of the NFL, the MSM, bloggers, fans, and even our mothers, know that the Lions are taking an interior linemen.

Speaking of such, that's another reason the Lions won't be able to trade down. If you know the Lions aren't taking one of those highly ranked skill position players, NFL GM's are going to be lining up to talk with the number 3 picking Browns. That's a team who legitimately could pick a QB, RB, or WR, and not be laughed out of the league. Unlike our Lions...

As usual, the Lions past futility will come back to bite them on the ass.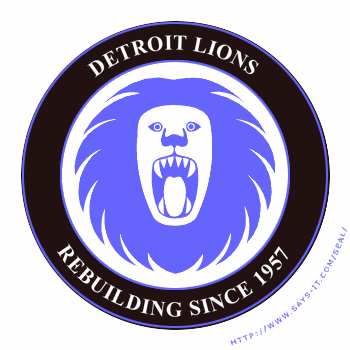 The Lions need to do well on day 2 of the draft: Duh.

Here's the Lions 2nd day draft picks for this decade. If you have a weak constitution, or if there are children in the room, I'd advise you not to read the following...

2006: Rd 5 - Jonathan Scott OT, Rd 6 - Dee McCann CB, Rd 7 - Fred Matua OG and Anthony Cannon LB

2005 : Rd 5 - Dan Orlovsky QB, Rd 6 - Bill Swancutt DL and Johnathan Goddard LB

2004: Rd 5 - Alex Lewis LB, Rd 6 - Kelly Butler OT

2003: Rd 4 - Artose Pinner RB, Rd 5 - Terrence Holt S and James (Dirty) Davis LB, Rd 6 - David Kircus WR, Rd 7 - Ben Johnson OT and (You're my boy) Blue Adams CB

2002: Rd 4 - Jonathan Taylor DE, Rd 5 - John Taylor TE, Rd 6 - Chris Cash CB, Rd 7 - Luke Staley RB, Matt Murphy TE, and Victor Rogers OT

2001: Rd 5 - Scotty (Where are your testicles?) Anderson WR and Mike McMahon QB, Rd 6 - Jason Glenn LB

2000: Rd 5 - Todd Franz CB, Rd 6 - Quinton Reese DE, Rd 7 - Alfonso Boone DT

Today, it was reported that Sgt. Marinelli said the Lions need to "Hit some major league home runs" with their day 2 picks. To continue to mix metaphors, the Lions haven't even gotten more than a 2nd day bunt single in this decade. Definitely no one who could be considered a star, or even a solid starter, just a handful of barely serviceable backups, special teamers, and practice squad roster filler.

In fact, the last 2nd day "Home run" was Cory Schlesinger, who was a 6th rounder in 1995.

The odds of the Lions going yard, hitting a tater, taking it deep, or swatting a big fly on day 2 of the draft are longer than the amount of home run metaphors I can find. Truthfully, I'm expecting a day 2 Lions "Golden sombrero."