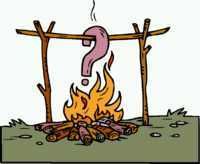 It's been a couple of weeks since I touched on the Tigers, for a few reasons. The biggest being they have gone on my mental back burner with so much else going on in the world. The Olympics, the DNC and soon to begin RNC, football season is quickly approaching (One look outside here in SE MI tells you football is on the way, it's cool and overcast.), there's plenty to keep my mind off of the most disappointing Detroit team in a generation, if not ever.
It's a painful process watching a much anticipated season end in such a down note. At this point, with the Tigers 12 games back and 5 games under .500, I'm ready for the season to officially end.
I'm not the only one attempting to put the 2008 season behind themselves, as the Tigers have played the last few weeks like the season has already ended. If you go by the just concluded series with the Tribe, the Tigers' are on a quest to quickly and quietly sleepwalk through the remainder of 2008. For all intents and purposed, the Tigers, regardless of Jim Leyland's claims to to the contrary, have folded up shop.
Despite the Tigers' malaise, there remain a few questions in need of answering. But they aren't burning so much as they are smoldering. Let's kick through the embers of this burned out hulk of a season, and answer a few smoldering questions, shall we?
Todd Jones' shoulder is still sore, and it's not responding to treatment. Thus, the Tigers have allowed the Rollercoaster to go home to the land of double-wides and the Crimson Tide, essentially ending his season. Is the man responsible for giving Tigers fans millions of gray hairs, and ulcers galore, done?
Jonesy has worn ye Olde English D for the last time. At 40, he's not only done as a Tiger, he's done as a baseball player.
I know I did more than my fair share of bitching and moaning about Jones. But we fans has the reality of the situation slap us in the face as to the true difficulty of being a closer. When Jones went on the DL, the old adage was proven true. "Be careful what you wish for, as you just might get it."
Watching younger and more physically gifted pitchers like Rodney, Zumaya and Farnsworth struggle to get those final 3 outs, failing in spectacular fashion to close a game, quickly had we fans wishing the much maligned Todd Jones was back in his 9th inning role.
Jones will finish as the Tigers' leader in career saves. An amazing feat when you consider he did so with a fastball that couldn't break 85 MPH on a good day. Jones' lengthy career is testimony to just how far you can go, and long you can last in the majors by throwing strikes consistently.
We should wish Todd Jones well, as he will always consider himself, first and foremost, a Detroit Tiger.
Jim Leyland has said he doesn't like to play many September call ups as it, in his nicotine addled mind, isn't fair to teams in playoff contention, or to the fans who bought tickets to see "stars." Is the Marlboro Man's thinking correct?
Coming from a manager who runs a 4A team onto the field thank to his Sunday lineups, it's total bullshit! Screw fairness! Call me a selfish prick of a fan, but fuck being a spoiler.
I'm a fan of the Tigers, I couldn't give two shits about being "fair" to teams trying to make the playoffs. As for ticket holders, those are the chances you have to take, you knew the possibility of the game being meaningless when you bought them.
I don't care if one team has to face a Chris Lambert making his first appearance in the bigs, and another has to face the Tigers' best, Armando Galarraga. Tough shit, them's the God damn breaks.
I'd much rather see Leyland give playing time to current back ups and minor league call ups who may help the Tigers in 2009, and shutting down players who have been struggling to play through injuries. (I'm looking at you, Carlos Guillen.) If that means the White Sox have an advantage over the Twins for the Central division title because of the lineup the Tigers trot out onto the field, then so be it. No skin off of my nose, and I honestly don't care if that knocks the noses of Twins fans out of joint.
I'm sure most, if not all, Tigers fans feel the same way. They'd rather sit through a game like last night's, with Jeff Larish at 3rd, Ramon Santiago at 2nd and Gary Glover coming in to relieve, if it means the Tigers will have a better idea as to what needs to be fixed in this coming off season.
If losing now leads to winning next year, for all I care, the Tigers can finish the season 0-30.
It's been leaked that Gary Sheffield and Kenny Rogers, and likely the entire roster, were placed an revocable waivers. Anything we can read into this?
No.
Come on, Al. there's got to be more to the answer than "No."
Not really. The Tigers were trolling for a playoff contending team on the prowl for arms and bats, hoping to sucker them into a trade.
Placing a player on trade waivers is just standard operating procedure. If you are a Tiger on the sweet side of 30, have a big contract, don't have a long-term future with the team or any combination thereof, you were put on waivers. The other 29 MLB teams went through the same process. It's a fact of baseball life.
It's nothing personal, just business. And any business willing to take on Gary Sheffield's $14 million contract for 2009 is a badly run one. Because of the numerous contracts like Sheffield currently on the Tigers books, I seriously doubt we'll see anyone traded before the playoff eligible deadline at the end of August.
With doom and gloom surrounding the Tigers, have there been any bright spots recently?
Miguel Cabrera is showing why trading for him was the smartest thing the Tigers have done in years. Galarrarga has continued to pitch well.
And...Uh...Hmm...Um...I got nuttin'.
Nuttin'? There's got to be something else...

Well, the blown saves, late inning losses and playing like a lower division team stopped hurting so much. That's got to count for something.