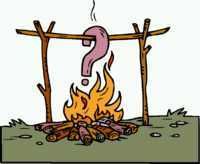 Unlike the other 2 Detroit teams still playing, the Tigers aren't playing like title contenders, and continue to lose. In fact, they are finding new and creative ways to lose, if last night's loss is any indication.

Edgar Renteria's ill advised attempt to make ESPN's web gems, which ultimately allowed the winning run to score, is the latest loss to leave Tigers fans scratching their heads, wondering "What the Hell?" This entire season has been one long "what the Hell?"

With losses piling up, and the season being 25% over after tonight's game, the fans are getting restless. More correctly, they are getting pissed off. We are beginning to hear rumblings that some coaching staff blood must be spilled. Something, anything, that might light a fire underneath an underachieving team.

Will coaches get the ax? Let's answer some burning questions, and read the smoke signals..

Jim Leyland defended his coaching staff, and more specifically, pitching coach Chuck Hernandez, to the media, amidst the cries for heads to roll from an increasingly anxious fanbase. Should the Tigers give the ziggy to a coach or two?

If you believe the message boards, where most of the knee-jerk calls for blood seem to be coming from, the Tigers need to can both Hernandez and hitting coach Lloyd McClendon immediately, if not sooner. (The fact former Braves pitching guru Leo Mazzone is looking for work has not gone unnoticed by fans) The Marlboro Man would never do such a thing, as he's not the type to bow under to any outside pressure, be it from the MSM or the fanbase .

There will be no one fired during the season. I'm confident in that assessment.

After the season? If the Tigers don't live up to expectations, I don't think anyone would be surprised if coaching staff changes are made. Someone is going to have to fall on the proverbial sword if the Tigers fail to make the playoffs, as it won't be Jim Leyland, or any players, for that matter.

Leyland isn't in hot water? How can that be?

Dave Dombrowski would never give Leyland the ziggy. No way, no how.

They go back too far, and have accomplished far too much as a tandem, for Dombrowski to ever broom Leyland. The Tigers' manager has his quirks (Batting Pudge leadoff, the odd love for any no-hit, good field players named Perez), but he is still considered one of the best managers in baseball.

The better question would be, could Leyland just walk away?

OK, I'll ask that question! Would Leyland walk away from the Tigers at the end of the 2008 season?

If nothing changes, and the Tigers struggle all season, I can't see Leyland leaving Detroit on such a down note. Though I wouldn't put it past him, as he has done it before, after his one season in Colorado. I do believe if he did decide to leave money on the table (I honestly think Dombrowski would keep Leyland in smokes for as long as he wanted to stay manager), it would be after next season. There was a reason Leyland agreed to only a 2 year extension after the end of the '07 season, even though Dombrowski would have been more than happy to lock him for 5+ years.

Leyland's not a long term guy, unlike a Sparky Anderson. He's older, has a title, a life away from baseball and probably all the cash he'll ever need. If Leyland believes he can no longer cut it, or can't get through to the team, he won't hang around. If this season is any indication, you do have to wonder...

After 39 games, the Tigers are 16-23. Sparky Anderson was fond of saying you can't judge a team till it's played 40 games. So what's your judgment?

Uh, the Tigers suck? It's being blunt, but it's also true.

The numbers don't lie, and neither do the standings. They say the Tigers are a last place team. They have earned that distinction, it's not an accident. Detroit is a bad team right now. What could go wrong, did go wrong.

Such as?

That's easy, as it begins and ends with the starting pitching. It's been awful. Christ, awful is an understatement. They've been putrid. If not for the emergence of Armando Galarraga, the rotation would be in a total shambles.

Kenny Rogers has pulled out of his tailspin, even if his ERA doesn't show it, pitching very well in his last 3 starts. But the younger arms, the pitchers the Tigers have pinned both their present, and future, upon? Their tailspin has turned into a death spiral.

Justin Verlander, Jeremy Bonderman, Nate Robertson and Dontrelle Willis (Who just gave up 5 runs in 5 innings in his last rehab start) are a combined 4-14, all with sky high ERA's. (Bonderman's is the lowest, at 4.80. The other 3 are over 6.00) That will get you cut in little league, God forbid the major leagues.

It sure won't cut it over the next few seasons either, as those 4 will be part of the Tigers' rotation till 2010.

It won't matter if the bats do come alive (Which I still think they will), and score a 1000 runs. With their ugly starting pitching, 2000 runs wouldn't be enough.

So what can the Tigers do?

Nothing.

Nothing? You can't be serious!

I'm as serious as Leyland takes smoking. Serious enough for you?

As I said, 4/5 of the Tigers' rotation is set for the next few years. They've signed the contracts, they are the Tigers' rotation, for better or worse. So they can't do much of anything, other than hoping their rotation pitches to their capabilities. You run them out there every 5th day, cross your fingers and hope for the best.

In regard to the rotation, the Tigers have made their bed, and ow have to lay in it. Picked their poison. Made long-term commitments. Locked them up, and thrown away the key.

What the Tigers have, is what they have...6.00 ERA be damned.