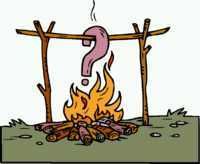 The Monday festival of "Burning questions" at TWFE continues, with the Detroit News' Tigers expert, Lynn Henning's Q & A.

Henning, for the most part, avoids beating dead horses, save for bringing up Timo Perez's chances of being on next season's roster. Well, what are you going to do? Other than attempting to make some sense of Henning's thoughts...

Burning questions after the Tigers somehow swept the Twins at Minnesota -- for a second consecutive time -- and now dive into a not-so-typical three-game series against the Indians:

Q: Why did the Tigers insist on making Sunday's game against the Twins so tense with their bullpen antics in the late innings of a 6-4 victory? Can't this team handle a four-run lead?

Henning: The suspicion here is that the Tigers knew the Indians had lost and that they simply wanted to get the game over with. They were ahead, 6-2, heading into the seventh and you could sense that all the relievers -- Tim Byrdak, Fernando Rodney, Joel Zumaya and Todd Jones -- were hurrying to put down the Twins and get to Cleveland. That had to have accounted for some of their wildness in walking four batters in the eighth.

Big Al: The Tigers won, didn't they? 6-2, 6-4, doesn't make a whit of difference, a win is a win. The bullpen scared me out of my wits, to be sure, but they did finish off the Twins.

Considering that victory gave the Tigers a sweep of a Twins team that has traditionally owned the Tigers at the BaggieDome, in the middle of a pennant race mind you, I'm not going to bitch about a near blown save.

I think Henning is reading too much into the late inning "Struggle." Yes, the Twins loaded the bases twice late in the game. The Twins are a prideful major league team, with some very good players, I doubt anyone was expecting them to meekly go down quietly late in the game.

Not every win is going to be a thing of beauty. Ugly wins count exactly the same in the standings. I don't see a category for "Style points" in the standings, do you?

Q: Why was Tigers manager Jim Leyland being so patient with his pitchers after they ran into trouble Sunday?

Henning: Because with no off-day today, he needed his bullpen as fresh as it could be for the Indians series. When nobody could find the strike zone, Leyland had no choice but to use pitchers he would have preferred resting. He knows what's at stake during these next three days in Cleveland. It's the equivalent of a playoff series for the Tigers. Leyland wanted his bullpen at full strength.

Big Al: I'm sure that the Marlboro Man was managing with the Indians series in mind. He has to, as their playoff lives are at stake. I'm sure he would have preferred to not use Zumaya on Sunday, or pitch Jones 3 nights in a row. His hand was forced with the wildness of his relievers, making Leyland use a couple of pitchers that he hoped not to.

It's getting to the point of the season where there is no tomorrow. The Tigers can't afford to lose ANY games. When there's less than 2 weeks left in the season, and the Tigers' playoff hopes are hanging on by a thread, you do what you have to do to lock down an important win.

Patience is one thing, risking your season to save someone for tomorrow, though a loss may make tomorrow moot, is another.

Q: How will the Tigers fare against the Indians in a series where the pressure is all on Detroit?

Henning: In the Tigers' favor is the fact they are finally playing in mid-September the way they were expected to play the past two months. Healthier players is the biggest reason why things have improved, beginning with Kenny Rogers and his return to the rotation and extending to Gary Sheffield's presence in the batting order.

Rogers has calmed down the starting pitchers and given Detroit some desperately needed reliability on the days he pitches. Sheffield factors heavily in Detroit's offense even when his shoulder is hurting and he's not hitting home runs. All season long his walks have been vital to Detroit's rallies.

Big Al: Detroit's been playing with a big sense of urgency for a few weeks now, so they will be well prepared for this series. The Tigers are as healthy as they are going to get this season, and know what they need to do.

In winning their last 4 series, an 8-2 record in their last 10 games, and an 11-4 record in September shows that the Tigers are taking care of business, and are coming into the Cleveland series as hot as they've been all season. They could very easily sweep the series, and at least win 2 of 3.

Unfortunately, the Tigers' margin for error is virtually gone. A couple of losses, especially in a row, could end their season prematurely. Winning this series against the Tribe will go a long way in making sure that doesn't happen.

Q: What do we make of the matchups at Cleveland? Who has the edge?

Henning: Only because Fausto Carmona is not scheduled to pitch, the Tigers have an excellent shot at winning a tough road series. Kenny Rogers vs. Paul Byrd tonight is likely to be Detroit's advantage. Justin Verlander vs. Jake Westbrook on Tuesday also ranks as a Tigers edge. C.C. Sabathia vs. Nate Robertson on Wednesday is why the Tigers need at all costs to win the first two games if they're going to be serious about closing Cleveland's 4 ½-game heading into the regular season's final week.

Big Al: First off, I agree that the Tigers got a big break in missing Carmona. As I'm writing this, the Tigers are beating the Tribe 5-2 going into the the 8th inning, and Kenny Rogers has once again shown how important he is to the Tigers' chances. He's done his job, and done it well in out pitching Byrd tonight.

Rogers' injuries have been the biggest reason the Tigers are scrambling in September. If he was healthy, The Gamber would have stopped a couple of those August losing streaks. I've said it before, and I'll say it again, I hope Kenny Rogers retires a Detroit Tiger. After another productive season or two, of course..

Obviously, Veralnder has the edge over Westbrook. You have a Cy Young contender facing a journeyman, and Verlander has been light out in his last 4 starts. He's turned it up a notch in September, and has been a true stopper.

It's the Sabathia - Roberston matchup that has me worried. You just don't know which Robertson is going to show up from one start to the next. He could throw 7 shutout innings, or just as easily get knocked out of the box in the 3rd. Leyland will have him on a much shorter leash than The Gambler or Verlander.

The Tigers can beat Sabathia, but don't ask me to put money on it that they will. Sabathia is an excellent pitcher, and one of the AL Cy Young favorites for a reason. The Tribe really only need to get one win in this series, and Sabathia is their best bet to get it.

Q: What is the rest of baseball thinking about the Tigers right now? That the playoffs are a dream? That they could be baseball's season-ending surprise?

Henning: In most cases, the latter. The Tigers have a batting order no one wants to face through the first five hitters: Curtis Granderson, Placido Polanco, Gary Sheffield, Magglio Ordonez and Carlos Guillen.

They have a talented starting rotation that, in the case of this week's Cleveland series, features two left-handers who can give the Indians trouble. They have a dynamite bullpen that is versatile and powerful.

And their defense isn't going to do you many favors. Notice, too, that when Ramon Santiago plays shortstop, a few more plays are made. It has done nothing to discourage ideas that Carlos Guillen is on his way to first base, for the most part permanently.

Big Al: Other than the clueless doofus at MSNBC that claimed the Tigers have undergone one of the worst collapses in history, and whom Kurt of "Mack Avenue Tigers" so ably eviscerated in a way that would make the gang at "Fire Joe Morgan" proud, I think most observers realize that the Tigers are finally healthy, thus playing well again, and are a very dangerous team.

Are they a perfect team? Hell no! They are quite flawed. (Quite fittingly, as I typed that line, Joel Zumaya just gave up a game tying home run in the bottom of the 8th, it's now tied at 5) But so is most every other team in the major leagues.

The Tigers are a team that could do quite a bit of damage over the last couple of weeks, as the talent is there. But considering their flaws, and injuries, they could just as easily lose a few games in a row, and the season will be over.

Q: Where does Timo Perez fit into the scheme of things, now, and looking toward 2008?

Henning: What's surprising about Perez is that he had plenty of big-league experience before the Tigers signed him last winter to a minor-league contract, but that his numbers had been in steady decline during his most recent years with the Mets, White Sox and Cardinals. This year, at age 32, he seemed to be reinvigorated. He hit the ball hard all season long for Triple-A Toledo. And now he's doing the same thing for the Tigers while providing a key left-hand bat.

The Tigers will happily consider him part of the mix heading into spring camp. He has been absolutely indispensable in September.

Big Al: Here we go again... Perez's 3 hot weeks at the plate is not going to erase 7 previous seasons of suck. Timo Perez is not the 2008 solution in left field. Which are you going to believe, his hot September, or his 1600 previous major league at bats?

His value is entirely in his average. He's not an especially good fielder, nor a speedburner. Perez doesn't hit for power, doesn't walk, and before September '07, didn't hit for a high average.

I just described a clone of Sean Casey, and no one wants him back either. I would hope that the Tigers don't change their off season plans in looking for a left hand hitting left fielder, just because Timo Perez had a 1 good month. If they do, I have serious issues with how the Tigers' front office is being run.

Unless you're Barry Bonds. and/or chemically enhanced, players don't get better at age 32. Especially marginal to below average major leaguers like Perez.

Q: So, do the Tigers come out of Cleveland any closer to the Indians?

Henning: The thought here is that the Tigers will win two games and be trailing the Indians by 3 1/2 games Wednesday night. That's a lot of ground to make up over the regular season's final 10 days.

Detroit's best chance remains a wildcard spot. But the Yankees aren't going to be giving much ground these next two weeks. The Tigers, however, might have gotten hot in the nick of time. Some of us remember 20 years ago when Detroit made up 3 ½ games in a week on Toronto and stole a playoff spot. The difference: The Tigers swept Toronto in the final series of the season, in Detroit. It explains why this week's showdown at Jacobs Field means everything.

Big Al: I have to say that I finally agree with Henning, that the wild card is the Tigers best shot at a playoff berth. Winning the Central is a pipe dream, even if the Tigers sweep the Indians.

I think the Tigers can take 2-3 against the Tribe. Unfortunately, that's not going to be good enough. They have to take all 3 to have any shot at the Central title, and that shot will still be long. It will make the Tribe, and the city of Cleveland, awful nervous, as anything can happen. I'm one of those who remember 1987, and has witnessed "Anything" actually happening...

Let's say the Tigers do take 2 of 3, that would help immensely in the race for the wild card. But they will still need lots of help in catching the Yankees. Watching the Red Sox gag away 2 wins over the weekend was just painful to watch. If the BoSox had played even remotely well, rather than the choke artists they are traditionally known to be, the Tigers could have easily have been only 1.5 games behind the damn Yankees going into tonight.

That didn't happen, and the Tigers still need help. Their August swoon kept them from controlling their own destiny. Those ugly 6 weeks are haunting the Tigers now, and will till the end of the season. If they don't make the playoffs, we can only look back at August 2007, and wonder, "What if?"

Addendum: 11:15PM: That was a painful loss to watch, and it's going to be very hard one for the Tigers to recover from. It might be the back breaker, the game we look back on and say, "Remember when Blake's ball carried over the wall? That's when the season ended."

The Tigers have been overcoming adversity for months, how much more can they realistically overcome? It's do or die at this point, and they really need to put the next two games in the win column. If they can only win one, or God forbid, get swept? Even the most optimistic of fans will have trouble believing the playoffs are still a possibility.