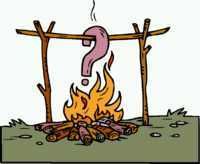 It's a "Burning questions" Monday at TWFE. First, we delve into Detroit News Lions beat writer Mike O'Hara's Q & A. The flammable topics include Josh McCown, backup QB's, the Lions missing ground game, and Kevin Jones' foot.

As my fingers are in much better shape than Jones' surgically repaired foot, it's time to answer some questions!

Burning questions from the Lions' 20-17 overtime victory over the Vikings Sunday at Ford Field:

Q: Who should be in the spotlight for Sunday's game?

O'Hara: Win, lose, tie or forfeit by the Lions, it didn't matter. It had to be everyone in the front office who was responsible for leaving the Lions' so vulnerable at backup quarterback. That's president Matt Millen and everyone in the personnel department.

When Jon Kitna went out in the second quarter because of a suspected concussion, the Lions were left with J.T. O'Sullivan as the backup.

No knock on O'Sullivan, but the backup quarterback should have been Josh McCown, now with the Raiders. He started for the Raiders against the Lions on Week 1 and completed 75 percent of his passes.

The Lions traded McCown and wide receiver Mike Williams to the Raiders on draft day for a fourth-round draft pick. It was a risky move then, and it looks worse now.

Big Al: Other than Jon Kitna, who was marvelous, it was obviously J.T. O'Sullivan. I said in my live blogging that the McCown trade had quickly come back to bite the Lions on the ass. Kitna going down is the Lions worst case scenario.

As soon as O'Sullivan entered the game, all Lions fans knew that the team was in deep trouble. If Kitna remains in the game, I think the Lions win easily. We all saw what actually happened. For every good pass, O'Sullivan would throw 2 ill advised ones.

The QB "Duel" between O'Sullivan and Tarvaris Jackson was no duel, but an exercise in futility. Neither looked like legitimate NFL QB's. The fact that Jackson was just as likely to throw to a Lion as a Viking was the main reason the game stayed close. If the Vikings get any kind of decent QB play, they could easily have pulled far enough away from the Lions to make Kitna's late game heroics moot.

I find it hard to believe that Mike Martz, a coach with a (Somewhat deserved) genius reputation, thinks his mega-complex offense can be run properly by a reject from NFL Europa, who has spent more time auditioning for NFL teams, than actually playing for them. That's "Hubris" defined.

The Vikings game confirmed what most everyone suspected to be true. The Lions are truly Kitna's team, and if he goes down for a significant amount of time, they'll struggle to win any games he may miss. The 2007 season will get real ugly, real quick, if O'Sullivan or Dan Orlovsky have to take over under center.

Q: Why was it wrong to trade McCown?

O'Hara: McCown had starting experience with Arizona before signing with the Lions as a free agent last year, and he had a year working under offensive coordinator Mike Martz in Detroit.

The pick the Lions got for McCown and Williams was used to take cornerback A.J. Davis of North Carolina State. He was so bad that he was let go on the final cut, signed to the practice squad and got cut again. He wasn't even good enough to practice against J.T. O'Sullivan.

Without McCown, the Lions had rookie Drew Stanton, now on injured reserve, and Dan Orlovsky, who barely played for two years and has had limited practice the last month with a jammed big toe.

Big Al: Two reasons. J.T. O'Sullivan and Dan Orlovsky. Compared to McCown, who's now started for 2 teams in the league, the Lions pair aren't as talented, and have NO significant regular season experience. None. Zero. Zip. Nada.

They should be emergency 3rd string QB's, learning the game from the sidelines. Period. Actually, that position should have been held by Drew Stanton, minor knee surgery be damned.

Common sense says that you keep McCown for 1 more season, and Stanton should have been the number 3 guy. But we are talking about the Lions, known for making ludicrous decisions, any common sense in short supply.

As it was common knowledge, if the beat writers were to be believed, that Stanton would have been healthy by opening weekend, the Lions don't have to put him on the IR in the preseason if McCown was still around. They could have easily afforded to keep him on the 53 man roster, then deactivate him on game days.

Instead, the Lions are gambling on Kitna staying healthy, and backing him up with a pair of never-gonna-be's. It's a risky, risky gamble, as we found out Sunday. The Lions definitely dodged a bullet.

The fact that the Lions cut the player they drafted with the pick received for McCown makes the trade that much more idiotic. Just another in a series of stupid moves by their incompetent boob of a GM.

Q: But didn't McCown want to be traded because he knew his only chance to play in Detroit was if Kitna got hurt?

O'Hara: Yes, but McCown was one of the most popular players on the team, right behind Kitna. They were best friends.

McCown would not have caused problems had he remained in Detroit. He's too much of a team player for that. He would have stuck it out and left after this season, when his contract was up.

Big Al: Why would McCown want to become known as a malcontent? He's playing for his next contract. Let alone the odds were damn good that McCown would have gotten some significant playing time, as few QB's are physically able to take every snap. We saw that PT become available Sunday.

I agree, McCown was a team player. He proved that by playing wide receiver at times last season. So I doubt he would have tried to torpedo the Lions' locker room harmony. He'd bide his time in Detroit for one last year, and moved on in the off season, like any other professional.

Q: How much blame does O'Sullivan get for his performance Sunday?

O'Hara: He doesn't get off the hook. He was in over his head. But it's like filling an Indy racer with regular gas and expecting to compete.

The people in charge make decisions, and they have to be accountable.

Big Al: In over his head? O'Sullivan is in so deep, he's in the Mariana Trench. You can't blame O'Sullivan for being put in a bad situation. That' goes on the heads of Marinelli, Martz, and their incompetent buffoon of a GM.

Still, O'Sullivan is the 2nd string QB for the foreseeable future, and he has to preform better when called upon. At the very least, he cannot turn the ball over. O'Sillivan's fumble that the Vikings converted for a TD could easily have been the kiss of death.

O'Sullivan needs to thank Kitna for bailing his practice squad talent level ass out.

Q: With Kitna out until midway through the fourth quarter, why didn't the Lions rely on their running game?

O'Hara: Because they don't have one. It's worse than last year, when it ranked last in the league.

Big Al: What running game? You can't use what you don't have.

The Lions have a running game in name only, as positive yards only come through QB scrambles, and the very occasional trap or draw that works because the Lions throw the ball 90% of the time.

I haven't seen anything resembling a running game anytime this season, including the exhibitions. In fact, I don't expect to see a consistent one anytime this season, and a healthy Kevin Jones won't change my mind.

Even when Mike Martz had a top tier back in Marshall Faulk to carry the ball in St. Louis, he didn't rush the ball all that often. Faulk would still get his 20-25 touches a game, as Martz would get him the ball in space, using swing and screen passes. You could call those glorified handoffs that counted as pass attempts in the box score.

I seriously believe if Martz had the opportunity, and was left unchecked, he'd throw the ball 100% of the time. Since that's unrealistic, I would like to see him involve the running backs in the offense a little more, especially when Jones is back in action.

Q: Running back Kevin Jones might play in next week's game at Philadelphia. Is it too soon for Jones to test his injured left foot?

O'Hara: The test has to be in practice, not in the game.

If there's the slightest doubt whether his left foot is strong enough to stand up to game conditions, then he has to be held out.

Big Al: Yes, it's too soon. I do think the Lions brain trust believe otherwise. Considering how the running game has been non-existent, I'm sure the Lions are will to try anything, even Kevin Jones and his untested foot.

I'll be surprised if he's any more successful than Tatum Bell, Brian Calhoun, and T.J. Duckett have been. In part because his foot, and mostly due to the Lions offensive line. They do a good job in protecting the QB, but their run blocking has been only a rumor.

Q: Jones grew up in the Philadelphia area. Shouldn't there be some extra motivation for him to play?

O'Hara: Yes, but motivation has to be tempered by reason. Jones hasn't gone through surgery and rehabilitation to get ready to play one game. If it were a playoff game it would be one thing. It's not even close to that.

It's the third game of the season, with 13 more left -- and many more seasons left in Jones' career.

If anything, the fact that Jones might want to play in Philadelphia should make the Lions even more cautious that he might be pushing the envelope.

Big Al: I'm sure Jones is desperate to get on the field, and not only because the game is in Philly. He's a football player, and a pretty good one at that. Jones wants to play, and play no matter what, his gimpy foot be damned. Anyone who's played the game at any level knows how much fun it is on the field, and that you would do anything to get yourself on it.

I know in high school, I did things in order to play that most any doctor today would have advised against. My knees constantly ached in school. (Turns out it was a symptom of what ultimately afflicts me today, but back then the local horse doctor just called them "Growing pains") I'd get cortisone shots, have them drained constantly, and ice and heat my knees down every night after practice at home. I was in a great deal of pain, but all I wanted to do was play on Friday night.

Now take that feeling, and multiply it exponentially in the case a top professional athlete like Kevin Jones. I'm sure Jones would sacrifice his future health to get himself on the gridiron. It's up to the Lions doctors, front office, and coaching staff to make sure that he doesn't.

It's a fine line to walk, as you have to balance Jones' health with the fact that he'll help the Lions win games. I'd think it's short sighted to take a valuable commodity like Jones, and risk it by playing him before he is actually ready. 1 or 2 more games won't make that much, if any, difference in the odds of the Lions beating either Philly or Chicago.

I'll agree that Jones is a good back, but he's still not fully recovered. The lisfranc injury is not one you take shortcuts with, as the only thing that will help Jones get fully healed at this point is more time.

Give me a 100% Bell and Calhoun over a 75% Jones.