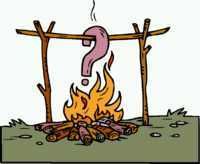 Timo Perez came through with a game winning hit tonight, allowing the Tigers beat the evil ChiSox, 2-1, in 11 looong innings. Despite tonight's heroics, and his currently hot bat, I still don't want TEE-MO (As Rod Allen likes to call him) on the 2008 Detroit Tigers.

Mentioning TEE-MO Perez's future is my way of segueing into the latest round of Lynn Henning's "Burning questions." Today, we tackle the 2008 version of the Detroit Tigers.

Let's get out our crystal ball, and answer some smoking hot queries.

Burning questions as the Tigers try to whack the White Sox and at least eke out a wild-card playoff spot...

Q . Jump ahead, for a moment, to 2008. What is the Tigers' rotation next Opening Day?

Henning: Justin Verlander, Jeremy Bonderman, Nate Robertson, Andrew Miller and Kenny Rogers.

Big Al: As things stand now, I concur. Veralander and Bonderman are no-brainers. They are going nowhere, save to the mound every 5th day for the next several years.

Robertson is what he is, a 5th starter who will give you an opportunity to win most of his games, an more importantly, eat innings. The book is still out on Miller, but his talent is unquestioned. Despite his rough 2007, the Tigers will give Miller every opportunity to win a spot in the 2008 rotation.

Kenny Rogers? He's a Tiger for life.

Q: You're sure about Rogers, whose contract is up and whose elbow has been aching?

Henning: Unless Rogers shows during the remainder of September that he's a bad gamble for 2008, the Tigers will likely sign him to a one-year deal, with his blessing. Rogers has already said it's going to be Detroit or nowhere for him in '08. The Tigers need his experience and savvy. He turns 43 next month, but that shouldn't discourage Rogers, or the Tigers.

Big Al: If Rogers' arm is healthy, pencil him into the 2008 rotation.

I've already given my thoughts in regard to The Gambler, in that he's welcome to stay a Tiger till he retires. The Tigers obviously feel the same way, and Rogers seems to be the happiest he's ever been as a ballplayer.

Tonight, in his 1st start after coming off the DL, Rogers went 5 innings, giving up 2 hits, and 1 run. It was Prime Time Gamber. Rogers will be a boost to the Tigers playoff chances in what remains of this season, and will be a big reason the Tigers contend in 2008.

Q . Miller will be ready? What will have changed by next spring?

Henning: He will turn 23 next May and technically will be into his third big league season. Most of the delivery kinks and general hang-ups associated with his youth will have smoothed out. He will be far from a finished product, but Miller's stuff will be good enough to make him a regular. His pitch counts will drop and his use of secondary pitches will increase dramatically.

Big Al: The Tigers have been proven successful in rushing their top pitching prospects to the majors. Wildly successful in Verlander's case, mildly so with Bonderman, and the jury is still out on Miller. Given the mercurial nature of young pitchers, who's to say Miller will be ready? But as I said, he'll have every opportunity, and then some, to win a spot in the '08 rotation.

Despite the thought that more time in the minors would be beneficial to miller's development, his high draft status, undeniable talent, and the Tigers' need for a starter, demands it.

Whatever needs to be changed in Miller's delivery, pitches, or demeanor, it will be in the hands of pitching coach Chuck Hernandez. Miller will be his pet project during this off season. Will he be ready? We won't know for sure till April, but I'm not entirely sold that he will be.

Q: Will Jair Jurrjens be part of the starting stable?

Henning: If Miller would have a setback, or if any of the other starters has arm trouble or injuries, Jurrjens probably will be the first guy summoned. Otherwise, he probably benefits from at least a month or two in the minors to start 2008. But it wouldn't be surprising to see him in the rotation full-time by May, just as Miller was plugged in last May.

Big Al: Jurrjens is the fall back option in case Miller isn't ready. Or as Henning says, if any of the '08 starters have issues. Jurrjens proved that he has big league stuff in his short 2007 rotation stint. Sure, more time in the minors won't hurt him. But he does look to be more major league ready than Andrew Miller. Unfortunately for Jurrjens, he doesn't have Miller's pedigree, or contract.

But to say he will be in the rotation full time by May 2008? Well, I have a question. Who does Henning think Jurrjens will replace?

Q . Who will start at shortstop for the Tigers? At first base? At catcher?

A . Ryan Raburn will open the season in left field, which is purely one person's guess on Sept. 5. Carlos Guillen will be Detroit's Opening Day shortstop. Marcus Thames will get the start at first base because a left-hander will start against the Tigers (the crystal ball is daring today), but Guillen will play first if a right-hander is on the mound, and Ramon Santiago will start at shortstop.

Pudge Rodriguez will be Detroit's Opening Day catcher.

Big Al: Jesus, Lynn! Didn't we go over much of this same territory during the last round of burning questions? One thing is clear. When the Tigers finally decide where they will play Carlos Guillen, the other position dominoes will fall.

Anyway, I've said it several times over that I prefer Guillen at short. As for left field, as long as TEE-MO Perez isn't in the mix, I can live with some combination of Raburn, Thames, and whatever left handed bat Dave Dombrowski can find on the open market. As for 1st base, if the Tigers don't sign a lefty corner outfielder, it'll be a left 1st baseman.

I'm still not convinced they can get away with the light hitting Santiago spending ant amount of time at shortstop, no matter how good his glove may be. But I would not be one bit surprised if the lineup turns out as Henning surmises.

And I'm convinced that Pudge is going to have his contract option picked up. You know of any better catching options the Tigers can turn to next season? I don't know of one either.

Q: So, the Tigers will pick up Pudge's $13 million option for 2008?

Henning: Yes, because the Tigers will conclude at the end of this season that they have no realistic or practical options for improving upon Pudge in '08. He will win by virtue of the fact that he's a known quantity, even if his skills two months before he turns 36 are clearly diminished.

Big Al: Is he worth $13 million? No, but even at 36, Pudge is still in the top half of major league catchers. That's how sad the state of catching has become in the bigs, and how hard it is to find a capable young catcher. If you know of one, I'm sure the Tigers' brass would love to hear from you.

Say what you will about Pudge, I do think everyone saw that the day would come when we would consider him overpaid. The Tigers had to overpay to sign in 2004, and for the most part, until the 2nd half of this season where his decline has been precipitous, he's been worth the money.

So Pudge will be making an insane amount of money for what he brings to the team. It's not that big a deal, as it the price of doing business today for a big market team. And the Tigers can afford it, as they are, unquestionably, a big market team.

Q: The Tigers will have no better luck finding a full-time shortstop in 2008?

Henning: No. Lots of people wonder why the Tigers don't make a trade for Miguel Tejada of the Orioles. There are lots of reasons, 26 million of them to be exact. That's how much money Tejada is owed through 2009 by the Orioles ($13 million per season). He turns 32 next April. The Tigers would have to cough up plenty in a trade, which is one more reason why Tejada is simply out of the question.

Big Al: Tejeda? Who's been asking for the Tigers to get Tejada? No one I know.

He's just like Guillen, in that Tejada's headed to another position in a few short years, likely 1st base. Plus he has an even more insane contract than Pudge Rodriguez. The Tigers would also, as Henning mentions, have to pay a pretty penny in prospects and major leaguers for a deal for Tejada to fly with the fans and front office in Baltimore.

The Tigers will be on the lookout for a less expensive, in both contract and trade cost, to replace Guillen. I still have a feeling that Jack Wilson is on their radar. Think the Pirates are kicking themselves that they didn't jump on the rumored deal of Craig Monroe and Jair Jurrjens for Wilson?

Q . Will the Tigers trade for a first baseman during the offseason?

Henning: It probably makes more sense that they would trade for a left-handed-hitting outfielder who might be able to play some first base. It would be safe to assume some kind of left-handed bat is coming, since Sean Casey's contract will be up and the Tigers aren't inclined to re-sign him.

Big Al: The Tigers ongoing quest for a left handed bat that can play either 1st or one of the corner outfield position has been talked about endlessly for the last couple of off seasons. Maybe this will be the year it becomes more than just talk.

They've been unsuccessful finding a decent bat from the left side up to now, and with the total failure that was the signing of Sean Casey (Nice guy, great in the room, but your 1st baseman has to hit more than 3 God damn home runs), Detroit HAS to find a left handed bat for next season, as Marshal Crenshaw once said, "Someday, Someway."

Q . Will Brandon Inge continue to start at third base? Weren't the Tigers crazy for signing him to a long-term deal when they had Jack Hannahan at Triple-A Toledo?

Henning: We'll be tabling all further discussion of Inge, because we're sick of talking about him.

The facts are these: Defense is vital at third base. Inge is the best defensive third baseman in all of baseball when his range and his arm are considered. He hit 27 home runs last season. Expect something closer to that in 2008. And you better watch Hannahan for a good, long while before you place him on a par with Inge or any other starting third baseman in the majors.

Big Al: No more Inge discussion? Thank God for small favors! For that matter, let's not even bother to bring up Hannahan, as he's long gone, and no longer an option.

Inge is the 3rd baseman, for better, for worse, and the foreseeable future. The Tigers don't have a replacement, there's still 3 years left on his deal, and the Tigers have bigger, more pressing problems than an athletic, slick fielding, power hitting, free swinging 3rd baseman who strikes out much too often. You knew I'd get the "Inge is athletic" line in, just as Rod Allen does every broadcast...

Q . Will the Tigers lose any coaches during the coming offseason?

A . Lloyd McClendon should get a managerial job. He's a former big league skipper who absolutely should be managing in 2008. Some of us will be watching if commissioner Bud Selig's office is as proactive on the minority candidate front as is implied. Managerial jobs come and go, and McClendon gets no interviews. Bruce Fields, the ex-Tigers coach now with Cleveland's organization, is another man who should be managing, and he gets no interviews.

It's put-up or shut-up time on the issue of minority candidates.

These two should be in a dugout running a big league game. One, or both, deserves to be there in 2008.

Big Al: I'll have to leave this one to Henning, as I'm no "Expert" with "Inside" information. All I can say is that major league baseball has a big problem in their interviewing and hiring process for minority managers. The fact is that baseball owners and front office types are old, white men. They tend to hire older, white men.

This isn't exactly a collection of big time risk takers. They need to be more open to who they consider to run their teams, but you are talking about a group of men who are more conservative than Rush Limbaugh and Bill O'Reilly, combined.

It's a shame that different names, both black and white, don't get managerial interviews, yet retreads the likes of Buddy Bell and Phil Garner can keep getting big league jobs. That leaves qualified men like McClendon and Fields unable to even sniff a managerial position.