This being the eve of one of the best dates on the sports calender, the opening night of the NFL season, I thought I should write a Detroit Lions preview. I then drifted off into a happy haze...

Once the mood-altering drugs wore off, and I became somewhat lucid, I thought, "What's the point? "

I think we can all agree that the Lions will have an under .500 record. The only question is how many games under .500 will they finish? Most predictions I've seen have the Lions finishing somewhere between 4-12 and 7-9, with a consensus being another double digit loss season. Sounds about right to me...

Why am I so confident that the Detroit Lions will have another ugly, painful, and ultimately, a waste of a season?

1. The defensive backfield is the worst in pro football. It'd be the worst in any NCAA or NAIA division. It would only be mid pack of the damn Huron League. Yes, it's that bad.

The D-backfield wasn't all that good to begin with, then factor in that they traded their best cornerback (And most vocal malcontent, Dre' Bly) away, their starting safety (Daniel Bullocks) tore up his knee, and is out for the season, and Fernando Bryant (!) is considered their best cover corner.

Fernando Bryant? He suffers from a season long case of 3rd degree windburn thanks to all the receivers running by him...


2.
The odds that Jon Kitna will be able to take every regular season snap, for the 2nd season in a row, are long. Really
loooong
. Kitna getting hurt, and it's a definite possibility with the Lions porous offensive line, is Rod Marinelli's worst nightmare.
The Lions do not have a backup QB with any legitimate experience of leading an NFL team, for even for a short time. I'm still puzzled over the Josh McCown trade. From the lack of exhibition season production shown by any of the QB's on the roster not named Kitna, the trade of McCown, who had starting experience, looks absolutely idiotic.
If "Backups" (Term used loosely, as they literally have no track record to speak of) JT What's-His-Name or Dan Orlovsky see a significant amount of playing time, the Lions will have to raise the white flag on the season.
It's blatantly obvious that Kitna has to stay healthy. If he goes down for any length of time, Matt Millen can go ahead and call Mel Kiper, and ask him which wide receiver he should draft as the 1st pick of the 2008 NFL draft. Without Kitna, the Lions QB situation would be their worst since 1979, when undrafted free agent rookie Jeff Komlo bumbled and stumbled his way through a horrific 2-14 year.
3.
The Lions will not be able to run the ball. Period. I don't care if it's TJ Ducket, Tatum Bell, Kevin Jones, Brian Calhoun, or a Frankenstein-ish combination of Jim Brown, Marshall Faulk, Whizzer White, Joe Don Looney, Jim Thorpe, Icky Woods, and Jesus H. Christ himself lugging the pigskin, the Lions will struggle to gain yards on the ground.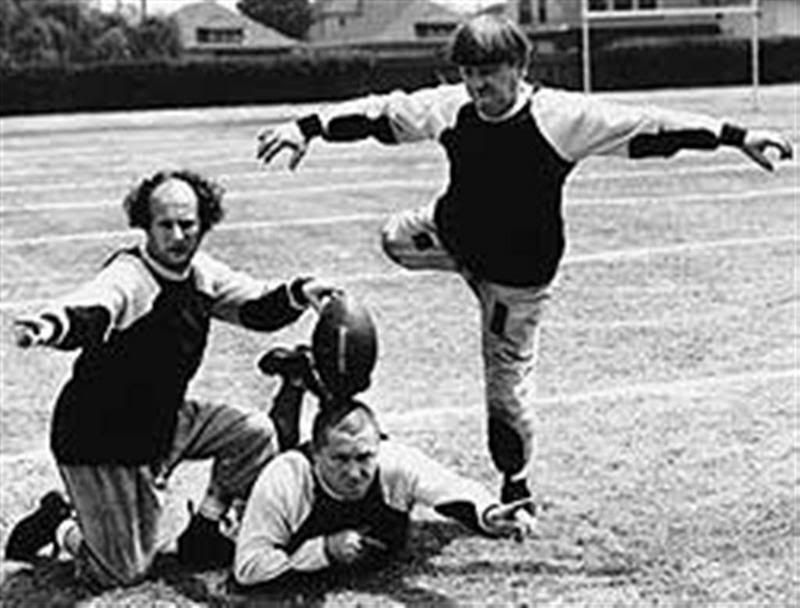 Jason Hanson showing off his kicking form. .
No running game = Lousy red zone offense = No TD's = Jason Hanson being Detroit's best offensive threat


The Lions haven't had a running game since since the closest living thing to that Frankenstien-ish combination of a running back, Barry Sanders, retired. The only semblance of a running game we've seen from the Lions even remotely recently was the final 8 games of Kevin Jones' 2004 rookie year. Neither he, or the Lions, have run the ball well since.
They didn't have a ground attack during the Moronwheg or Mooch eras. Things haven't changed with Marinelli and Mike Martz. The running game was only a rumor in 2006. So why should we expect the Lions to be able to run the ball during the 2007 regular season?
4.
Be it bad luck, drafting an injury prone player out of college, a lack of conditioning, or an inability to play through aches and strains, the Lions have a knack for players getting injured.
The Lions all-time roster is littered with broken bodies, with the injury bug going back decades. Nick Eddy. Steve Owens. Billy Sims. Mike Utley. Germane Crowell. Steven Boyd. Bryant Westbrook. That's to name just a few. The Lions have a history of productive and/or talented players whose careers were either shortened, never really got started, or finished below expectations, thanks to injuries.
We've already seen the Lions' historic injury bug rear it's ugly head in this year's training camp, with the aforementioned Daniel Bullocks out for the season, Drew Stanton's rookie season will be spent in the IR, Kevin Jones being slow to recover from lisfranc surgery, Jon Kitna missing the final 2 games of the exhibition season thanks to back problems, Dan Orlovsky doing the same because of turf toe, Boss Bailey's always balky knee, Teddy Lehman not being the same player after his lisfranc surgery, Shawn Rogers not playing a single down in the exhibition season due to his knee. It just never, ever ends.
My conclusion? The Lions are jinxed. You have a better one?
5.
Matt Millen is still in charge.
He's the worst general manger

ever

.
That goes for any sport, in any league, on any planet, in any universe. His ineptitude has reached historic proportions. I don't expect the 2007 Lions to change that legacy.
Thanks to Lloyd Carr, Millen is now only the 2nd most hated man in Detroit sports.
No worries, I expect Matty to lower himself back to most hated by the end of the NFL season


As you can probably figure out, I expect it's going to be another awful season at Ford Field. A season with only 2 wins is not out of the question, and 7 wins are the best case scenario. I expect the Lions to finish somewhere in between.
In other words, 2007 will be just another season of futility. Isn't it wonderful to be a Lions fan?