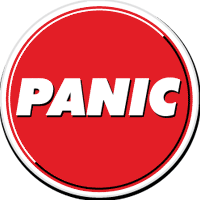 2 walk off wins? In a row? By the Tigers? Against the ChiSox? A team that OWNS them?

I didn't see that coming. I doubt any of us did.

I have to say, I had a feeling while watching today's game. It was a feeling eerily similar to the feeling I had a little over 12 months ago during the forever etched in our memories "Craig Monroe beating the Yankees" game.

So what was that feeling? After Fernando Rodney gave up the lead in the top of the 8th on a Paul Kornerko double, I had the same feeling of dread today that I had in the 8th inning of that Yankees game a year ago.

All sort of ugly thoughts were running through my head as watched Konerko's liner go past Magglio Ordonez...

"Fuck me. God damn it, Rodney! That's it! This ends the Tigers' playoff chances! No way they can make a wild card run if they lose 2 of 3 to a last place White Sox team! I hate the fucking White Sox! Bunch of asshats! That fucking Konerko double was the end of the fucking season! Jesus Christ on a God damn hockey stick, how could the Tigers blow today's game after winning so dramatically last night? Shit! Shit! Shit!"

I then thought of the one go-to line to use in any situation where all hope appears lost...

"That's it man, game over man, game over! What the fuck are we gonna do now?!

Not even the thought of the NFL starting tonight was of much help. Season's over. Damn.

Then Bobby Seay has an easy 1-2-3 inning in the top of the 9th. There was still a glimmer of hope.

God dammit! TEE-MO Perez is leading off, and Bobby Jenks is on the mound? Fuck, he's lights out. Oh well, a rally was too much to ask for. What? Base hit? Throwing error! TEE-MO's on 2nd! Hot damn, there's still hope!

Shit! Not so fast, the Tigers need to lay one down, and Rabelo's up. It figures, he can't lay a God damn bunt down. He's going to have to swing away with 2 stri...Holy mother of God, he laid a perfect bunt down! And is he fired up! The crowd's into it now...

Cool! The Tigers just need a fly ball to tie it up. Christ, how many times have I said that over the past 6 weeks? Casey is pinch hitting? Maybin is pinch running? That makes sense, but Casey? Christ, here comes a pop up... Damn it, ground ball...It's through, base hit! Holy shit, tie game!

Infante's pinch running, you knew Casey isn't going to run. Inge is up, he's been on fire at the plate. Damn it! A nubber! 2 outs! Bah! A least it puts Infante in scoring position.

Top of the order, Granderson's up. He hasn't come through in a situation like this yet. Here comes a K! Hell, another extra innings game? I can't take it. HA! Dumbass Jenks plunked him!

That's gonna bite him on the ass, because Polanco's on deck! Oooo, this could end right now! No matter what, you know he's putting the bat on the ball.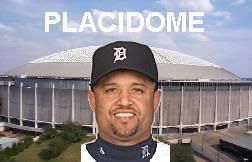 Polanco swings, ground ball in the hole...It's through! Now I can rightly use Bill Paxton's line from Aliens in a different way...

"Game over, man! Game over!"

I wrote the following after C-Mo's heroics on August 30, 2006.

I don't know if the Tigers will make the playoffs. But you know what? Wins like tonight's are the sort that can carry a team, change the mood of both the clubhouse and the fanbase. The kind of game that playoff teams, teams of destiny, win.
The team of destiny stuff fit in 2006, but not in 2007. Was this the game that kick starts the Tigers? Hell if I know. Honestly, it may be too late, as the Indians are all but out of reach, and there's 2 teams they have to jump over for the wild card.
The Tigers are a team struggling to stay in the hunt. Admittedly, they are also a team that is as close to being fully healthy as they have been all season. After being
"This close"
to writing the Tigers off, things may finally be looking up. With very beatable Seattle Mariners coming to town, a team that's on life support, who knows what might happen.
I can't tell you what is going to happen over the final 3 weeks of the season. But I can tell you this...
The Tigers' season isn't over. Not today, anyway.