Once Charter tired of pissing me off, and decided to flip the switch at 7:40, finally showing Tigers - Indians, I was able to settle in and watch one Hell of a ballgame.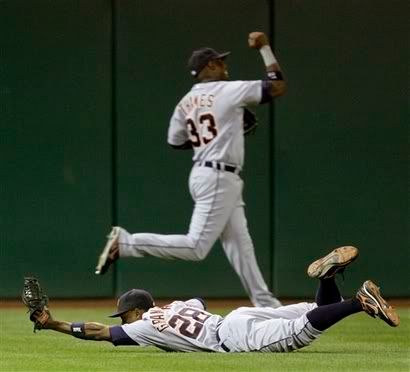 Marcus Thames wasn't the only person celebrating Curtis Granderson's miraculous catch.
So was every panicked Detroit Tigers fan...


It's about time the Tigers played some real "Baseball," rather than the ugly, bastardized version of the game they have been playing for the past 3+ weeks. Tonight, we saw the team that we've grown to expect to see every time out. Well, before their brutal slump reared it's gruesome head, anyway...
Tonight's 6-2 win was textbook Tigers. Excellent starting pitching, good defense, and an offense that's never out of a game. It was also quite refreshing to watch someone else's bullpen implode for a change.
It was also a pleasure to see a Tigers relief pitcher get strike outs when they were desperately needed. Fernando Rodney scared me damn near shitless, giving up a double to Chris Gomez (Gomez is
still
in the majors? Who knew?) off the 9th. But then striking out the side? When was the last time we witnessed such a thing from the Tigers' relief corps?
In the battle of closers, talk about mirror images. Joe Borowski
is
Todd Jones, Todd Jones
is
Joe Borowski. At least Jones didn't let the 10th inning get totally out of control, unlike Borowski, even though he did nearly cross that fine line between closing out a game, and soul crushing disaster.
With Jones finding himself with men on 2nd and 3rd, with only 1 out, in bottom of the 10th, I was girding myself for the worst. Even with a 4 run lead. But Jones found his command, and finished off the Tribe in typical Rollercoaster fashion.
TWFE kudos also go to the following... Jeremy Bonderman, for his best pitched game in a month, despite another
awful
1st inning. Curtis Granderson, for one of the best catches you'll see. (I found myself yelling "Get there!," then holding my arms in the air, just like a visibly relieved Tim Byrdak.) Last, but not least, Magglio Ordonez for another monster game, with 3 hits, 1 home run, and 4 RBI. He deserves more than just a little AL MVP love, you think?
At least for one night, we can put the Tigers slump behind us. Even better, we get to do this all over again tomorrow. Expect another E-ticket, white knuckle ride. Aren't pennant races fun?