Remember when I said that having even a modicum of intelligence was not a prerequisite for making it in pro sports? Well, we have another example today, hot off the AP wire...


DETROIT -- Detroit Tigers infielder Neifi Perez was suspended for 80 games Friday after testing positive for a third time for a banned stimulant.

Perez was suspended for 25 games on July 6 when he tested positive for a second time. Under baseball's labor contract, a player who tests positive for the first time is sent for counseling.

Perez has been the only player suspended by baseball for stimulants since baseball banned them before the 2006 season.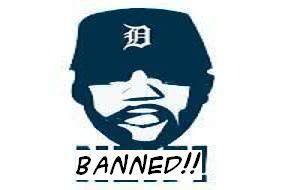 You have got to be kidding me. The Black Hole of Suck already had 2 positive greenie tests hanging over his head, yet managed to get popped for a 3rd? TBHoS isn't a genius, he's a Goddamn Super Genius.
Obviously, there's more going on here than originally thought. With a 3rd strike coming so soon after the 2nd, it's apparent that TBHoS has some sort of substance abuse problem, rather than performance enhancing issues. I hope he gets the help he certainly needs.
With today's news, the Tigers' interest in the Bucco's Jack Wilson now makes a little more sense. The fact that the Tigers appeared to utterly
covet
Wilson, if the
rumors floating around
about the prospects involved are true, is still incomprehensible. Either way, the front office had to have advance notice that the MLB hammer of discipline was going to be lowered on TBHoS.
So what do the Tigers do now? Nothing. Does it really make any difference, as we are talking about the 25th man on the roster? Between Ryan Raburn's and Omar Infante's ability to play multiple positions, let alone hit higher than Lindsey Lohan's BAC, the Tigers are better off than having the highly overpaid, rapidly aging, no-hit, OK field utility infielder that was TBHoS taking up roster space.
This means that the Neifi Perez era is over, which is cause for celebration. Or at the very least, a sense of relief.