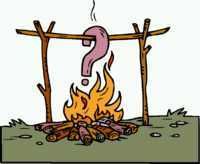 Once again, it's the time on TWFE when we answer Detroit News columnist Lynn Henning's "Burning questions." Let's start the deconstruction!

Q: Did the Tigers toss away a World Series invitation when they failed to trade for a big time reliever ahead of Tuesday's deadline?

Henning: First things first: What good does it do to have a lights-out bullpen if your starting pitching can't get you to a point where the bullpen makes a difference? The Tigers' problem is no longer a bullpen that figures to be a lot better when Fernando Rodney, to say nothing of Joel Zumaya, returns late this week. It's a starting rotation that suddenly can't stay on track.

Big Al: I'll say, "Maybe." All teams slump, and the Tigers are in midst of a team wide one currently. I'm not near as uptight (Yet) about the starting pitching as Henning seems to be. I'm confident that Verlander, Bonderman, and Miller will be fine, regardless of their recent struggles.

The question marks are Robertson, and more importantly, Rogers. Their aches and pains bear close scrutiny. I'm fairly confident that the starters will get back on track. But the bullpen has been a season long issue, and by not picking up a reliever at the deadline, it will remain an issue.

I'm not near as confident as the Tigers, and Henning, that Rodney and Zumaya will be the bullpen saviors. They'll have to show me, so to speak, that they are the pitchers they were 12 months ago.

Q: So why give up on trading for Eric Gagne or Octavio Dotel? Why not repair one aspect of Detroit's pitching when the starters are likely to settle down?

Henning: For two reasons: If you think Gagne, whom the Red Sox got Tuesday in a shrewd trade with Texas, is the same Gagne he was with the Dodgers, think again. He can help -- for the time being -- but he wasn't worth trading the kind of talent the Tigers were obliged to send to the Rangers.

Dotel is a somewhat different case. The Royals weren't interested in trading him to another team in the Central Division. The Tigers would have been required to pay a premium there, and the policy here is that you don't cripple your future on a longshot gamble that one pitcher is going to put you into the World Series.

Big Al: Huh? Wait a sec. Did Henning first call the Gagne trade "Shrewd," then say he "Wasn't worth" what the BoSox gave up? Well, which is it? It can't be both.

Gagne went to the Sox for one thing. Lots and lots and lots of money. That's why Boston can trade for a Gagne without too much worry, even though his elbow is held together with bailing wire and zip ties, as they can throw a shitload of money at their mistakes. If Gagne gets hurt, they'll buy another reliever. Just like the team they despise, yet emulate, the Yankees...

Gagne wasn't going to come to here, anyway. It's one thing to waive his no-trade to go to Boston, it's altogether another to go somewhere else. Gagne wasn't going to do so for Detroit. So debating why the Tigers didn't go after him is moot.

You can say the same for Dotel. He wasn't going to be a Tiger, so it's moot. I agree that the Royals weren't going to trade him within the division, unless Detroit paid a big premium. I do wish the Tigers had gotten a decent bullpen arm, but a trade for Gagne or Dotel wasn't going to happen.

Q: So the Tigers are supposed to win a playoff spot with a wobbly bullpen and a suddenly implosive starting rotation?

Henning: They're still a pretty good bet to win the division, although there are serious and assorted concerns that might sabotage this team's opportunity there. The Tigers' youth is really showing up with the starters. You can't make Jeremy Bonderman (24), Justin Verlander (24), and Andrew Miller (22) the top three horses in your rotation and expect them to regularly pitch craftily or with great finesse.

You're going to pay the price for their inexperience, and, for all their talent, this trio proves it all the time.

Big Al: The starting rotation had had a rough, say, 2 weeks? Give or take... I do agree that there will be some ups and downs when you depend upon such young pitchers. But you cannot deny they are talented as Hell, and that anyone with a half a brain would hitch themselves to those 3 young arms.

When you have 3 dominant pitchers, relatively inexperienced, or not, I'm more than willing to live with the occasional mistakes brought on by youth. To say that their youth may "Sabotage" their chances is silly beyond belief. I'd bet Jim Leyland would agree.

Q: Isn't that balanced by the presence of Nate Robertson and a healthy Kenny Rogers?

Henning: Here, of course, are the most recent causes for concern. Robertson didn't seem to throw a pitch above 89 mph in last Friday's start against the Angels. That was frightening for a left-hander who must have a 91-92 fastball and a sharp slider to be effective. I'm beginning to wonder if this season he can get back to being a power pitcher.

Rogers seems to be coming along fine following his tender elbow. But, again, at some point a man three months shy of his 43rd birthday is bound to show his age. As marvelous of an athlete as Rogers is, he might remain durable for the next two or three seasons. But he isn't bionic, either.

Big Al: As I said above, I agree that the health of Robertson and The Gambler is cause for concern, and should be watched closely. But as shown by the recent performances of Virgil Vasquez and Jordan Tata, that for at least the short term, the Tigers do have capable replacements.

Young replacements or not, I do hope that the 2 veteran starters are healthy for the stretch run. The Tigers are inexperienced enough in the rotation, God forbid that Vasquez or Tata have to be thrown into the playoff stretch fire if Rogers is unable to pitch. That's not a scenario conducive to winning a playoff spot.

The health of Kenny Rogers is damn important to the Tigers chances, as he's the leader of the pitching staff. Let alone The Gambler still has wicked good stuff when he's healthy...

Q: So this team is supposed to stand pat and let a playoff opportunity pass? How silly is that?

Henning: Here's what's silly: Enduring 12 consecutive seasons without a winning record. Trading John Smoltz for Doyle Alexander, which brought the Tigers a five-day trip to the playoffs that only happened because the Toronto Blue Jays faltered in the final week of the 1987 season. Trading a batch of good young players for Juan Gonzalez, a foolish deal that only became less foolish because Justin Thompson never healed up and Gabe Kapler never put things together fully.

Dumb trades will undo all the smart things a front office has fought to achieve in a half-dozen years. And that's what the Tigers stood to make Tuesday -- a stupid trade -- if they outbid the Red Sox or Braves.

Big Al: Bear with me, as I'm going to go off here... Good God damn Lord, will this city ever forget the Doyle Alexander - John Smoltz trade? It was 20 years ago, for chrissake! But it still comes up EVERY season at the trade deadline. Enough is enough! It's well past time we LET IT GO.

You'll hear the same old refrain from fans and media alike, "Oh no, we can't risk trading prospects, remember the John Smoltz trade?!"

Jesus H. Christ! "Remember the Smoltz trade!" has become the Detroit version of "Remember the Alamo!" As if the Smoltz trade was the sole reason for 12 consecutive losing seasons. We all know why the Tigers were lousy for so long, and that trade had little to do with it. To bring that up in this column is outright asinine.

Smoltz was a long shot A ball prospect in 1987. No one, I repeat, absolutely no one, would have foreseen that Smoltz would have a hall of fame career. It was a good trade at the time, and it's still a good trade today. Alexander was the final piece of the puzzle, and he won Detroit the division damn near single-handedly.

Alexander went 9-0, with a 1.53 ERA, and finished 4th in the AL Cy Young voting. Don't forget, Alexander had an All-Star season in 1988 as well. He was basically done after '88, but it wasn't as if Detroit got some stiff for John Smoltz.

Are we going to have the same discussion 20 years from now if Humberto Sanchez or Kevin Whelan, whom the Tigers traded for Gary Sheffield, has a Smoltz-like career? Even though it's evident that the presence of Sheff was a huge part in raising the Tigers offense from good, to elite? That if the Tigers win the AL pennant, the Sheffield trade will be a huge reason why? God, I hope not.

Sometimes you have to throw caution to the wind, play for the present, future be damned. Especially in regard to a 1987 Tigers team that was on the verge of their championship window closing. So that's why you'll never, ever convince me that the Smoltz trade was a bad one. To call the Smoltz trade "Silly?" Please, that's revisionist history. It's also stupid.

Now comparing the Juan Gonzalez deal to the Alexander trade is apples and oranges. It's a straw man argument, and has nothing to do with the Tigers current situation, or the one they found themselves in 1987.

The awful Juan Gone trade was driven by a desperate owner, with a dunderhead for a GM, wanting a marquee name in the first year of a new stadium. The team wasn't close to contending, and never would have, with or without the prospects that were traded.

Juan Gone, Justin Thompson, John Smoltz, Doyle Alexander, none of them have a damn thing to do with how the Tigers found themselves in their current situation. More importantly, how those trades turned out should have absolutely no effect on any move they may make from here on out.

I'm not one to say that the Tigers should be afraid of making a risky trade. But I am afraid that the Tigers will not make the playoffs because they sat on their hands at the deadline. I'm also afraid that we'll be having second thoughts about much more than just the God damn John Smoltz trade if the Tigers come up short this season.

Q: Isn't the objective to do whatever it takes to win in a single season?

Henning: To the degree you can assure such an outcome, absolutely. But the greater mission -- and responsibility -- for a franchise is to put together a solid, year-to-year product that can put you in contention on a regular basis. If you send too many prospects down the road on a low-percentage chance one guy will make the difference in a particular season, you can look forward to a return to the Dark Ages.

And the Detroit baseball community should remember all too painfully how those earlier, dispiriting times came about.

Big Al: Remember the dispiriting times? How can I forget?

The Tigers are trying to walk that very fine line of trying to win now, while not kissing off the future. The one problem with that is they aren't all that young of a team.

Who's going to be here in 5 years? Going by the current roster, if they stay healthy, there are a handful sure things. Verlander, Bonderman, Zumaya, Miller and Granderson. Let's throw in Ordonez, as he'll be at the tail end of his monstrous deal by that time. Other than that, who knows?

The vast majority of the important players on the Tigers are on the sweet side of 30. So in many ways, the future is now. I continue to say that there are no guarantees that the Tigers will remain contenders. To write off winning this season for the possibility of competing in the years to come is folly.

Isn't the point to win championships? Not be "Competitive," but to win the World Series? Sometimes you need to take the risk, within reason of course. But I don't think that there should be many, if any, untouchables when you are trying to win it all.

There are limits, of course. Even I wouldn't trade Cameron Maybin for a middle reliever. But as part of a deal for Mark Teixeira? (Or another youngish, big time player) I'd seriously think about it...

There's one thing we need to remember. Dave Dombrowski, one of the best GM's in baseball, now runs the team. The Tigers no longer have an idiot named Randy Smith making the decisions, as he did during those "Dispiriting times."

That's the biggest reason the Tigers were awful for so many years. It wasn't because of the trades that were made, it was thanks to the dipshit who was making them.