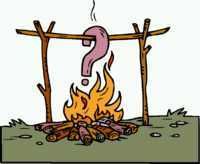 Good Lord, Lynn Henning has been one prolific SOB as of late. We had another edition of his "Burning questions" in today's Detroit News. That's his 3rd in less than a week. Hey, I'm all for it, as I'm always a whore for a blog topic, and it's better than alternative, reading about the Lions, right?

So I have no choice but to continue my schtick my continuing series of answering Henning's on fire queries. And awaaay we goooo!

Burning questions as the Tigers try to play catch-up against the Cleveland Indians in a nervous Central Division chase

Q: Why should the Tigers concede anything to Cleveland with a month to go? Hasn't the prevailing wisdom all along been that the Tigers are a better team than the Indians?

Henning: Perspective changes as a team's fortunes change. The Indians have the best double-barrel shotgun any defender of first place could ask for in their one-two starting pitching tandem of C.C. Sabathia and Fausto Carmona.

In Sabathia and Carmona, the Indians have two of the hottest pitchers in baseball, which is precisely the one-two punch any team wants to take into the final month of a pennant race.

The Tigers can get big pitching efforts from time to time, as Justin Verlander proved Monday. But minus Kenny Rogers and his consistency, the Tigers are looking at an extremely rough assignment in trying to counter the Indians and Sabathia-Carmona.

Big Al: The Tigers are better that the Indians. On paper, and when fully healthy. Give me the Tigers roster over Cleveland's next year as well. But on the field, it's a different story, as Cleveland has found their stride. They are currently the better team, while Detroit is not playing well at all.

Henning is right, the Tigers have no one in the rotation stepping up, unlike the Tribe's Sabathia and Carmona. Jeremy Bonderman is baseball's biggest enigma. Andrew Miller is a kid, and is pitching like one. Nate Robertson is a world beater in one start, then blows in the next 2. Chad Durbin is a career journeyman. Kenny Rogers and Jair Jurrjens are on the DL. Only Justin Verlander has shown anything recently, and even he's been consistent in his inconsistency.

The Tigers starting pitching, and as a whole, have been trending down for more than 5 weeks. Another week or 2 of bad baseball, and the season will be, if not over, on the brink.

Q: Weren't the Tigers able to overcome a prohibitive favorite in 1987 when they stole a playoff spot in the regular season's final week?

Henning: Sure, but a couple of factors entered into the equation. The Toronto Blue Jays absolutely came apart like a cheap suit in the regular season's waning days. Everybody pressured out. Also, Detroit had very good starting pitching down the stretch with Jack Morris, Doyle Alexander, Frank Tanana, and Dan Petry.

It's unlikely the Indians will go to pieces as Toronto did 20 years ago, although their offense has been curiously missing on too many occasions when Sabathia or Carmona, to name only two, pitched beautifully and still lost.

The Tigers need two things to happen as they try to stay within a stride or two of Cleveland: They need Rogers to return and pitch Rogers-style, even if it's only for the regular season's final two weeks. They also need Gary Sheffield back.

Minus those two, it's going to be a rough mission for the Tigers.

Big Al: The wild finish to 1987 is a big reason why I refuse to think the Tigers are out of the race till they are literally out of the race. Being too young to remember the 1967 Tigers, the last 2 weeks of the '87 season was the most exciting end to a Detroit season I've ever witnessed, by any of our teams, in any sport. It was THRILLING!

You think this this season is stressful? This is nothing compared to '87. Those of you too young to remember, or who weren't yet around, you just have no idea what a white knuckle ride that season truly was. I can only hope you have the chance to experience such a thing...

But as Henning said, there are a few significant differences between 1987 and the present. In '87, the Tigers basically played the Blue Jays in a best of 7 series over the final 2 weekends of the season. The Tigers won out, 4-3 and clinched the east on the final day of the season. They were also helped along by the Jays going 1-6 over the final week.

The 1987 Blue Jays choked, big time. The Tigers took advantage. Lightening like that doesn't often strike twice, so I wouldn't count on the Indians folding like a cheap ass card table.

These Tigers aren't so lucky in havinvg their own destiny in their hands, as they are done playing Cleveland by mid September. They are going to need help to catch them, let alone play damn well themselves.

As Henning also mentioned, the Tigers had an excellent veteran rotation that was hitting on all cylinders down the stretch in '87. The current Tigers rotation are struggling with both their youth and injuries. That thought is driven home as I watch Andrew Miller have an awful 1st inning in KC, leaving the game with 2 out in the 1st inning, and down 5-0. Ugh, I need a beer.

God damn, the Tigers miss having Kenny Rogers right now. Same goes for Gary Sheffield. The 1987 Tigers were relatively healthy, the 2007 Tigers are far from it.

Cleveland is far from being a juggernaut. But they are playing better than the Tigers, and are much healthier. Detroit isn't out of time, but they need time to heal, and time to catch the Tribe. But time stops for no one, especially in a pennant race.

Without question, the Tigers have their work cut out for them.

Q: Did the Tigers get rid of Craig Monroe too early? Did they make a blunder in calling up Cameron Maybin prematurely?

Henning: On the issue of Monroe, the feeling here is the same as it was the day the move was made. Monroe had shown for too many weeks that he was no longer a run-producer. That simple. You can't retain in your batting order an outfielder who has gone months without hitting.

As for Maybin, the Tigers probably got carried away with his talent at a point they were in need of a jolt. But I had no problem with the decision because of Maybin's exceptional talent and speed, no matter how rough he has looked in the early going, which has been rough, indeed.

Another dividend is that Maybin knows what it takes to play in the big leagues. That will mean everything when he returns to the minors next spring, which he almost certainly will for a final dress rehearsal ahead of rejoining the Tigers for good.

Big Al: No. Monroe was toast. In fact, the Tigers let Monroe dig himself into a hole a few weeks too long, hoping against hope he would find his swing. C-Mo never did, and the Tigers had no other option than to cut their losses.

As much as we liked Craig "His Clutchiness" Monroe here at TWFE, we knew that he was nothing more than a place holder in left, not the long term solution. The Tigers decided to let him walk a couple of months early, as he wasn't coming back in 2008 anyway. There was no way the Tigers were going to offer him arbitration, and it was obvious he was no longer useful as a Tiger.

Unfortunately, Monroe had turned left field into a offensive black hole, and combined with the injury to Gary Sheffield, it left the Tigers no choice than to give Maybin a shot. He's shown flashes of his immense talent, but for the most part, has looked the part of any other 20 year old rookie who's first cup of MLB coffee has shown that he needs a little more seasoning.

I agree that Maybin will start 2008 in the minors. But he will be up for good, sooner than later. Let's say, off the top of my head, by mid 2008.

As for who should be Monroe's replacement? Why either Ryan Raburn or Marcus Thames aren't in left field full time is an absolute mystery to me. I'd be fine with either player, or a combination of the 2, patrolling left. Yet for some reason that I, nor anyone else, can fathom, Timo Perez was called up this week, and is playing full time. What. The. Fuck?!

All Rayburn has done since coming up from Toledo is hit, hit, hit and hit. Then he hits some more. Yet Timo Perez was in left last night.

Then there's Marcus Thames, who has the most power on the team, and was playing the best ball of his career before he went on the DL. Yet Leyland has not seen fit to insert Thames back in the lineup on a daily basis. But once again, Timo Perez is in the lineup tonight.

Perez should be pinch running, a late inning defensive replacement, and an occasional pinch hitter. Nothing more, especially in the middle of a pennant race! Leyland's Timo Perez fetish is baffling to me, just plain baffling. I get pissed just thinking about it.

Q: Was there anything to Tigers manager Jim Leyland moving Maybin to center field for the final innings of Monday night's game?

Henning: It made sense. Give the kid a chance to return to his natural position for a couple of innings, just to see how he fares. Maybin's adjustment to left field -- rather, his inability to adjust to left field -- caught the Tigers by surprise.

They failed to appreciate that a kid two years out of high school who has played center field exclusively in his brief minor league career was going to have a tough transition to a position that is much different in the big leagues, mostly because of lights, expanse, and slight differences in momentum and footwork. It has kept fans from seeing Maybin's otherwise powerful throwing arm.

Big Al: There was nothing to it, no mind games being played by Leyland, other than building up Maybin's confidence. In my mind, Curtis Granderson is the center fielder of the present, and the future. Considering the gold glove caliber defense played byGranderson over the past 2 seasons, it would be silly, stupid, asinine, and just plain dumb to move the proven Granderson to left for the talented, but unproven, Maybin.

Watching Maybin stumble around left field has me wondering why he wasn't playing more in left while in Lakeland or Erie. Sure, Maybin is an uber-prospect, but the Tigers have one of the best center fielders in all of baseball in Granderson.

All the variables mentioned by Henning had Maybin looking more like a Has-bin in left field. We all know that he has the capabilities and work ethic to learn the position, this is just one step in the learning process. Maybin has entire off season to work on his outfield routes, starting with the Arizona Fall League. (That's if, God forbid, the Tigers don't make the post season.)

Q: If Maybin seems destined for more seasoning in the minors in 2008, don't the Tigers need a left fielder heading into next season?

Henning: That would be a correct deduction. Anyone who thinks this offseason is going to be quiet in Comerica Park's executive offices better buckle their seat belts. A whole lot of shaking's going on, even as this season plays out.

Big Al: Will the Tigers look for a left fielder in this offseason? The short answer is, "Duh." The long answer? "Are you stupid crazy? Of course the Tigers will be on the prowl for a left hand hitting left fielder! Duh!"

As Maybin doesn't appear ready for prime time, a left fielder, preferably one who swings left handed, will one of the offseason's main priorities. I'd love to see someone who could platoon with Thames. A Frank Catalanotto / David Dellucci type would be a nice fit. They would have been a nice fit this season as well, but the Tigers ended up doing nothing in shoring up their left hand hitting issues. That can't happen in this coming off season.

Expect the decade long search for a 1st baseman with more than 3 home run a season power, or moving Carlos Guillen to 1st and acquiring a slick fielding shortstop to be the Tigers other off season priority.

Personally, I don't like the idea of Guillen becoming a full time 1st sacker. But that's another post for another set of "Burning questions!"