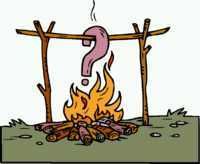 Time flies! Once again, it's that time of the week when TWFE answers Detroit News columnist Lynn Henning's "Burning questions." Let's deconstruct what Henning advocates for the motor city kitties this week.

Burning questions as the Tigers seek ways to deal with their pennant-race stress (doctor's advice: win baseball games)

Q: What four teams do you believe will make the American League playoffs?

Henning: The Boston Red Sox, the Los Angeles Angels, the New York Yankees -- and (gulp) the Detroit Tigers.

Big Al: The BoSox, the California/Anaheim/Los Angeles Angels, the Cleveland Indians, and (No gulp from me) the Detroit Tigers. The Yankees are going to fold over the next 6 weeks, burned out from coming from so far back in the pack. Seattle is nothing more than a mirage.

Despite the recent stumbles of the Tribe and the Tigers, the wild card is coming from the central. Book it.

Q: What have you been drinking, smoking, etc.?

Henning: It's tough to bet against the Tigers for the simple reason they were a first-place team for 140 games in 2006, and they were a first-place team for most of this year, until the past three weeks turned things inside out.

Big Al: Well, I haven't touched the doobage in many years, but I love Acid cigars. In fact, I'm jonesing bad for an Acid Liquid. I'm almost out of Labatt's, and I'm totally out of Bombay Sapphire. In other words, there's an alcohol crisis at TWFE HQ.

What? You want to me to explain my picks? Ohhhh, my bad.

I'm with Henning on this, the Tigers aren't as bad as they've looked for the past 3 weeks. They are a very talented team who happen to be suffering through the tough 1-2 punch of a team-wide slump, and injuries to key players. They aren't a .400 team, though they have been impersonating one for 3 weeks. The Tigers, when healthy, should play .600 ball. Healthy being a HUGE caveat. //knock on wood//

Q: That's the point. Why is this team going to be any different over the remaining seven weeks?

Henning: Did you see Fernando Rodney pitch Sunday and Monday? Did he pitch like that before he got rid of his tendinitis during a six-week stay on the disabled list? It's all about health. And a reasonably healthy Tigers team is going to be difficult for the Indians and Twins to beat.

Big Al: The offense will be fine, and has shown signs of breaking out in the Tampa series. Gary Sheffield is back in the lineup, and hopefully his shoulders are healthy. Marcus Thames will soon be off the DL, and back in left field by the weekend. That's 2 big parts of an offense that was clicking before they went down. Their return will allow Craig Monroe to take over from TBHoS as the 25th man on the roster, as even Jim Leyland has realized that Monroe, unfortunately, is not going to turn his season around.

They have also found a new weapon in Ryan Raburn, who has hit the ball with authority, and has enough versatility to play multiple positions, giving Jim Leyland the roster flexibility he loves. You ride that horse till there's nothing left.

As Henning says, Rodney looks like the set up man we saw in 2006. If, and that's a big IF, he is healthy, and had his velocity and command back, that will go a long way towards fixing the bullpen.

The Tigers may finally be fully healthy, for the first time all season, in September. I think we can all agree that a healthy Tigers team is the class of the central, and possibly all of MLB.

Q: So we can expect Gary Sheffield, Kenny Rogers and Joel Zumaya, among others, to all return ship-shape and to re-establish Detroit as a first-place team?

Henning: I don't know about Rogers, although it's reasonable to believe Zumaya will be back by Labor Day, which is plenty of time for him to make a difference. Sheffield is the key. He has made this offense go this season because of his ability to break up games with his bat and to get on base and fuel big innings. It's no surprise the offense went to pieces when he went out.

Big Al: My fingers are crossed, but so far, so good. Rodney looks fully recovered. Sheffield played for the first time in a week, and doubled on his first at bat. As long as he stays as far away from the outfield, and bad cortisone shots, as possible, Sheff should be fine.

As for The Gambler and Zumaya, well, we can only hope for the best. If one of them comes back in their pre-injury form, the Tigers will be in good shape. If both are ready for the playoff run, the AL best look out, as the Tigers would then be the best team in the league. But if neither are capable of contributing? I may change my prediction about the the Yankees not winning the wild card.

Q: But how can a team that's so dependent upon one batter expect to make the playoffs?

Henning: Because a hitter on the game-changing level of Marcus Thames also is coming back this week, as likely will be the case with Sheffield. Put Sheffield and Thames back into the lineup and you change the whole dynamic of Detroit's offense. Thames is the bat the tail-end of Detroit's batting order has so desperately been missing for three weeks.

Big Al: Dependent on one batter? Magglio Ordonez and Placido Polanco are hitting in the .345 range, and are in the race for the batting title. Carlos Guillen is the best hitting shortstop in baseball. Curtis Granderson has taken the next step, and is an offensive force.

So I wouldn't go so far to say that the Tigers need to be carried by Gary Sheffield. But Sheff does makes the Tigers that much more dangerous. His return, if you buy into the idea of batters being protected, can only help Ordonez and Polanco.

Thames was playing the best ball of his career when he strained his hamstring. He is the best pure slugger Detroit has on the roster, and I agree that he does have game changing power. Being able to rotate the combination of Thames and Raburn will give the Tigers a pretty damn wicked offense.

Q: What good is hitting if the Tigers' starting pitching remains as bad as it has been?

Henning: That's the key question, obviously. But have you checked out the other contenders' pitching staffs, as well? Everyone has a soft spot or two. Rogers will go a long way to stabilizing things if he can make it back, which is probably a major "if" today.

Justin Verlander and Andrew Miller have been showing their youth of late, which is the tradeoff a team makes when it deploys exceedingly talented, but exceedingly green, starters in their early 20s. Jeremy Bonderman, I concede, is a total mystery. As for Nate Robertson, he has not been a power pitcher for much of the season, although his high-horsepower fastball and slider were back in the saddle Tuesday night against Tampa Bay.

So, yes, the above paragraph somewhat contradicts that business about Detroit being strong enough to win the American League Central Division title.

Big Al: Jesus H. Christ, Henning! We've answered some variation of this question regarding the starting rotation every column.

Yes, the rotation has had a rough few weeks. Yes, they are capable of doing more. Yes, the Bonderman first inning "Thing" is troubling. Yes, they are young. Yes, Kenny Rogers is hurt. Yes, they are capable of more. Yes, they will pitch better. Yes, they better pitch better. Yes, yes, yes! And here's a NO, just for good measure.

Let's 's move on, shall we?

Q; Then why pick the Tigers?

Henning: Because it's too difficult to bet against a rotation that features Verlander, Bonderman, Miller, Robertson and a healthy Rogers. If Rogers doesn't make it back, the playoff forecast turns dark. But as long as the doctors say he has inflammation that should subside, you can expect Rogers to return in time to help stabilize an otherwise talented starting rotation.

Big Al: Good Lord, do I have to explain everything? Christ...

I pretty much concur with Henning. Veralander, Bonderman, and Robertson proved in 2006 that they were good enough to win the pennant. Tthey didn't lose their ability to pitch over the past 12 months. The rotation is too talented to continue to blow.

All signs are that Thr Gambler will be back by September. If, God forbid, Rogers is unable to pitch down the stretch, I won't go so far to say that the Tigers will miss the playoffs. It would be a body blow to their chances, but not a knockout punch.

Q: Is the schedule a serious issue?

Henning: Yes, every bit as much as the Tigers' pitching, and for this reason: The 13-game stretch from Aug. 14-27, when the Tigers play Cleveland and the Yankees and no one else, is the whole ballgame for Detroit. The Tigers must at least break even in those games or run the risk of digging a hole that will be doubly difficult to escape in September.

Big Al: Yes! Next question.

Talk to me at the end of the month, after the Tigers play through that meat grinder of a late August schedule. But I think they'll still be in the hunt come September.

Q: Assume they hold their own against the Indians and Yankees. What has to happen in September?

Henning: Detroit will be required to play .600 ball. If the Tigers can win 60 percent of their September games, and if they enter the month in the relatively same position they're in today, they will eke out a division title.

Anything less, and they're rehearsing for 2008.

Big Al: Uh, win games? You know, win more than they lose? Hopefully a LOT more than they lose.

Of course .600 ball will get the Tigers in the playoffs. They are more than capable of doing so...And you all know the words by heart...As long as they are HEALTHY. //knock on wood//

I don't care if they win the division, or make the playoffs as the wild card. We learned last season that you just need to get there, then worry about the next step. The Tigers know what they need to do. I just hope the fans can hold it together without mass hysteria starting when they lose 2 games in a row.