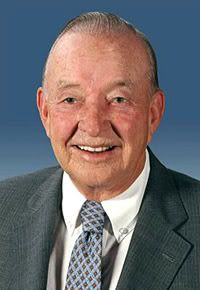 As I was absentmindedly sorting through my RSS feeds, I stumbled across the latest column from SI's Michael Silver, in which he ranks the NFL owners, 1 thru 32.

Interesting enough column fodder, but the main reason I checked it out was to see where our own doddering octogenarian, William Clay Ford, Sr., ranked. Ford has to be last. He just has to be, right?

Wrong.


29. William Clay Ford (Bill Ford Jr.), Lions

Which genius auto magnate is responsible for the disaster in Big D? That depends on whom you talk to -- though I'm told that Ford Jr., if he had his way, would have fired team president Matt Millen long ago. Either way, there's no disputing that this franchise runs like the Edsel.
He spends the next paragraph bitching about the lack of punishment Lions organization gave to the dunk driving, naked, fast food eating, o-line coach. Local bloggers endlessly hashed over Naked Coach during the regular season. Whatever. Hell, Ford probably has no idea who Naked Coach is, and that he works for him. But I digress...
After reading the blurb, I had to ask, whom does Silver think is calling the shots with the Lions? Reading from Silver's POV, it appears that he thinks it's Junior, not Senior, calling the pitiful shots. Looking back at the last several seasons of ineptitude, I'd say the Lions are still WCF Sr's baby.
Why even bother listing Junior, as for all intents and purposes, he hasn't been involved in the Lions daily operations for quite some time. Considering the dire financial straights of the family cash cow, FoMoCo, saving the family's name, and more importantly, their FoMoCo stock, has demanded Junior spend his time dealing with that unfortunate ongoing fiasco.
And if Junior had any real say in his inheritance, the incompetent boob running the Lions' front office would have been fired a couple of seasons ago. No, the Lions are Senior's play toy, and I don't think you can dispute that fact.
Nevertheless, ranking either Ford as only the 29th worst owner in the NFL is a slap in the face of several generations of Lions fans.
This is whom Silver thinks are worse owners...
30. Ralph Wilson, Bills
31. Tom Benson, Saints
32. Mike Brown, Bengals
Not exactly great company, to be sure. Say what you will about their current state of affairs, Ralph Wilson and the Brown family both have reached multiple Super Bowls. For that matter, neither team has ever reached the
long-term
depths of the Lions.
The Saints have had more than their share of issues during Tom Benson's ownership tenure, (Wanting to abandon the NO fanbase after Katrina was despicable) but going into the 2007 season, the Saints may be the best team in the NFC.
As for the Lions?
Every Lions fan knows, and laments, the following fact, and it says it all about WCF Sr, and his awfulness as an owner.
Since William Clay Ford, Sr became sole owner in 1964, the Lions have won just 1, count 'em, 1, playoff game.
It doesn't get any worse than that. It can't get any worse than that. If that fact wasn't so painful, it would be hilarious.
Ford isn't just the worst owner in the NFL. He's the worst owner in all of sport. In fact, Ford is the worst owner ever, alive or dead. Ford has reached, much like his GM, historic levels of ineptitude.
The Lions have a bad roster, and worse, that roster is full of
braggadocio
. The front office is even worse yet. The fanbase is so far past being fed up, they've given up. The fans have backlashed against the Lions for so long, and so hard, to no result, they don't care anymore.
The NFL is the most powerful, most watched, and most influential sports league on the planet, yet Ford has made the Detroit NFL franchise irrelevant in the local, and national, sports landscape.
To steward am NFL franchise to total and utter irrelevancy takes a special owner. "Special" as in riding the short bus while wearing a helmet special.
William Clay Ford, Sr has given one*, and only one, thing to the Lions fans. Pain. Lots and lots of pain.
*Other than Ford Field, which is wonderful.