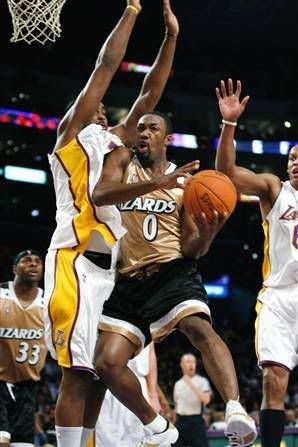 News: Gilbert Arenas will opt out of his Wizards deal after this coming season.
Fan wishful thinking: The Pistons need to sign Agent Zero!
Reality: Never, ever going to happen. Arenas is going to get a shitload of cash, probably a max deal. Odds are the Pistons will have signed Chauncy Billups to a long term, 13-14 million dollar a year contract. Considering how Bill Davidson despises the luxury tax, let alone his refusal to give max deals, it's going to choke his goat to just sign Billups. He'd never go for Gilbert Arenas. Agent Zero is highly marketable, extremely entertaining, well spoken, and most importantly, a legitimately talented player. Arenas would blow up as a national personality if he signed in a big market, that's if he doesn't stay with the Wiz. He's not coming to the D.

News: Dante Culpepper is persona non grata in Miami. He's currently trying to broker a deal to be traded to another team. That's if he isn't cut by the Fish in the meantime. Either way, the former nemesis of the Lions is not going to stay in Miami.
Fan wishful thinking: The Lions need Culpepper!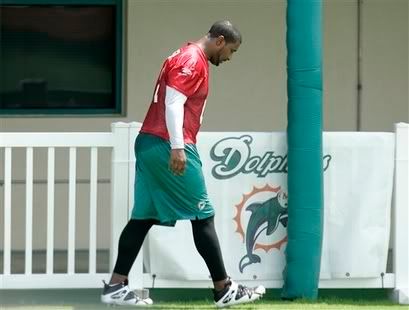 Reality: Culpepper is still not healthy after his 2005 catastrophic knee injury. The Dolphins know he's damaged goods, and won't be ready for the start of the 2007 season. In fact, Culpepper may never again be the elite QB we saw when he had 2 good knees and a motivated Randy Moss catching his passes. The Lions, or should I say, Millen and Marinelli, need to win now, or risk another fan revolt. After a 3-13 season, Millen and Marinelli need a healthy, veteran QB who already knows the Mike Martz offense. Which means, for better or more likely worse, Jon Kitna is entrenched as the Lions QB. They would never sign a QB who has high risk, even that also means high reward, written all over him.

News: The Tigers take 2 of 3 from the Mets, no thanks to the bullpen, thanks to the best offense in baseball. Yesterday, Jim Leyland finally admitted, in so many words, that the bullpen must improve. Otherwise, as Leyland said, "At some point, you look to make changes. It's that simple."
Fan wishful thinking: Blow up the bullpen! Make a trade! Bring up Andrew M...Oh, he's already up. Bring up somebody! Anybody!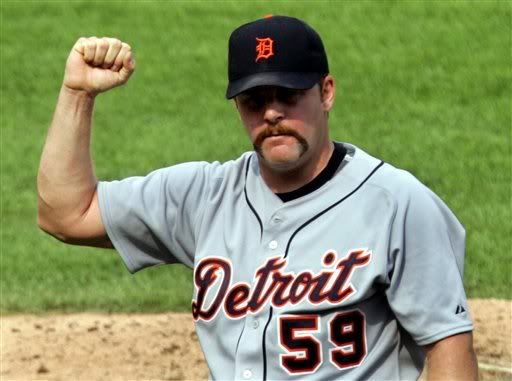 Reality: Finally, wishful thinking that may come to fruition, for more than a few reasons. Leyland has gone public with his opinion about the bullpen, calling them out in the media. Kenny Rogers is a week or 2 away from rejoining the rotation, if his performance last night in Toledo is any indication. The aforementioned Andrew Miller has been brought up as an injury replacement twice, won both times, and looks as if he may be in the bigs to stay. Chad Durbin has passed both Nate Robertson and Mike Maroth in effectiveness. Speaking of Robertson, he's due to come off the DL in a week. There are several near big league ready arms in the minors. That leaves the Tigers with that extreme rarity, excess starting pitching. Rumors have been flying about the Tigers interest is several different relievers. Something is going to happen, and I bet it's going to be soon.