I've been totally lax on linking recently. That changes today. On to the link dump...

First off, I was asked by Christy of Behind the Jersey to contribute to her bloggers roundtable about the merits of Detroit's status as a pro and college sports mecca, along with several other notable local bloggers. The eyeopening viewpoints were a fun and informative read. It's a 5 part series, so set aside some time...

Part 1
Part 2
Part 3
Part 4
Part 5

Scott of Quo Vadimus took a one look at the undeserving Robinson Cano of the evil empire leading Placido Polonco in the AL 2nd base All-Star game voting, and thought that wasn't right. Well, Scott's not one to take such a thing lying down, so he's begun a grassroots blogroots All Star voting campaign known as "Go to the Polls for Placido!"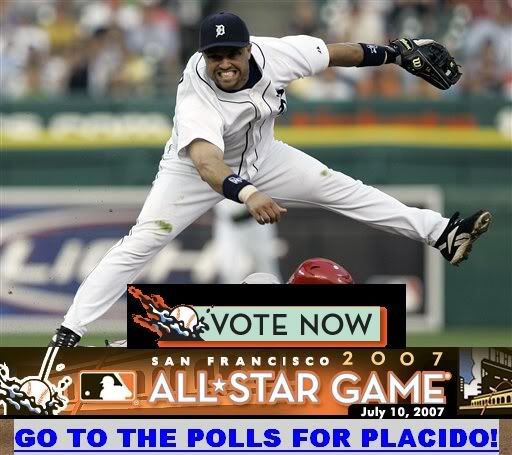 Count me in, as Polonco should be the starting AL 2nd baseman in the Midsummer Classic. To do your part, head to the MLB All Star game site, and stuff those electronic ballot boxes!

While you're there, write in Curtis Granderson, who was inexplicably left off of the AL ballot. For that matter, Magglio Ordonez, whom the worldwide leader has at number 1 in their "Top 100 " player ratings, is 5th (?) in the AL outfield voting. That's not right. So do your part folks, and move some deserving Tigers up in the popularity contest fan voting for the All Star game starting lineup.

Steve Nash Andrew at the Mickey Tettleton Memorial Overpass talks about "Wacky Races," "The Wild One," "Blade Runner," the animated version of the Dark Knight, and also squeezes in his thoughts on the Tigers' pitching staff. For what it's worth, I think "Blade Runner" is a great movie too, but I'm not sure I buy the idea that Dekkard is actually a replicant.

Angry Chief seems especially angry today at Check out my HEMI, while pondering Detroit sports losing streaks and office restroom etiquette. I suggest going to coffee strategy, Chief.

I can tell school's out, and Sam finally has more time on her hands, as she's posting damn near every day at Roar of the Tigers. One of her recent posts I found most interesting was her solution to the Tigers bullpen woes. Trade for CJ Wilson of the Rangers. He's a good pitcher, but after hearing him during a Rangers broadcast, Sam's even more sold on his intangibles. In other words, he's a funny guy! At the very least, Wilson could add a little wackiness to a bullpen that is missing both Joel Zumaya's fastball and off-center personality, and the give Detroit blogosphere tons to write about.

Clubber Lang's Basement is back after a long absence, and like the rest of us, the Tigers' bullpen is of primary concern. BAW says if the Tigers don't do something, he's either going to be bald or a dead man. To paraphrase that well known educator Dean Wormer...Dead, stressed, and bald is no way to go through summer, son...

On a quick note I want to thank the guys who gave me some advice and guidance in response to my domain and hosting questions. Expect replies soon...