Just ask the Milwaukee Brewers for conformation.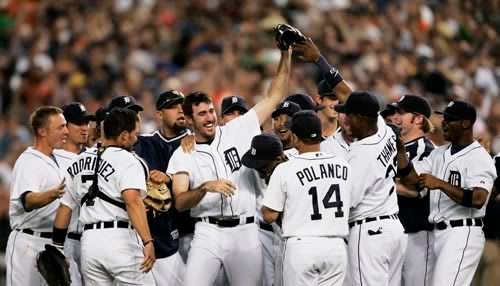 Wow. Words fail me after that dominating, no-hit perfromance. What do you say about about a pitcher who's throwing 102 MPH gas in the 9th inning? You say the Brewers didn't have a chance.

It's hard to describe just how absolutely filthy Justin Verlander's stuff was tonight. Only a handful of balls were hit hard. The Brewers flailed about helplessly at the plate. If they weren't swinging through Verlander's heat, they were frozen at the plate by his knee buckling curve.

As the first few innings passed by, it was obvious that Verlander had his premium, A-1 stuff. It didn't strike me until the 5th inning that Verlander hadn't yet given up a hit. It was one of those, "Hey, we might be on to something here" light bulb turning on thoughts. That was also the point when you could really begin to hear the crowd catch on as well.

It's something how a no-hitter effects you as a fan. When it became blatantly obvious that Verlander had a possible no-hitter in progress, I became afraid that I was going to jinx him. I know it's silly to think that way, but I couldn't help myself. I didn't change a thing I was doing, wouldn't touch the remote, and I wasn't about to get out of my chair. I was there for the duration.

From then on, it was white knuckle time for everyone watching.

When Magglio Ordonez, who's been playing the best right field of his Tigers career this season, made a nice sliding catch in the 7th, keeping the no-no alive, I thought Verlander had a fighting chance. It might just happen!

But when, off all people, The Black Hole of Suck made a great stop and started an inning ending, highlight reel, no-hit saving double play, you knew it was meant to be.

In the 9th, it was just a matter if Verlander was going to strike out the side.

All I can say is that was one Hell of an amazing performance by Verlander. It was special. Just..WOW! A no-hitter.