To those who aren't of a literary bent, that's the famous final line from the late Mark Harris' book, the great "Bang the Drum Slowly." There's a reason I bring it up today.

The line came to mind last night. Thanks to the undeniable fact that Justin Verlander's no-hitter doesn't happen without the highlight reel 8th inning double play started by The Black Hole of Suck Neifi Perez. Yes, Niefi Perez.

It's hard for all of us to swallow, but TBHoS Neifi Perez saved the no-no.

In honor of TBHoS Neifi Perez's no-hit saving play, TWFE is calling for a moratorium on the use of "The Black Hole of Suck" nomenclature in place of Perez's name in blog posts.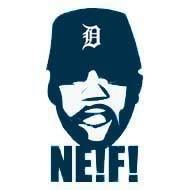 So let me paraphrase Harris' line, and say, "From here on in, I no longer rag Neifi."*

*At least until he reverts back to his normal Neifiness.