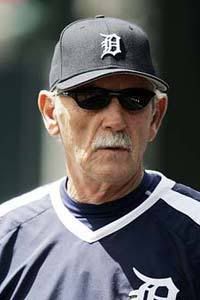 I need a smoke. Damn, I need a butt. Bad.

Christ almighty. I'm on the road, and I'm out of smokes again? Fuck me. Where'd all the reds go?

Oh, yeah. Thanks to our damn bullpen, I'm up to 3 packs a day. Wife's gonna kill me if she finds out. Hell, I'm spendin' more time hidin' in the tunnel from those damn dugout cams, than on the bench. Can't a man enjoy a cigarette without feeling the wrath of smokin' nazis? Bunch of damn nanny state lovin' liberals, that's what they are...

Nothin' better than a cold Bud, and pack of Marboro reds after a win. Damn straight. Those anti-smokin' nazis will never understand. But I still need a smoke.

It's just not the damn pen that's givin' me chest pains. That Inge, who's drivin' me nuts at the plate as it is, breaks his toe? As we are goin' into Cleveland? Fuck me.

Then I find out my made of crystal shortstop pulling his gonad muscle? Fuck me twice. His groin is worse than that nutty damn goalie, what's his name? The snow angel makin' crazy ass that gives Babcock angina? Whatever. I need a smoke.

So we're goin' into the meat grinder that is Cleveland, and I now have to play Neifi and Infante as the left side of my infield? Shit.

I love that Neifi to death, fans will never understand why. Kid's a warrior, that Neifi. Give me 9 Neifi's, and I'll win the damn division! But warrior or not, we're still screwed. And I still need a smoke.

Who's pitchin' for the Indians tonight? We'te openin' against that fat-ass Sabathia?! I have to play Neifi, Infante, and the Mayor in the infield? At the same damn time?! Wonder-fucking-ful. Jesus H. Christ, Toledo has a better infield than I do. The kid's little league team has more power. Shit!

OK, OK, Calm yourself down. Never let 'em see you sweat or smoke, that's what I always say.

Short of breath or not, I GOTTA have a smoke. Where's the clubhouse boy? I know, I'll send Infante out to get me a carton. He ain't good for anything else...

Well, I can't let on to the guys in the room, let alone the piss ants in the media, that I think we're up shit crick without a paddle this weekend. With that infield, they'll probably figure it out for themselves anyway.

The media couldn't be that clueless, could they? Nah. Except that little shit know-it-all from the Freep, what's his name? Wrote that book, what was it? "The Four Dickweeds You Meet in Houston," something like that? Oh yeah, that guy with the ears. Albom. Ahhh, He's nohtin' to worry about, probably watchin' the Pistons anyway.

Thank Phillip Morris I don't have it nearly as bad as Flip. His locker room is a damn insane asylum. Ridin' herd over Pudge is a piece of cake compared to Flip havin' to handle that 'Sheed character. That kid is nuts. Small favors, I guess.

Small damn favors or not, I still need a smoke. Now where's that Infante kid with my reds?!