I can't believe I watched one man literally beat five. That's not overstating things. LeBron James singlehandedly beat the Detroit Pistons in game 5 of the NBA ECF, 109-107, in double overtime.

James scored, drained, hit, and dropped what seemed like the last 50 Cavaliers points. Actually, it was the last 29 of 30 points, 25 straight, and obviously every single point in the 2 OT's. Those sort of numbers don't seem real, something that you would only see in a video game. But it did happen, and it's was all too real to the Pistons.

The last time I saw something even remotely similar was the famous Bernard King - Isiah Thomas duel in the 1st round of the 1984 playoffs, which also ended in a Pistons loss. (That was the game where Thomas just took over, and scored 16 consecutive points in the final 1:33 of regulation. Isiah's performance was the damnedest thing I've ever seen...Till tonight, that is) But that was a Pistons team on the rise. This one? It's reached a plateau, and more likely, is on the downside.

I'm not sure what to make of this game. I do know this. You'll never, ever convince me that the Cavs are the better team. No way, no how. Take one specific player off that roster, and they don't finish .500.

But the Cavs have, by head and shoulders, the best player. And in the new NBA, that is more than enough.

As for the game itself? Where do you start? For the Pistons, it starts, and maybe ends, with the Antonio McDyess ejection. I have to ask, does having Antonio McDyess for the entire game make any difference in this game? Honestly, I'm not sure, and we'll never know.

As for the foul itself, without question it was a hard, hard foul. But did McDyess deserved to be tossed? Give him a "Flagrant 1," and move on. The "Flagrant 2" call was total and absolute BS.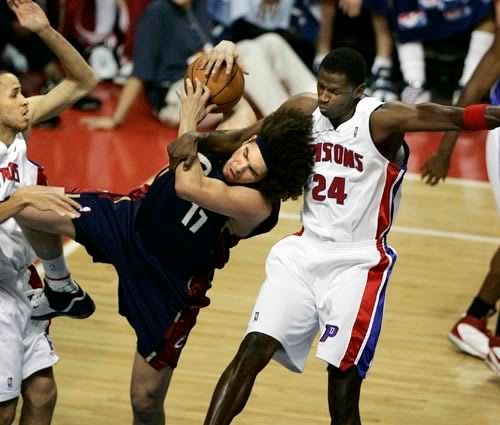 In the 1980's, this was an offensive foul. OK, maybe a no-call. Now it's a called "Flagrant 2," and you get sent to your locker room to think about what a bad thing you just did
I won't use the term "Criminal," as it's only a basketball game, but incompetent, ludicrous, asinine, and clueless all describe the call quite well.
I can't be positive if having Dice makes any difference, as LeBron James was not of this planet, but I can think of several times during the game where his presence would have been a huge help. If McDyess is in at the end of regulation, which he would have been, James doesn't drive untouched for those 2 consecutive sick slams.
Losing Antonio McDyess wasn't the reason for the loss, but it sure as Hell hurt the Pistons, in that they could not foul
ANYONE
hard from then on, in fear of another "Flagrant 2."
Even though the officials incompetence hurt the Pistons more than the LeBron's, I think Cleveland and Detroit fans will both agree that this was not a well officiated game for either side.
Not that the game was about the officiating. This was not exactly a battle of head coaching geniuses.
I have a question for Flip. How do you let
ONE PLAYER
beat you? Literally one player.
You know James is going to take the shot. Every shot. The very few times he did pass late in the game, the other guys who wear the same color jersey as James couldn't even hit wide open 6 foot J's. (I'm looking at you, Drew Gooden) Yet, James continued to get the ball, and finish. With authority. All this while rarely going to the line, the one place where James was human.
Someone who scored every damn hoop from the midpoint of the 4th quarter on only went to the line 14 times. If you aren't going to put James on the line, you'd think that you might continually double and triple team him. Aren't the Pistons supposed to be one of, if not the best, defensive teams in the NBA? You wouldn't know it by tonight.
For the LeBron's, all Mike Brown had to do was makes sure James got the ball. The one time he did try to do something, he screwed the pooch royally in calling a TO that ended up costing Cleveland a legitimate chance at winning in the 1st OT. After that, it was James, all James, all the time. Understandably...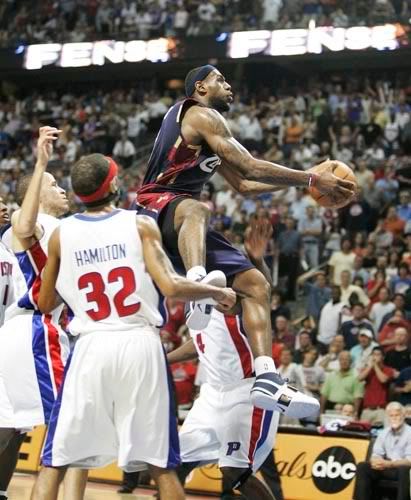 Maybe McDyess stops this game winning layup. On second thought, even the combination of Laimbeer and Mahorn couldn't have stopped the Jesus James train tonight
When you let one man beat an entire team, a team that is supposed to be the cream of the east, you got out coached. Flip Saunders has some serious explaining to do.
As do the rest of the Pistons team. Even though they did play much better than in the 2 road losses, we still saw some uncharacteristic mistakes. Or maybe we should start saying boneheaded plays are now a characteristic of this team. Tayshaun Prince had an awful turnover late in the game. In fact, the Pistons had 3 straight possessions late in regulation that ended in turnovers. Lax ball handling in the 4th quarter has become the rule, rather than the exception.
For that matter, it was great to see Chauncey Billups drain the game tying shot. Hey, it's Mr. Big Shot, just like old times! But his attempt to win the game was the all too typical dribble out the clock, and take an off balance trey. Sure, it almost fell through.
But it didn't...
I'm sure much of what I'm feeling tonight is a knee-jerk reaction. That reaction being to blow the Pistons up. NBA has once again become a superstars league, and the Pistons have a roster full of very good players. But they don't have a Dwayne Wade, Kobe Bryant, King James, which it now seems to be what you need to win a title in the David Stern-ized NBA.
I know that it's not practical, and talk of roster changes is something that should not be even be mentioned till the season is actually over. But that's the problem with such a tough loss, one that is going to become an iconic, career defining win for LeBron James.
Even with at least 1 game left to play, this loss feels like a season ender.
The more I think about this game, it's the first time in a very long time that I feel like the Pistons just aren't good enough. I've kept the faith every time they found themselves backed into a playoff corner. The majority of the time, they lived up to that faith, and won those playoff series.
But now? The faith isn't there. Why?
If you can't beat a
ONE
man team, even if that one man is the best player on the planet, how good of a team can you really be?
Not one good enough to get out the eastern conference this season, and possibly for some time to come.