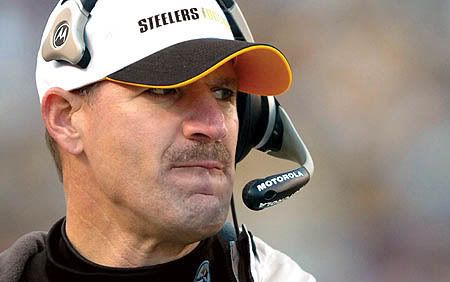 Just read on, and you'll see my logic.
The longer that William Clay Ford remains silent, the more it appears that we Lions fans will have to put up with at least one more ugly year with that incompetent porn 'stached boob, Matt Millen, and his hand-picked failure of a head coach, Rod Marinelli.
The MSM is assuming that Millen surviving past this horrific season is
close to a done deal
. The reason being floated out of Allen Park is that firing Millen would leave Marinelli a lame duck coach, and that just wouldn't be fair to the Sarge. There is a caveat, though. That being that the Lions will have to show a vast improvement in 2007,
or else
. The "Or else" will mean that there will be a total housecleaning in Allen Park, from the incompetent boob on down.
Since the odds of the Lions being anything more than 4 or 5 win team in 2007 are short, I think iit's safe to say that the Lions will finally be rid of the buffoon and his 3 ring circus in January 2008.
In Pittsburgh, the rumors are rampant as to the future of Steelers head coach, the Super Bowl winning Bill Cowher. Yesterday, Cowher
spoke to the press,
and announced that he'll give a statement in regard to his future as soon as next week.
With a statement like that, it sure sounds like Cowher has already made a decision, and is just waiting for the end of the season to announce that he is leaving the Steelers. As
Dan Shanoff
said this morning...
My bet is on retirement, temporarily. TV cred in '07 and a big raise with another team in '08 is his future.
Why would Cowher spend a year in the broadcast booth? The Pittsburgh Post-Gazette article has the answer...
If Cowher steps down, he could not coach elsewhere in 2007 unless the Steelers granted permission, which is unlikely. He would be free to coach elsewhere in 2008.
So, if the Lions keep their current course, Millen and Marinelli will be toast after the 2007 season. On the other hand, Bill Cowher will be out from under his Steelers contract after the 2007 season, and become available to take over another NFL organization.
The Lions will have a huge front office and coaching void to fill. The biggest coaching free agent in the 2007 off season will be Bill Cowher. Seems like a match to me...
In yesterday's
post
, I quoted Terry Foster. As you remember,
Foster believes
the Lions fanbase is unwilling to make a sacrifice, one big enough one to force a regime change. Well, here's the chance to prove Foster wrong, and where fan sacrifice and pain comes into play.
The sacrifice being we'll have to suffer through one more awful season of Millen. That year will allow him to fully hang himself, and give WCF more than enough reason to can Millen's sorry ass.
After the inviteable 10+ loss season, Mllen, the drunk naked fast food loving line coach, crazy ass offensive coordinator, the "Coach 'em up" head man, the entire coaching staff and front office, they all will get the ziggy. The Lions will then be in the market for a "Football" man. Say, for example, a Bill Cowher?
You might think that the Lions getting someone as capable as Cowher at the helm is a pipe dream. But the Fords, amazingly enough, have a good reputation in NFL circles. Just why is that? WCF is known as being a hands-off owner, will sign off on generous long term contracts, and give his people more than enough time to prove, or hang, themselves. The Millen era is proof positive of that...
That's why the Lions, even though they will have been bottom dwellers for close to a decade by the close of the '07 season, will have a shot of getting Bill Cowher.
Offer him complete control over personnel and a big money 5+ year deal, and Cowher may just bite.
Cowher has the winning pedigree of a quality organization, obviously has the talent, and the force of will that the Lions organization desperately needs.
Bill Cowher, Detroit Lions head coach and GM. Sounds good to this long suffering fan.
Will it happen? Could it happen? Stranger things have...