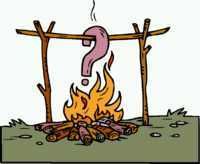 With the Tigers playing out the string, and not very well at that, the Detroit News' Lynn Henning asked a few questions in regard to what the team could learn over the last days of the season. As always, I took the opportunity to try and answer those same questions, make them burn, so to speak...

1. Can Edgar Renteria win a job for 2009?

It's going to take a Ruthian (or is Phelpsian the new Ruthian?) end of the season for Renteria to win the '09 shortstop gig. Even then, a 34 year old who has the infield range of a sumo wrestler, declining offensive stats and makes $11 million, won't keep a spot on the Tigers, no matter how good his September.

I think the Tigers will cut their losses and pay Renteria his $3 million contract buyout. They could get the near the same offensive production, and much better defense, at a much better price, in going with Ramon Santiago.

Renteria for Jair Jurrjens will be discussed, probably unfairly, as one of the worst Tigers trades in decades. The jury is still out, long-term, on Jurrjens, but you have to admit he's performed better than anyone expected for the Braves. I guess Dave Dombrowski was overdue for a bad trade...

2. Will Magglio Ordonez win a second consecutive batting title?

No, and I'm perfectly fine with it.

If Ordonez doesn't finish in the top 10 in batting average (as Henning ponders), I really don't care. BA is overrated. His other stats (SLG, OPS, OBP) are just fine, right around his career averages.

Enough with the comparisons to Magglio's marvelous 2007. To even expect Ordonez to repeat to his MVP quality year is asking too much from most any player. '07 will end up as his career year, without a doubt. But his '08, even with the power stats being down somewhat, was plenty good.

This season Ordonez proved it would not be a good idea for the Tigers to even think about trading him. He's just too good of a hitter, and when paired with Miguel Cabrera, makes for one of the best middle of the order lineups in baseball.

3. Can Freddy Garcia pitch his way into the rotation?

I don't see why not, if healthy. The Tigers' rotation is anything but settled. In fact, it's a disaster zone.

Kenny Rogers isn't coming back. Thanks for your wonderful 2006 season, but it's time.

Nate Robertson is a question mark after his ugly season. Could he be better suited for the bullpen, even though he's making starting pitcher money?

On the flip, is Zach Miner better suited for the rotation, than the pen? Or is his late season revival only a tease we've seen before?

Dontrelle Willis is an even bigger question mark, with comparisons to Steve Blass all too apt.

Jeremy Bonderman is recovering from his 2nd injury in 2 seasons.

Justin Verlander, expected to be the staff ace, is having an awful, awful, awful season, to the point where Jim Leyland called him out in the media. So what happened to Verlander? Is there something wrong? Could it be a one year delayed sophomore slump? I have no idea, and from all accounts, the Tigers don't have answers either.

Given the current pitching situation, which is crap, I'd be upset if the Tigers didn't give Garcia a shot, as desperate times call for desperate measures. And the Tigers' rotation is in shambles...

He may not be the answer, but the Tigers don't have a lot of solutions, either.

4. Will the Tigers' backup catcher be Dusty Ryan?

At this point, there is no one else in the Detroit system remotely capable of backing up Brandon Inge, save for...possibly, maybe...Ryan. Defensively, he's fine. But Ryan has stepped up as a prospect this season, thanks to his showing offensive punch for the first time in his career.

If it's not Ryan, your guess is as good as mine, as then the number 2 catcher for next season isn't in the Tigers 40 man roster yet. He'll be found via trade or free agency. Considering the lack of quality catching in the bigs, depending upon either of those options is a big risk. You're guaranteed to overpay in either prospects or money.

The Tigers have bigger issues to worry about other than a damn backup catcher. If they decide to go with Dusty Ryan, I don't have an issue with it.

5. Is Jeff Larish ready for the big leagues?

He hasn't looked like it this season. The power Larish displayed in the minors has yet to show up in Detroit. He also has an OBP that is in Pudge Rodriguez/Craig Monroe territory. We've seen flashes of his offensive talent, but nowhere near enough to guarantee him a spot on the 25 man roster. Hitting .225 won't guarantee you anything, let alone a spot on the Tigers, unless you're Brandon Inge.

The kid is struggling at the plate, and being a player without a position (as 1st base will be unavailable for quite some time), has been asked to learn a new position. Larish is now learning to play 3rd base while on the job. It makes sense to move positions, as he's nothing but trade bait otherwise.But is he capable of doing so? That's what the Arizona Fall Laegue is for.

But to answer the question... The Tigers' do have a big time need for a left handed bat for next season. From what we've seen from Larish during his pair of callups, he hasn't shown near enough to prove he's ready to fill that role. He may prove me wrong, and I hope he does. But Larish has to show a Hell of a lot more to even get into the discussion for 2009.