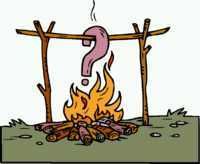 With the current Tigers season spiraling into oblivion, over at The Daily Fungo, in looking back at the transitional season of 2005,
Mike has been pondering Detroit's future.
Today, well, the team has probably more questions than the 2005 team did. One thing we can be assured of is Jim Leyland returning as manager. And that's a good thing. Of course, some may disagree with that, but I believe there are very few buttons he could've pushed this year that would make up almost 10 games in the standings.

Here are 17 questions about the 2009 season rattling around in my head:
I thought I'd throw my 2 cents out there, and answer Mike's 17 questions.
1. Who's the closer in 2009?
Honestly, I don't think the Tigers know the answer to this question. I think it's safe to say the '09 closer is not on the roster right now. Could the Tigers make a big run at K-Rod? It's not out of the question. If there is one spot the Tigers absolutely have to improve is the bullpen, and how better way to do it than signing the best free agent closer on the market?
2. Does Chuck Hernandez return as pitching coach?
Mike Ilitch will want a scapegoat, and someone is going to have to pay for what's turned into a nightmarish season. Hernandez is the likely sacrifice. Not that it wouldn't be for cause, as the pitching has backslid horribly over the past 2 seasons. Justin Verlander looks like Nate Robertson, for chrissakes. It's time the pitchers heard a fresh voice.
3. Is Nate Robertson a Tiger next season?
Robertson is coming back, as the Tigers will have enough holes in the rotation to plug. Kenny Rogers will likely retire. Jeremy Bonnderman has to be considered a question mark after missing most of this season. Dontrelle Willis is an even bigger question mark. Dumping Robertson would mean finding another starter, and it's not as if legitimate MLB starters just drop out of the sky. The Tigers struck lighening in a bottle with Armando Galarraga, I doubt it can stike again.
I think the Tigers give Robertson another chance, as he's making too much money not to. You can't trade him, unless you eat a TON of the contract. He'll be back.
4. Can Dontrelle Willis bounce back?
It's a coin flip at this point, and even that's being generous. Even though no one is saying it out loud, we're all thinking the same thing aren't we? He's done.
The Tigers have to give the D-Train every opportunity, and then some, to make it back. There's too much at stake, both in money and the Tigers' need of pitching.
But if I had to bet? Let's just say I'd be selling short.
5. Can the Tigers deal Carlos Guillen?
Can they? Sure. Should they? I don't think so. I know his stats are down some this season, but if there is one player who should get the benefit of the doubt, it's Carlos Guillen.
For all the bitching and moaning Brandon Inger did about losing the 3rd base job, Guillen has played 4, count 'em (SS, 1B, LF, 3B), 4, in less than a year. It had to affect him at the plate. The man has been moved all over the diamond, and he did so without complaint, unlike a certain bitchy catcher.
I'd be willing to bet Guillen, left at 3rd base for all of next season (He's been just fine defensively once he got confortable), will rebound nicely at the plate.
6. If the Tigers can get a catcher, do they — and do they move Brandon Inge back to third?
To directly answer the question, not if Carlos Guillen is a Tiger. Even if he's not, I wouldn't do it as Inge can't out hit most of the Tigers' pitchers.
As for Inge, someone hitting .220 shouldn't being playing anywhere full time. 3rd base, catcher, I don't care, you have to hit better than Inge has the past 2 seasons. But if you are going to have to hide a bat, catcher is the position where you can get away with it. Considering the the market for MLB caliber catching is thinner than a bulimic Paris Hilton, and the fact the Tigers have more pressing issues, Inge keeps the catching job by default.
7. Does Vance Wilson return at long last?
As dependent as a catcher is on his arm, it's a stretch to think Wilson can come back to contribute. He's basically missed 2 entire seasons to his arm injury and Tommy John surgery. Not many players can come back at the same level after missing so much time. I doubt Wilson, who, let's not forget, is 35 years old, will be the exception to the rule.
8. Who's the shortstop?
Ramon Santiago. He's earned a shot at a full-time job with his play this season.
9. Would they deal Magglio Ordonez as some suggest?
No, and the fanbase would go apeshit if the Tigers did.
Ordonez has been the most consistent Tigers' hitter the past 2 seasons, it'd be silly to trade him. It' would have to take a massive offer of pitching to get the Tigers to even think about it. Let alone there is the fact the Tigers would have to replace a ton of production in the middle of the lineup. A 3-4 of Ordonez and Miguel Cabrera would be as good as any middle of the order 1-2 punch in baseball.
10. How does Jeremy Bonderman recover?
He's young, and will have plenty of time to recover. Bonderman will be fine. In fact, it could be a blessing in disguise. Bonderman has thrown a ton of innings for someone so young. All this time off to rest could be the best thing for his powerful right arm. Or I could be having a bout of wishful thinking...

11. Is Clete Thomas on the big club to stay?
Yes, as Clete has shown the Tigers he can hit enough to play at the MLB level, and the team needs the things Thomas brings. Specifically, Outfield speed and defense. I think he's the 4th outfielder or possibly part of a LF platoon, in 2009.
12. Who is 2009's Matt Joyce?
Brent Clevlen.
13. Are the Tigers counting on Freddy Garcia?
I don't know if you could say "counting on." I think it's more like "fingers are crossed" and "knock on wood."

14. Will Brent Clevlen finally break through?
See 12.
OK, to go more in depth, yes he will. Clevlen is having an excellent season in Toledo, and looks ready to take the next step. It's possible all 3 young outfielders, Joyce, Thomas and Clevlen, all make the team in '09. Marcus Thames seems to have fallen out of favor again thanks to his tailing off (.197 BA in July, .056 (!) so far in August) badly as this season has gone on.
I'm sad to say Thames is playing his way out of the Tigers 2009 plans, and with the coming out of the young outfielders, is expendable.
15. What can the Tigers expect out of Joel Zumaya?
After suffering that freak shoulder injury, I think the Tigers were expecting too much out of Zumaya
this season
. As for next season, I wouldn't be expecting much, as Zumaya has yet to return to the level we saw in 2006. Why thinking another off season would change that is beyond me.
The Tigers should not automatically give him a spot on the roster. Make him earn his way on, and if he doesn't show enough in spring training, send him down to work on his stuff. Get that curve ball working again.
I know some think Zumaya should go back to starting. But if he can't stay healthy enough to pitch 70-80 innings, can you seriously expect him to remain healthy for 180-200 innings?
16. Do they sign Placido Polanco to an extension before the season?
That's a tough, tough question. Polanco is still a very good 2nd baseman, but an extension would take the Tigers well into his 30's. They already have a handful of questionable extensions, I'm not too sure they would want another. As the Tigers have to get younger, and Polanco's starting to show signs of slowing down, if only a tad, I think both parties let this one play out to see where things stand at the end of next season.
17. What's Gary Sheffield's role — if any?
Full-time DH, at least to start the season. He's making far too much money, and hitting far too little, to trade, and there is no way in Hell Sheffield will retire when there is $14 million left on his contract. He'll be kept on a short leash, though. If it gets to the point where Sheffield has shown he's lost it, the Tigers will grit their teeth and let him go, however much money left on the deal be damned.