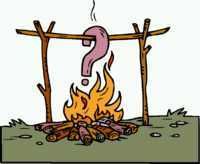 As it's been a couple of weeks since the last round of burning questions, and the Tigers are showing signs of life, and could be turning their season around...Let's light this candle...

When it was announced Jeremy Bonderman was out for the season, you said the Tigers' "season was over." They then went out and won 6 straight games, looking to all the world like the team we thought they were the darlings of the off season. Have you changed your mind about writing off the Tigers, Mr. Chicken Little?

Honestly, I never should have said it to begin with, as saying something so absolute goes against my normal "Let's not panic" attitude.

When the Tigers opened the season so horribly, and damn near every Tigers fan was wanting to break up the team and fire Jim Leyland, pronto, I tried to not go off the deep end. Here's what I said about the Tigers on April 9th.




If they are struggling by the time the All-Star game rolls around, double digits back of 1st place, I'd feel safe in writing them off. But baseball is a funny game. The Tigers could, just as easily as they have suffered through a 7 game losing streak, whip around and run off a 7-8 game winning streak. Especially once they get past their gauntlet of an April schedule.
Yet, a couple of weeks ago, I went all Chicken Little, and dived off that
same deep end...
Well, that's all, folks. A bad season, a nightmare season, just got that much worse. If this isn't the last nail in the Tigers' coffin, there sure as Hell can't be many more left.

Between a suddenly looking aged, badly under performing offense, a shaky bullpen besieged by injuries to their 2 best set up men, and a rotation that has BOTH underperformed and been besieged by injuries, can we seriously expect this team to recover enough to make a run at the playoffs?
Being in a division filled with underachievers has helped immeasurably, but recover they did, at least in a small way. Over the past week, the Tigers did have that winning streak I talked about back in April, and are only 6.5 games back of the White Sox. They aren't out of the woods by any means, as Fernando Rodney's less than impressive return cost the Tigers what would have been their 7th win a row, but they've demonstrated the season is far from over.
With your mea culpa out of the way, let's move on to the latest and greatest. What's your thoughts in regard to media reports of the Tigers showing a
keen interest in Freddy Garcia
?
I have to say I'm not surprised. Not so much that it's Garica they are looking at, but the fact they have to be on the prowl for starting pitching. The Tigers have been hit by a perfect storm when it comes to their pitching staff. It's been one crisis after another, though some were expected, but most were not...
Trading most of their top pitching prospects in the trades for Edgar Renteria and Miguel Cabrera.
Thinking they wouldn't miss those prospects due to Dontrelle Willis being included in the Cabrera trade.
Injuries to Rodney and Joel Zumaya throwing the pitching staff into chaos.
The bullpen becoming baseball's version of musical chairs.
The starters underperforming as a unit, lead by Justin Verlander's 9 (!!!) losses.
As kyptonite is to Superman, the strike zone became to Willis.
So the news coming out the Tigers are looking to buy some starting pitching should have been expected.
As for their search leading them to the doorstep of Freddy Garcia? I have no idea if Garcia has recovered from the shoulder issues that made him a
MASSIVE
bust in Philly. Even so, I don't have a problem with the Tigers taking a flyer on Garcia, as I'm thinking it would be a low risk, high reward sort of signing.
Give Garcia a minor league deal, and see if he can show flashes of his 1999-20006 form. If so, get his ass to Detroit ASAP. It's a win-win. Garcia will be back in the bigs pitching for his next contract, and the Tigers have a top of the rotation starter that only cost them money. when you are spending $138 million, what's a few million more, right?
Brandon Inge and Pudge Rodriguez have are now fully sharing the catcher position, playing on alternating days. Is Inge
the Tigers' catcher of the future
?
Let's do the math, shall we?
Inge is owed 2 more years on his contract at $6 million per, making him untradable. His bat is not acceptable for a 3rd baseman, but much more palatable for a catcher. Inge seems to finally realize catching is the best way he can remain an everyday player at the major league level. He is saying all the right things about catching, claiming he'll do whatever the team asks.
Rodriguez is what he is, a rapidly aging, very highly paid, but no better than average at best, catcher. His bat closer to being a liability than a threat. Pudge's defense, while still acceptable, is not what it once was, world-class. The odds say this is the 1st ballot hall of famer's last season wearing the Olde English D.
Catching is at a premium in MLB. The Tigers have no real catching prospects in their system. To trade for one would cost them talent they aren't willing to give up. Going the free agency route isn't much better. If the Tigers had not picked up Pudge's contract, he still would have been the number 1 free agent catcher available. I think that says it all about using free agency to fill the position.
Once you look at the options, it really becomes a no-brainer. Of course Inge will be the everyday catcher in 2009. The Tigers really don't have any other choice. At least not one that's realistic or cost effective.
Though...if Pudge is willing to come back at a
much reduced rate of pay
, I'd be willing to talk about his coming back. But considering the dearth of big league caliber catching, some team is likely desperate enough to give him a one big albatross of a contract
What about Marcus Thames?
His last 7 hits have all been home runs, and he's gone yard in 4 straight games. Thames is on one Hell of a streak, huh?
I've said it over and over and over, the man will hit 40 bombs if given the playing time. Hell, he'll go deep 20 times if only by accident. He can hit .220 for all I care, as long as he slugs a ton. Actually, when you think about it, Thames is the only pure power hitter on the roster. He could go deep at any time, in any situation.
Thames has hit more home runs
(12)
than both Magglio Ordonez and Cabrera
(10)
, in less than half their at bats
(113 to 262 and 257, respectively)
. This season Thames has an insane at bat to home run ratio of 1 HR per 9.4 AB's. I doubt he keeps up that pace, but Thames' career average of a HR every 14.5 AB's certainly is attainable. That's 35+ home runs when given 500 at bats.
Shoot, Thames has hit 30 bombs in his last 362 at bats, going back to the start of 2007. That appoximately 1 HR every 12 AB's. That's a man you have to keep in the lineup, ya think?!
Leyland needs to keep Marcus in the lineup as his every day left fielder, and not just give the media lip service...Unlike every other lineup move the Marlboro Man has claimed to have set in stone, only to change his mind the next day.
One more thing...
What do you think about the National League style of baseball?
It's overrated! Everything about the NL's so-called "strategy" is overrated. So is the double switch, sacrifice bunts, small ball, the constant parage of pitching changes and pitchers flailing away helplessly at the plate. I can't stress it enough, NL ball
BLOWS!
Give me the DH, 3 run home runs, the bunt rarely being used or needed, and not yanking your starting pitcher after the 5th inning anytime you are down a run or 2, every day of the week.