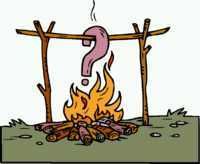 As Dontrelle Willis went down in spectacular flames in his latest start, not getting out of the 2nd inning, I felt the need to do a quick round of burning questions. Shoot, we all have them after the D-Train was D-Railed, D-Stroyed and D-Feated.

Dontrelle Willis' pitching line against the Indians:

1.1 IP, 3 H, 8 R, 8 ER, 5 BB, 2 HR, 2 SO, Pitches-Strikes 64-27.

After this latest debacle, Willis has pitched 11.1 innings this season, and has walked 22 batters. 2 an inning? What the Hell?

What the Hell, indeed. Willis' outing against the Tribe was one of the ugliest you'll ever see from a starting pitcher. Willis couldn't find the plate with...Screw it, I'm out of comparisons. Willis couldn't find the plate, period. When he did somehow get a ball near the strike zone, it was a grooved meatball over the heart of the plate the Indians crushed.

If it wasn't so sad, it would be...No, it's just sad.

To watch such a nice guy, a pitcher who is a credit to the game of baseball, lose the ability to throw strikes is an awful thing to watch. There's no humor in it.

So why don't the Tigers just cut his ass? Send him to Toledo? Trade him? Just get rid of him!

Because he's guaranteed $29 million greenbacks, for one thing. That makes him an untradeable albatross. Willis is baseball kryptonite. If the Tigers could find a trading partner, they would have to pick up the vast majority, and more likely all, of that contract. It's not going to happen.

As for releasing him, even for a very rich man like Mike Ilitch, that's too big a contract to eat. It would make any owner choke.

As for sending Willis down, as a 5 year vested veteran, he cannot be sent down to the minors without his approval. (But don't quote me on the exact details in regard to roster rules) You just can't say, "See ya in International League!" What I am sure of is you can't give him a bus ticket out of town to Toledo unless he agrees. The Tigers should have a long sit-down with Willis, and convince him he needs to go back to the minors and work out his issues, otherwise they have no choice but leave him on the roster. Or as much as I hate to say it, hope he gets injured

They could try to hide him as the highest paid bullpen long man in history. They could keep rolling him out there every 5th day, and hope for the best. There really isn't any good scenario in using a pitcher who can't throw strikes.

I think we can all agree that sending Willis out to the mound again in his current state would be akin to sending a lamb to slaughter. It won't last long, it'll be gruesome and there will be blood shed.

It's obvious Willis going down to the minors and working out his issues would be best for all involved. But if he won't go, and he has every right to say no, the Tigers are, for lack of a better word, screwed.

So what do you do with Dontrelle Willis?

The Hell if I know. If you watched Jim Leyland talking to the media after the game, the Tigers don't either, as he outright refused to talk about Willis' outing.

The D-Train has "IT," doesn't he?

I think so. From everything we've seen, it sure looks like Willis as come down with the dreaded "Steve Blass Disease." I can't think of a better explanation, as Willis is perfectly healthy (Or so we're told).

From all accounts, there is no cure. A few sufferers immediately come to mind.


The poster boy, Blass, never recovered. He nearly won a Cy Young in 1972, yet was out of baseball by 1974.
The most recent case, the Cards' Rick Ankiel, ended up back to the low minors, and became an outfielder.
Mark Wohlers was a young, fireballing, shut down closer for the Braves from 1995-1997, getting 97 saves. Wohlers was essentially done after going wild in '98. He bounced around, trying to hang on, and was out of baseball for good after the '02 season.
The Tigers had another case back in the early 80's, with closer Kevin Saucier. (One of my all time favorite Tigers, by the way) It got to the point where he was afraid to pitch, thinking he would kill a batter, as Saucier had no idea where the ball was going.

"Hot Sauce"

was out of baseball within a year.
I can't think of any seemingly healthy pitchers, who abruptly lost the ability to throw strikes, and got that ability back. Damn, it doesn't look good for the Tigers or Willis, does it?