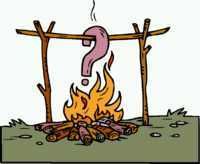 With the first place Chicago White Sox coming to town for 3 games, and my saying this season is toast over the weekend, it's a good time for another round of burning questions...

Al, last Saturday you went all dramatic, full of doom and gloom, and claimed the season was over, then the Tigers end up taking 2 of 3 from the Tribe this weekend. Still feel the same way?

As of today, Monday, June 9th, 2008, I sure do. (Of course, as your typical knee-jerk, reactionary blogger, I do reserve the right to change my mind.)

Sure, the 2 wins, one in the Tigers last at-bat, and the other a possible coming out party for Freddie Dolsi, were nice, and desperately needed. But the Tigers still have to leapfrog 3 teams in the Central, are still 10 games back of the White Sox, have a .419 winning percentage, and are 10 games under .500. The Tigers have a long way to go before I can buy into the idea they can salvage their season.

Think about it. General consensus is the Tigers need to win at least 90 games to contend for a playoff spot. To just contend, in order to win 90 games, the Tigers would have to finish the season 64-36. Meaning they have to play 28 games over .500 for the next 100 games. That's a mighty tall order for a team barely playing .400 ball.

So? Don't you think the Tigers are capable of playing .640 ball from here on out?

Capable? Going by track records, past performances before this season, and if they stay healthy, yes. I'd say it's possible. But is it probable? Going by their current performance, injuries, slumps, and general malaise in 2008, no.

The odds increase in the Tigers favor if Joel Zumaya and Fernando Rodney, as rumored, return in the next few weeks. (Though that also means there's going to be a logjam in the pen, it's going to be an interesting decision as to who gets sent down. I say Miner and one of the lefties, probably Fossum.) Those odds increase even more so if the offense finally comes around, and it has shown recent signs of life. So as dire as things appear, there have been some encouraging signs.

But...I know, there's always a but...


The Tigers are without their number 2 starting pitcher in Jeremy Bonderman, and their DH, Gary Sheffield.

(Though many would say Sheffield's injury was a blessing, giving the Tigers an excuse to get him out of the lineup)
Dontrelle Willis was OK in his first start back from the DL, but was still more wild than actually effective.
New multi-gazillionaire Miguel Cabrera has been closer to Sean Casey than Albert Pujols in offensive production at his new position.
If you go by the constant shuffling around the diamond, Carlos Guillen has taken Brandon Inge's place as the man without a position.
Watching Todd Jones close is scarier than watching an Eli Roth film.
Several players expected to come through

(Granderson, Polanco, Pudge, Renteria, Verlander, Robertson)

are having down (Some are

extremely

down) seasons.
None of the minor league position call ups

(Joyce, Raburn, Clevlen, Larish and to an extent, Thomas)

have really broken through as a long-term solution to what ails the Tigers. Though one call up has been a marvelous surprise. Armando Galarraga has saved the Tigers' bacon by pitching very well as part of the rotation. With Bonderman out, he's a starter for the duration. But he's been the only surprise...

As you can see, the Tigers have issues. More issues than a contending team should expect. After reading the above bullet points, do the Tigers have to look of a team that could play 30 games over .500 from here on out?
OK, you have a point. So what's next? What about a trade or 3?
There is no
"next."
There will be no trades. Not of anyone who's part of the core, anyway.
The Tigers really don't have many options. I seriously doubt they do much at the trade deadline as buyers
or
sellers. Their hands are tied for several reasons.
The Tigers won't likely be buyers as they used up most of their tradeable commodities in the Cabera/Willis/Renteria transactions. There's some talent in the minors, and their recent amateur draft got raves, but there's not much in he way of current prospects the Tigers can, or would be willing, to trade. Unless Detroit throws caution to the wind, and increases their already bloated payroll by picking up another team's salary dump for essentially warm bodies, there isn't much else they could do.
They aren't going to be sellers either, as the Tigers have committed to this group of players, Hell or high water, thru 2009. Let alone there's the fact the way they've been playing you'd be trading when their value is low, so the Tigers would be getting pennies on the dollar in any trade involving one of the veterans. I can't see them suddenly change their long-term plans midyear, and blow up this team after half a season, their record be damned.
What's your outlook for the next few weeks?
The Tigers have reached a crossroads of a sort. They need to do more than tread water during a long homestand, with a first place team in the Central in town for 3 games.
They are gradually running out of time. Look at the numbers, the season is almost 40% gone. Over what's left of this home stand, and then the upcoming 2 weeks of inter-league play
(Where they've punished their NL opposition the past 2 seasons.)
, the Tigers need to win, and win in bunches.
The Tigers need...No, they
have
to put together a winning steak. A stretch where the Tigers go 15-5, 20-8, 25-10. No more of this win 2, lose 5, win 1, lose 2 stuff. The Tigers need to win several games in a row, win several series in a row. They have yet to put together a long, consistent stretch of good baseball this season. It's time they do.
Tonight would be as good as anytime to start, as they could take 3 of 4 from the Indians, and then have 3 games at Comerica with the first place ChiSox. Winning both series, and shaving a couple of games off of their lead would be welcome. When you are playing a team that could bury you in the standings if they sweep, beating them wouldn't only be welcome, it's absolutely necessary.
If the Tigers fall flat during this home stand, especially over the next 3 games against Chicago, there will be plenty more in the way of fans, media and observers saying the 2008 season is over...