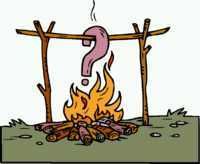 The season is all of 4 weeks old, and the Tigers have begun to string together a few wins, recovering from their horrendous start.

They've raised their record to 11-15, only 4 games back of the Central leading White Sox, and 1.5 back of their main competition, the Indians. They are getting little help from the schedule makers, as the Tigers now play 10 of their next 13 games against the Yankees and Red Sox. Not exactly the best way to go about righting a listing Tigers ship.

The Tigers being 6-4 in their last 10 games isn't what I'd call great, but when factoring in the starting rotation has had little to do with the 6 wins, it's fairly impressive. Still, the team isn't playing up to anyone's expectations.

With that in mind, let's answer a few more "burning questions." Topics include (obviously) the starting pitching, the "Great position switch of 2008" and Gary Sheffield.

Let's light this candle...

What's up with the starting pitching?

You tell me! In fact, if you do have an answer, tell Jim Leyland! Seriously. I'm not kidding!

Rather than try to describe the Tigers starting pitching, or should I say, lack thereof, just take a look at the stats. I'm warning you now, they aren't fit to be seen by women, children, baseball purists or those with weak constitutions...


Justin Verlander: 1-4, 6.50 ERA, 1.47 WHIP

Kenny Rogers: 1-3, 7.66 ERA, 1.91 WHIP

Jeremy Bonderman: 1-2, 4.28 ERA, 1.79 WHIP

Nate Robertson: 0-3, 6.91 ERA, 1.47 WHIP

Dontrelle Willis: 0-0, 7.20 ERA, 2.00 WHIP (Currently on the 15 day DL)

That's some bad, bad pitching. If they, as a group, didn't have proven big league track records, and the contracts to match, it's the sort of performance which would get you either a bus ticket to Toledo, sent to the bullpen to pitch long relief or outright released.
If it wasn't for the unheralded Armando Galarraga
(2-0, 1.50, 0.72)
pitching well above his average (at best) ability, the Tigers would be...Well, let's not talk about it. What's even worse is Galarraga is bound to come back down to earth. He's not going to pitch like an ace indefinitely. He started the season in Toledo for a reason.
I know what you're going to ask. What can the Tigers do?
Nothing, save for running their highly paid
(save for Galarraga)
starters out to the mound every 5th day, and hope they pitch their way out of their collective slump.
Really, that's it. That's all the Marlboro Man can do. The Tigers have what they have, there's no saviors in the minors, no trades to be made, no one in the pen that will step into the rotation. We knew back in December this was the Tigers rotation. They aren't about to make changes now. Not a month into the season, anyway.
What if the rotation continues to suck like the suckiest bunch of sucks that ever sucked?
The offense best start scoring 8 runs a game, or it's going to be a
loooong
summer.
The great Guillen/Cabrera position switch of 2008, how's it working out?
At their previous positions, Cabrera and Guillen were the equivalent of butchers attempting to carve meat while using dull, rusty cleavers. It's scary to watch, and someone was going to get hurt. I don't think either would have made it through the season in one piece without the move.
I know it's only been a few games since Cabrera has taken over duties at 1st, and Guillen played 3rd for the first time this season on Sunday. But no blood has been let at 1st or 3rd since the announcement. Thus, I'd have to consider the
"Great position switch of 2008"
a success!
(to this point, anyway)
At the plate, it hasn't made a whit of difference, as long as they are healthy, Guillen and Cabrera are both going to hit, no matter the position. Guillen is off to a great start with the bat, and Cabrera as really begun to come around after his slow start. The Tigers need them to swing the bat, and swing it well.
If the position switch keeps both healthy, happy and their potent bats in the everyday lineup, while tightening up the infield defense at the same time, what's not to like?
(Save for Brandon Inge supposedly having a hissy fit)
What should the Tigers do with Gary Sheffield, and his achy, breaky shoulder?
They are walking a fine line with Sheff. If he says he can play, you got to put him in the lineup. He's' THAT good when healthy. But when you see Sheffield at the plate, he's lunging at pitches, the timing is off, and he's not fluid. He's not buggy whipping inside pitches, as the bat speed isn't there. Are his struggles because of the pain, or just his needing at bats to find his rhythm?
I hope I'm wrong, but if you ask me, it looks as if Sheffield is still in pain. Probably a great deal of pain. He needs to get himself right on the DL, not while trying to DH every day.
We've all heard about Sheffield getting cortisone shots in his shoulder to relieve the pain. I've had cortisone shots myself, back in my high school football days. The only thing that would make the pain in my knees go away were the injections. But it was only a temporary fix, the pain always came back. They only thing that would help was rest.
As it stands, Sheffield is hurting the team trying to play through his shoulder misery. He needs to do whatever it takes to make him pain free. If that means spending time on the DL now, to assure he's healthy for the rest of the summer, then do so.
(Great minds think alike, even if out answers differ. Over at
Mack Avenue Tigers
, I see Kurt asked the same question, "What to do about Sheffield? I think he needs to sit, Kurt, on the other hand, says, "Keep playing him for now, but bat him sixth and return to the question in another two weeks or so.")