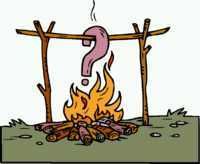 As the Detroit News has not seen fit to do any "Burning questions" features in regard to the Tigers, I figured it was time I took the questioning into my own grubby little hands. I have a feeling my questions will be a tad more blunt and irreverent than Lynn Henning's, but that's what you are going to get! Deal with it!

So let's burn questions, shall we?

With one more minor league rehab appearance tonight, Curtis Granderson will be ready to join the Tigers on Wednesday. Who gets a bus ticket out of town?

The easy answer is Clete Thomas. He has options left, needs to get consistent at bats and it would be the simplest move to make. But...There's always a but...There are other options.

There's Ryan Raburn, who could be a candidate to be sent down. But he's swinging the bat well, can cover for Placido Polanco while he gets the kinks worked out of his back and gives the Tigers an Inge-like versatility coming off the bench. Raburn deserves to stay on the big club.

Gary Sheffield, and his apparently chronic sore shoulder, could be a candidate to join Dontrelle Willis on the DL. That would buy Thomas a couple of more weeks in the big leagues. Something needs to come to a head soon regarding Sheffield. Either determine he's healthy enough to swing the bat, or place him on the 15 day DL, shut him down for a couple of weeks, and get him healthy for the remainder of the season. I think you get my drift which move I prefer...

If I was making the decision, I'd sit Sheffield on the 15 day DL, and deal with Thomas' status in a couple of weeks. Hell, by that time, with the Tigers luck, someone else will go down with an injury, opening up roster spot, and make this whole discussion moot.

What about Jacque Jones? He sucks more than, God forbid, NEIFI!

To be honest, it's true. Jones is hitting all of .178 with absolutely no power. Another reason to
keep the rapidly growing "Cult of Clete Thomas" happy by leaving Clete on the roster.

But we all know Jim Leyland LOVES his veterans. In 2007, the Marlboro Man kept running Craig Monroe out to left field every day, even though his strike out rate rose faster than Michigan's unemployment numbers, and his batting average plunged faster than the price of Ford Motor stock. It was August before Leyland and the Tigers had seen enough, and cut ties with TWFE's former man-crush.

So I fully expect Jones to continue to get his fair share of PT, with Leyland giving him every opportunity to work his way out of what's becoming more than a slump, but a career trend. Remember, Jones had an awful first half with the Cubbies last season, then fired the afterburners in July, allowing Neifi Jr. to finish with respectable stats.

Even if Jones manages to find his batting eye, I do think the days of his hitting 20+ HR's are, as Ernie Harwell says, LOOOOONG GONE! We can only hope Jones rediscovers his gap power, and gets his average in the .280 range. He does that, the Tigers will be just fine. If not, there's Marcus Thames (Who's having an rough start himself), Raburn and the Cult of Clete, all waiting in the wings. The Tigers will be fine in left, though it may not be thanks to Jacque Jones.

Armando Galarraga, is he the new hotness, or a AAAA player who caught lightning in a bottle?

Galarraga is 2-0 with a 1.50 ERA in his 2 starts. He leads the Tigers starters in wins, ERA, WHIP and BAA. If you go by that, he's the Tigers' ace! But 2 successful starts does not a rotation mainstay make. It's a much too small sample size.

If you check Galarraga's minor league stats, a MUCH bigger sample size, it tells you a different story. In 116 appearances over 7 seasons, he has a career 25-35 W-L record, with a 4.13 ERA and a WHIP of 1.32. In other words, his stats are "meh." There's nothing in his past that shows Galarraga to be anything more than a marginal major league pitcher.

There's every possibility he's a late bloomer. He may be putting it all together at the perfect time for the Tigers. It's also possible, and much more likely, Galarraga has caught a hot streak, is pitching well over his head, and will soon crash back to earth.

I'm already seeing threads on message boards asking who's spot in the rotation Galarraga will take. It's not going to be Verlander, The Gambler, or Bonderman, struggling or not. The Tigers signed both Willis and Robertson, who have vastly superior MLB track records to Galarraga, to long-term contracts. it won't be them, either.

So who's spot in the rotation will Galarraga take when Willis is deemed ready to pitch? Someone's spot in Toledo. It's asinine to even think otherwise. At this point, I'd consider Galarraga as injury insurance, this season's Chad Durbin. Nothing more.

Odds are good if the Tigers ride Galarraga for too long, he's bound to disappoint. He's not this good, he's just not. It's great he's stepped into the rotation, and propped up the Tigers during an important time. But I don't expect it to last, and I'm betting the Tigers don't either.

What's the matter with Justin Verlander? He's barely hitting 93 on the Jugs gun! His ERA is over 7! Count it! 1,2,3,4,5,6,SEVEN! EVERYBODY PANIC!!!

Keep it down, Chicken Little. It's early in the season, there could be several reasons Verlander's velocity is closer to Mike Maroth's than Roger Clemens'.

1. Verlander's trying to get more movement on his pitches by reducing his velocity.
2. The game that had everyone alarmed, his last start against Cleveland on 4/17, was played in weather better suited for Browns-Lions than Tribe-Tigers.
3. Verlander's not up to full strength yet, as it is only mid-April.
4. Verlander has been experimenting with a 2-seam fastball, rather than using his normal 4-seam.
5. He's hurting somehow, be it his shoulder, elbow, you tell me.

Verlander claims his arm is fine and dandy, and so has the Tigers brain trust. He also mentioned finding a slight mechanical issue, as an arm angle adjustment was needed. Though the general consensus has been he's consciously reducing his pitch speed down from the occasional 98-99 and normal mid-90's, in order to get more movement on the ball.

No matter the problem, be it mechanical, mental or physical, Verlander has to pitch better. The Tigers season depends upon it. I'm willing to give Verlander and the Tigers the benefit of the doubt. They've earned my showing them some patience, and we all know patience is a virtue.

Much like how I feel about the Tigers to this point, the same goes for Verlander. I'm concerned, but not yet worried. Though my feeling on both may change quickly if things don't turn around, and turn around soon.