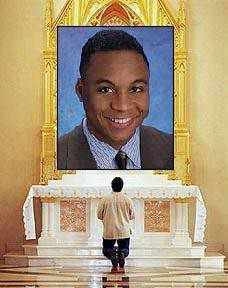 Hat tip goes to Detroit Bad Boys for pointing this out this wonderful news!

Pistons play by play man George Blaha is in Orlando this afternoon to work his Sparty gig, and call the Champs Sports bowl game. So he'll be unable to work tonight's Pistons - Pacers game. As much as I'll miss the legendary Blaha on tonight's broadcast, the Pistons have replaced him with...Mr. NCAA tournament....GUS JOHNSON!

Yes, THE Gus Johnson! The man who literally owns March Madness, the favorite son of Awful Announcing, who brokered peace between the warring Bill Simmons and Isiah Thomas, who could make a meaningless Lions game sound like a Super Bowl, will be broadcasting from the Palace tonight.

Yes, you can count yours truly as a member of the Cult of Gus Johnson. I became a huge fan thanks to his thrilling NCAA tournament calls, and now make a point to catch a Gus Johnson called game whenever possible. He's that good.

Yet CBS doesn't treat Johsnon with the respect he deserves. CBS committed a criminal act in replacing Gus with the AWFUL play by play of James Brown for the 2007 sweet sixteen. In my book, that's an unforgivable offense. In a perfect world, Gus Johnson would be calling the NCAA Final Four. Hell, he'd be calling all the big games...

I'm fond of saying that the world needs more Gus Johnson. Here's a few clips as to why...

Gus talking about the NCAA tournament game that brought him to national prominence, the 1996 Princeton upset over UCLA.



"The slipper still fits!" Gus' call of Gonzaga's 1999 upset over Florida.



"Batista with the CAAAATCH!" The final seconds of UCLA knocking off the Zags in the 2006 NCAA's.



Just listening to Gus Johnson's late game calls puts a huge smile on my face. We should be so lucky to hear another of Gus' great buzzer beater calls tonight.