The Lions beat writers are all reporting in their respective fishwraps that Mike Martz "remains mum" and "won't discuss future with Lions."


"Well, maybe we'll talk after the season. Who knows? Don't worry about that stuff, guys. Let's just concentrate on beating the Packers right now."
And that's actually a surprise? The man is supposed to be a genius. At the very least, he's no dummy. So Martz knows, as Hawk Harrelson would say,
"He gone."
To talk about anything other than this Sunday's game against the Packers is a waste of breath.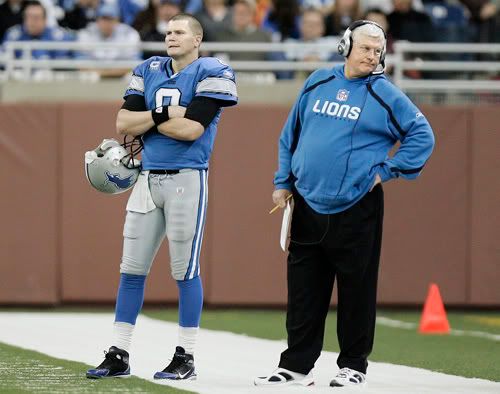 You want me to stay, Kitna?! You want to throw for 5000 yards next season?!
DO YOU?! THEN PRAY! Pray to your GOD to SMITE Marinelli!
If FOX wants a storyline for the game that doesn't revolve around Brett Favre (A pipe dream, I know), may I suggest...
Mike Martz, dead coordinator walking.