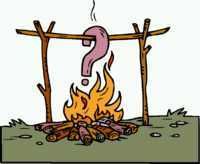 After the overdosing on the Mitchell report for the past 36 hours, it's refreshing to just talk baseball as a game, rather than as a steroid clearinghouse. Thankfully, it's Lynn Henning to the rescue with his latest round of burning questions!

Topics today include (Again) Brandon Inge, Inge's glove vs. Miguel Cabrera's bat, Chad Durbin's release, the relative strength of the Tigers' rotation and bullpen compared to other elite teams, and one of Henning's evergreens, the Tigers need for a young catcher.

Let's burn that evergreen, and answer questions!

Burning questions after the Tigers pruned some payroll and now ponder a deal for a displaced third baseman:

Q: What kind of return will the Tigers get in their bid to trade Brandon Inge?

Henning: Probably not as much as fans would like. The Tigers might get a relief pitcher who has a shot at making the team in 2008. They might get a prospect or two, although they aren't likely to be great ones.

The way it works in baseball is that you can generally trade a key everyday player -- a third baseman, for example -- for prospects, if the player isn't saddled with a big contract. If the trading team wants to pick up a sizeable portion of the contract (in Inge's case, $19.1 million spanning the next three seasons), the chances for landing a quality prospect increase significantly. The Tigers probably won't go for that for a minute.

Either way, Detroit isn't likely to be a big winner on this trade -- not after Inge had a tough year at the plate in 2007.

Big Al: Here we go again, Henning latching on to a subject and won't let go. In 2006 it was "Chad Durbin should be in the Tigers rotation!" In the last couple of months of the 2007 season, it was "Guillen should be moved to 1st base!" Now it's "What will the Tigers do with Inge?"

What will the Tigers do? As Inge doesn't want to be a bench player, and the Tigers don't want to play $6+ million for a sub, it's simple. They'll have a hard time finding a taker, but will finally trade Inge for pennies on the dollar, not getting much in return, while having to pay some, if not all, of his salary.

Case closed.

Q: Why didn't the Tigers package Inge with a guy like Chad Durbin and sweeten the pot?

Henning: They almost certainly did, probably with Pittsburgh, to name just one team. But that didn't lead to anything, or they wouldn't have made Durbin a free agent by declining salary arbitration.

Fans tend to over-inflate ideas of their team's players and under-appreciate the value other teams place on their tradeable players and prospects. That's why I got a lot of notes last week suggesting the Tigers trade Inge, Durbin, Thames, Rick Porcello, etc., to the Twins for Johan Santana. People don't understand that the Twins want nothing of Inge's contract, nor are they looking to trade Santana for a pitcher who is six months out of high school.

Big Al: I agree with Henning, in that we tend to overvalue players. But the example he gives, trading trash to the Twins for possibly the best pitcher in baseball, are from the clueless, delusional bandwagon fans that didn't pay attention to the Tigers till June of 2006. I'm sure fans who are even somewhat knowledgeable would laugh at such farcical trade offers.

As for Durbin, he was a dead man walking in regard to remaining a Tiger. They already have a younger, cheaper version of Durbin in Zach Miner. The Tigers weren't about to take Durbin to arbitration, and other teams knew that, so why trade for a player that would eventually be released anyway?

In Inge's case, how big of a market is there for a 3rd baseman who won't hit for average, and might hit for power? As the Tigers are finding out, not much of one. An excellent glove will normally carry you quite far, but not when you are making $19+ million over the next 3 seasons. That's a lot of jack for a player who will hit .250 (If you're lucky) with 25 home runs. (If you're even luckier)

Q: Why didn't the Tigers bank a versatile player like Durbin by offering him arbitration? So what's another $1 million or so when their payroll is $125 million or more?

Henning: Just because you have pushed the salary limit doesn't mean you can keep exceeding the limit. The Tigers are so far past any imaginable spending forecast for 2008 that declining another million on a pitcher who was a longshot to make the 12-man staff is, in this view, fair, if not necessary.

Big Al: I'd love to have Durbin stay, as he was quite valuable as a swing man in 2007. But as I said, the Tigers already have a versatile right handed spot starter/middle relief man in Miner. He's also much less expensive. The Tigers have a much bigger need for a late inning setup man, so why spend relatively big money on a redundant player? Put those resources towards a bigger roster need instead, or towards log term deals to Granderson/Cabrera/Willis/Verlander.

I'm guessing that's the Tigers' plan.

Q: Back to Inge. Why are people continuing to defend him? Don't they understand how happy most fans are that they won't have to put up with his strikeouts when there are two men on base, begging to score?

Henning: Those baserunners have a better chance of scoring with the new lineup, no question. Of course, a lot of opposing baserunners will also be scooting home now that the Tigers have traded Inge's glove and range for Miguel Cabrera's.

Say it's the eighth or ninth inning of a one-run ballgame. The Indians have runners at second and third with two out. A hard ground ball is hit to Cabrera's glove side. It slips past him, and past shortstop Edgar Renteria as he moves to the hole. Both runners score. The Indians take a one-run lead with Rafael Betancourt headed back to the mound. Nice situation for Cleveland. But it wouldn't have been had Inge been playing third base.

Big Al: Actually, Tiger bloggers Billfer and Lee were all over this subject just days after the trade. Their conclusion? The run differential between Cabrera's bat and Inge's glove is not near as much as you'd think, though it is in favor of Cabrera.

The scenario Henning espouses will happen. Inge has amazing range, and has saved more than his fair share of runs. Admittedly, Cabrera is not a gold glove 3rd baseman, but he's probably not as bad in the field as he was in 2007 either.

The combination of playing for a pennant contender, the rest of the infield being air tight defensively, and losing the weight he put on over the past couple of years should make Cabrera much less of a liability at 3rd.

In a perfect world, the Tigers would keep Inge on the roster for his late inning defense. In those situations, Cabrera shifts to left field, in order to keep his bat in the game. Sounds like a great plan! But it's not a perfect world, and Inge will be wearing another uniform in 2008.

Q: But you have Cabrera's bat in the lineup. What's that worth?

Henning: A lot. It was also worth having Inge's glove at third in the ninth inning when Todd Jones was closing and the opposing batter hit a swinging bunt that Inge grabbed on the run and barehanded, all before whistling a throw to first that got the runner by a half-step.

Say goodbye to those plays. There were a lot more of those than people have been acknowledging in the good-riddance-to-Inge frenzy.

Big Al: It's worth a ton! That''s why you make the Cabrera trade 100 times out of 100.

Does trading Inge weaken the Tigers defense? Of course. Are the Tigers a much better team with Cabrera? Hell yes! That's why Inge is on the trading block.

There will be times when Inge's missing defense might cost the Tigers a game. But also remember that Cabrera's an elite player, much younger than Inge, who's still getting better. The Tigers will win more games with Cabrera than with Inge.

Q: It still comes down to pitching. What are the Tigers' chances of beating Cleveland, New York, Boston, etc., with their current staff?

Henning: People forget that, for most of 2006, the Tigers were first in pitching. They did it with a rotation of Kenny Rogers, Justin Verlander, Jeremy Bonderman, Nate Robertson and Mike Maroth.

Their 2008 rotation will be Rogers, Verlander, Bonderman, Robertson, and Dontrelle Willis. Rogers is a couple of years older, yes. But I'm not sure he will be any less effective. On paper, I like the Tigers' 2008 rotation more than the 2006 bunch.

Big Al: The Tigers have an excellent starting staff, with a few caveats. They need a healthy season from Rogers and Robertson (Odds are good they'll be fine), a bounce back year from Willis (Quite likely to be reinvigorated playing for a title contender), Bonderman to pitch like he did in the 1st half of the 2007 season, rather than the 2nd half (You're guess is as good as mine), and Verlander to...Well, just be Verlander.

As good as the Red Sox rotation was in 2007, they could be liable to have the same issues the Tigers had this past season.

Beckett had a career '07 season that he's unlikely to replicate. Dice-K threw more innings than ever before, and it could affect him negatively this coming season. Schilling is just like Rogers, old. Wakefield finished the '07 season injured, can he bounce back? Buchholz, as good as he is, was shut down with a tired arm, so who knows how he'll hold up in '08. Same goes for Lester, he's never had to pitch more than 80 innings in a season. Will he hold up?

See? Lots of question marks.

There's one wild card. If the Yankees or Red Sox trade for Johan Santana? We'll cross that vridge when we come to it...

Q: You're counting on Bonderman? You're assuming Willis will have a bounce-back year? That Robertson will be the Robertson of 2006 and not 2007?

Henning: You can raise the same questions about the other rotations. Pitching is fairly unpredictable. But I would take Detroit's rotation, from 1 to 5, ahead of Cleveland's, New York's, or Boston's.

Big Al: Pitching tends to be mercurial. A great pitching staff one season could be average, or worse, the next. So I'm with Henning. The Tigers rotation, overall, is the equal of, if not better than, the Yankess or Red Sox staffs. Again, Santana is the wild card in all this.

No matter trades the competition may make, if I'm running the Tigers, I'm quite happy with my rotation going into 2008.

Q: But what about the bullpen? Isn't that the soft spot?

Henning: Probably. Joel Zumaya's absence will be the biggest possible loss for Detroit to overcome during the season's first half, presuming he can get back to normal by mid-year. Todd Jones will be 40 in April and, yes, fans have reason to be concerned. Fernando Rodney was injured and fairly inconsistent in 2007.

Big Al: The pen is an issue for most teams, and the Tigers are not an exception. Zumaya's injury was a giant ass monkey wrench thrown in the works. It definitely changed Jones' status from iffy, to must sign. They are also counting on Rodney's reverting to his '06 form. We've seen Rodney be damn near unhittable in the past, so you know that's not asking the impossible.

I'm sure the Tigers may be looking for another reliever up to the 2008 trade deadline. But you never know, the Tigers could have a relief pitcher come out of nowhere, much like Bobby Jenks did for the White Sox in '05. Relief pitching is funny that way...

Q: So don't be surprised by the bullpen blowing up?

Henning: The pitcher everyone is overlooking is right-hander Francisco Cruceta. He throws hard. He doesn't always throw strikes. But he has a 2-to-1 ratio on strikeouts to walks. Dick Egan, the longtime Tigers scout who doesn't embellish, said he can pitch in the big leagues -- now. That's not a bad endorsement.

Big Al: I'll have to take Henning's word for Cruceta's talent, but the Tigers must have seen something in him. Once Cruceta was signed, it was pretty obvious the Tigers felt their bullpen was more or less complete going into spring training. A pitcher with a high K rate would be a most welcome addition to the Detroit bullpen. Hopefully Cruceta's that pitcher.

Q: Moving to position players, when will the Tigers trade for a catching prospect?

Henning: Not soon enough to suit them, or the fans. The problem is finding a catcher who is available, which is like finding an unclaimed winning lottery ticket. There aren't many catchers anywhere, let alone stockpiled within a particular organization.

Big Al: This is a question that's not going to be answered for quite some time, definitely not this season. The Tigers do need to find a young catcher, that goes without saying. From all accounts though, as at least 25 teams are in the same boat as Detroit, there is no such thing as a MLB ready young catcher. You might as well consider them made out of unobtainium...

Q: Is there any club in baseball that has catching depth?

Nenning: Texas. It would not be shocking to see the Tigers and Rangers do something. But if you think the Rangers are giving away catching prospects, call their front office. And be prepared for some sticker shock.

Big Al: Considering the dearth of catching talent, with the HIGH cost in talent that a trade for an available catcher would require, let's face facts. Pudge Rodriguez may be behind the plate in Detroit for much longer than originally thought.

The only thing I can suggest is that the Tigers find the fountain of youth, and dip Pudge in it...