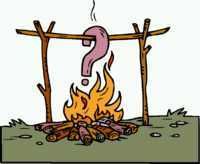 It's the calm before the storm at TWFE HQ. I'm anxiously watching the mating dance take place between the University of Michigan and Rich Rodriguez, while waiting for DEATHSTORM 2007 to hit SE Michigan in a few hours. 6-10 inches of white stuff by tomorrow is the latest word. I expect the local TV stations to go into oncoming apocalypse mode shortly, telling viewers to...DON'T LEAVE THE HOUSE! CLEAR THE STREETS! TAKE COVER! YOU GONNA DIE!

In other words, it felt like a good time to answer a mini round of burning questions, courtesy of the Detroit News' Terry Foster.

Topics covered include the Lions chances against the Chargers, Damien Woody's play at tackle, and the benching of Kalmiba Edwards.

Let's answer the Cliff notes version of the burning questions!

Burning questions as the NFL regular season grinds toward its conclusion:

Q: The Lions nearly toppled the Cowboys last week. Will they carry that momentum into Sunday's game in San Diego?

Foster: I fear the opposite. This could be ugly for the Lions, even though Chargers quarterback Phillip Rivers will play hurt and Pro Bowl linebacker Shawne Merriman is out because of an injured knee.

Look at what happened to the Ravens. They played a terrific game against the Patriots, losing 24-20. A week later, they lost to the Colts, 44-20.

Big Al: Momentum? From a loss? Please. That's just more of that "moral victory" bullshit that we've seen all too often from the Lions.

Detroit is going to get their asses kicked all over San Diego, all the way to Tijuana. The Bolts have arguably the best running back in football in LaDainian Tomlinson, and more importantly, something to play for, being on the verge of clinching the AFC west. That's a combination that's going to run over the Lions like a runaway freight train.

Does anyone believe that a banged up, mentally weak team like Lions will be able to bounce back from an extremely tough loss to the Cowboys? That loss all but ended their season. Thus, the Lions are playing out the string, while the Bolts are ramping up for a playoff run.

Add that all together, and you come up with a 6th straight loss for the Lions.

Q: Damien Woody is being praised for his play at right tackle. Wasn't he benched earlier this season? How did he rebound?

Foster: Woody needed a wakeup call. He needed motivation.

It was a shock to Woody's system being benched, but he kept his promise to work hard and prove he could contribute.

He is playing so well, it might get him another year or two with the Lions.

Big Al: The move of Damien Woody was made in total desperation, and the Lions got damn lucky that he solidified a weak spot on the line. But it's too soon to think that Woody's career has been rejuvenated in only 2 games as a tackle.

You know what my fear is in regard to Woody's future? That the Lions will pass on a stud offensive tackle in the early rounds of the 2008 draft, just because Woody played decently for a few games at tackle. It would be another in a long series of short sighted decisions by the Lions.

The Lions HAVE to draft a offensive tackle in the first couple rounds of the'08 draft. They haven't drafted a first day tackle since Jeff Backus in 2001, then added center Dominic Raiola in the 2nd round. The Lions have all but ignored the offensive line in the first day of the draft since, and have been paying the price. The line has been patchwork for years, and keeping Woody at tackle is another patch that probably won't work over the long term.

The Lions need to rebuild the O-line with youth, rather than their current practice of plugging holes haphazardly with guys they find on Allen Park street corners...

Q: What is going on with linebacker Kalimba Edwards? He didn't even make the active roster for the Cowboys game.

Foster: He's big, strong, athletic and fast. The problem is, he can't play.

Does that make sense? Of course it doesn't.

Edwards might be a better fit in coverage or as an inside linebacker. He can't overpower offensive linemen to get to the quarterback. I sometimes wonder if he'd be better off at tight end or a position where he can show his true skills as an athlete.

Big Al: You're kidding, right? Excellent athlete or not, it's a flight of fancy to think Edwards might make a better linebacker or tight end. Sure, it can happen, Mike Furrey being a prominent example, successfully shifting from safety to wide receiver. There's also the Lions' ongoing switch of Jon Bradley from D-lineman to blocking back, but the jury is still out on that experiment...

But switching from DB to WR is infinitely easier than moving from down lineman to outside linebacker, let alone a skill position like tight end. Even if it was tried, I don't expect Edwards to learn on the job while making $5+ million as season in Detroit. He'll do so somewhere else.

Kalimba Edwards was, is, and will continue to be, a colossal bust. Matt Millen compounded an already egregious draft mistake by inking him to a long term contract, though he did little to earn a new deal in his first 4 seasons. Millen can expect to be on Edwards' Christmas card list for life, in making him a very rich man, in return for next to no production.