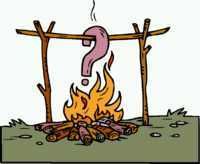 The Detroit Tigers still have their fair share of roster decisions to make, thanks to a sudden infusion of elite talent, namely Miguel Cabrera and Dontrelle Willis. Where that leaves a Detroit Tiger mainstay, Brandon Inge, is the focus of this round of Lynn Henning's burning questions.

Topics covered include the future of Inge, why the Tigers may have soured on him, the Tigers status as an elite team, along with the MSM's reaction to that status, and how the Tigers were better off not following MLB guidelines in building their team.

Let's talk Inge! Never thought I'd be writing that, but these are strange times for Tigers fans...

Burning questions after the Tigers threatened to turn the winter meetings into the winter beatings

Q: Of all the mesmerizing events that took place ahead of Detroit's trade for Miguel Cabrera and Dontrelle Willis, what has been most mystifying in the hours and days since?

Henning: The instant disappearance of Brandon Inge from the Tigers' vocabulary. Never have I seen a player who had been such a mainstay vanish so rapidly.

Cabrera is the Tigers' new third baseman, his defensive challenges aside, and never were the Tigers considering for a moment moving Cabrera to left field in order to utilize his bat and Inge's Gold Glove-caliber glove at a key defensive position.

I was dead wrong to have thought otherwise. I was just as wrong to have thought the Tigers would hang onto a guy who can literally play nine positions when they have their share of old, injury-prone players and no real position help in the minors.

Big Al: Inge hit .236 with 14 home runs, at a position where power production is essential. Is he a great fielder? Sure, but he still only hit .236 with 14 home runs. That's a big decline at the age of 30, after his career year of 2006. Do you seriously see him getting better at the plate in the coming years?

Till the Caberea deal came along, despite Inge's 2007 struggles, the Tigers were going to ride him out for another year, and hope his bat became acceptable, rather than awful,at the plate.

As for Miggy playing left field, it is an option. But the Tigers appear to be perfectly fine with Jacque Jones, for better or worse. They must feel that Jones' power is more likely to return than Inge's. Even with the power outage, Jones is more likely to get on base more often than Inge.

Either way, Brandon Inge is likely to be wearing another uniform in 2008.

Q: Why such a radical response to Inge a year after they were grateful to have signed him to a long-term (and discounted) contract at $6 million-plus a year?

Henning: The Tigers aren't saying. They clearly believe Inge has market value as a third baseman and they hope to get something in return, as well as unload the brunt of his contract. It's tough deploying a super-sub who is owed $19.1 million.

Big Al: The Tigers must feel that one, Inge won't accept his super-sub role, and don't want him sulking on the bench. And two, that is a Hell of a lot of jack to pay someone who is essentially a utility man. Ryan Raburn can fill that role better than Inge at the plate, if, admittedly, not as well in the field, at a fraction of the cost.

Plus, the Tigers do need relief pitching, and Inge is the easiest commodity to trade, and would get more in return than Marcus Thames and Chad Durbin, the other veterans rumored to be on the trading block.

Q: What happened to Inge in 2007? He hit 27 home runs the previous season. With his defense and power, he figured to hit a free-agent bonanza during the 2007-08 off-season.

Henning: That's why the Tigers were so gleeful to have locked him up at a comparative bargain price a year ago. But a couple of things happened in 2007.

A lifetime .241 hitter batted .236. He struck out 150 times in 151 games. He hit 14 home runs. He had only 25 doubles.

Big Al: I had no problem with the Tigers locking up Inge for 4 years after his nice 2006 season, at what was considered a bargain contract for a starting 3rd baseman who was a gold glove quality fielder. Then his bat went south. Waaaay south. Inge has never hit for average, so if he's not hitting for power, his bat is useless. When you factor in the strikeouts, he became an offensive black hole.

You can get away with a good field-no hit player in a National League batting order. But not in the powerful American League.

Q: Could he not have rebounded in 2008 with something closer to his 2006 numbers?

Henning: That was the projection, at least in this corner. Whether the Tigers agreed is another issue with its own complexities.

Inge seemed to want to do things his way. The Tigers clearly wanted him to adopt a different approach at the plate. He seemed to view his pull-hitting power stroke as his definitive batting style. It's no surprise Inge and Tigers hitting coach Lloyd McClendon had about the same relationship as Donald Trump and Rosie O'Donnell.

The Tigers seemed also to have grown fatigued by those long, sweeping swings that too often missed the ball and too often left runners on base.

The Tigers were prepared to go with Inge in 2008 and hope his hitting would rise to a level that would make his defense a splendid asset on a team that needed shutdown defense on the infield's left side.

But that was pre-Cabrera. After Tuesday, Inge was marginalized.

Big Al: Obviously, I don't know the true feelings of the organization, unlike the insider, Henning. Speaking for the fans, Inge was a polarizing player. Loved the defense, and that he had made it through the hard times, and was around for the good times.

But his bat? Fans DESPISED his bat. He did have a few acceptable seasons at the plate, 2004 thru 2006, which kept the haters at bay. Then came 2007...

Last season, Inge's approach regressed back to the days when he was battling to keep his average above the Mendoza Line. For that matter, his BA and OBP have been in decline since career highs in 2004. That's not a good sign for a player now in his 30's. Especially one that gets by thanks to his freakish athleticism.

If what Henning says is true, that Inge didn't want to make adjustments at the plate, though his approach no longer was working, I can understand the Tigers just throwing up their hands in frustration, and washing their hands of Inge.

The acquisition of Cabrera made Inge a utility man. he's be a great utility man, but an overpaid one. The Tigers don't want to pay a utility man starter money, and Inge doesn't want be a utility man. So the only solution is to send him on his merry, .236 hitting, way.

Q: What are the media at the winter meetings saying about the Tigers?

Henning: Never have I seen the Tigers assume an aura, a sense of grandeur, to match the way media on both coasts, and in the heartland, now seem to view manager Jim Leyland's team. The lineup is breathtaking, no question. But there's a clear and prevailing view this week, the Tigers have become the most dynamic franchise in all of professional sports because of their aggressive and dramatic moves to put together a devastating baseball team.

Big Al: With the Tigers being the most aggressive team in baseball in improving their team, the love for the Tigers from the MSM has been off the charts. Many fans have not heard such gushing praise in their lifetimes. Others, like myself, haven't heard the Tigers talked about in such glowing terms since the glory days of the mid 80's. It's been a LONG time coming.

When you hear the Tigers being talked about as a baseball "Siuperpower," in the same breath as the Red Sox and Yankees, with the 3rd highest payroll in MLB, it's a brave new baseball world in Detroit.

I'm LOVING it! It's a long time Tigers fan dream...

Q: Other revelations?

Henning: Peter Gammons had a great column on ESPN.com Thursday. The theme, which should have been earlier advanced by a sage observer from Detroit, was the Tigers made their Cabrera-Willis trade possible only because they had thwarted Commissioner Bud Selig's office on the matter of paying draft picks above-slot bonuses.

In other words, unless they had paid above slot in drafting Cameron Maybin and Andrew Miller -- they went way above in both cases -- they never would have had the royal blue chips necessary to trade with the Marlins.

Selig wants more competitive balance in baseball. He ought to know by now the best way to ensure balance is to allow teams to draft the best kids possible, and pay them the going rate, minus interference from his office.

Big Al: I wrote last August that the small market teams often have no one to blame but themselves, and I had little sympathy for their "Woe is me, I can't compete" attitude. Teams crying that they can't afford to pay the going rate for players actually have richer than sin ownership. Ownership who would rather treat their franchises as ATM's, a prize in their portfolio to be flipped for an insane profit when the the time is right, than field a competitive baseball team. The Florida Marlins are the most egregious example of that small market philosophy.

For many years, the Tigers operated in such a manner. They were a big market team crying small market poverty, mostly due to their own front office ineptitude. Things have changed for the better, as we all know.

It's changed not because they did as Bud-lite suggested, but thanks to a forward thinking, highly aggressive, extremely smart GM, Dave Dombrowski. He convinced Mike Ilitch that you need to spend money, to make money. That you need to invest in more than just a new stadium, but in your minor league system, scouting, and payroll.

With the Tigers paying big money for free agents, and in the amateur draft, ignoring MLB's suggested guidelines, the Tigers began to win on the field, and win back lost generations of fans. The Tigers set a team attendance record, in breaking the 3 million mark last season. I think it's safe to say that they will break that record in 2008, as they are selling season tickets like proverbial hotcakes after the Cabrera-Willis trade. We may actually see the once unthinkable, that being 81 sellouts.

The Tigers have become a model franchise because they didn't listen to the dweebs running MLB in New York, who were trying to keep the small market teams happy. They went their own way, and it's now paying huge dividends, in both fan goodwill, and at the bank.