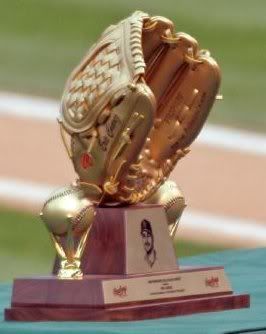 MLB's Gold Glove awards were announced this afternoon, with two Tigers winning. Though one of the Tigers' winners was not the correct choice, just the expected choice.

Pudge Rodriguez won his umpteenth gold glove, most undeservedly. At this point of his career, he's going to win a gold glove every season, until he retires, just because he's "Pudge." At this point, Pudge is winning via voter muscle memory, rather than anything he's done on the field. The managers and coaches sure as Hell ignored his struggles behind the plate this past season.

Placido Polanco won his first gold glove, and I'm sure everyone will agree that it was most deserved. The Placidome is a fielding machine. He hasn't made an error since tee ball.

Curits Granderson, who played the best defensive center field in all of baseball, was, to put it bluntly, royally screwed.

The AL outfielders to win were Torii Hunter (Winning on pure momentum, much like Pudge), Grady Sizemore (The MSM's "It" player, and a media darling, even though Granderson had a much better season), and Ichiro (His winning keeps the Japanese fan base happy).

I'm sure Granderson will someday win a Gold Glove. Unfortunately, it'll be after he has another freakish offensive season (You know you have to be a good offensive player in order to win a defensive award), or gets a career achievement Gold Glove sometime in his mid 30's, once the voters get tired of giving the award to Sizemore.

I'm not even going to touch on Brandon Inge, the 3rd base human highlight reel...

Due to the outmoded voting procedures, the Gold Glove is the most overrated award in sports. Is it really an honor to win, when the voters are making such uninformed, clueless choices?