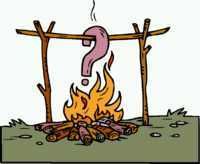 Yesterday, I made a plaintive plea to Lynn Henning, asking when we'll see more of his Detroit Tigers burning questions. Lynn must be a reader of TWFE, as what do I see in today's Detroit News? "Burning questions!"

With the winter meetings just around the proverbial corner, the Tigers have a few roster holes to address. Topics covered this afternoon include the status of Kenny Rogers, Carlos Silva, the market for Johan Santana, candidates to be the fifth starter, bullpen arms, Joel Zumaya, and the Tigers aging 25 man roster.

What to make of the Tigers and their offseason business a few days ahead of the winter meetings in Nashville, Tenn.:

Q: Why is it taking so long for the Tigers and Kenny Rogers to hammer out a deal?

Henning: Imagine you have dismissed your agent and now are representing yourself in contract discussions worth $8 million or so for one year. How careful are you going to be in nailing down the numbers and legal language?

Big Al: I guess The Gambler was serious when he told the Tigers he needed time to get up to speed in negotiating contracts. As Rogers appears to be Detroit's Plan A, B, and most likely C, to plug one of the two holes in the starting rotation, Dave Dombrowski is willing to wait.

Or Rogers is just being lazy. You never know.

Q: Is it possible the Tigers would have preferred dealing with Rogers' former agent, Scott Boras?

Henning: That might not be as funny as it sounds. But the guess is, no -- decidedly no.

Big Al: Are you serious? Wouldn't you rather deal with a slick and slimy agent who would sell his own soul to the devil in order to make an extra 100 grand on a contract? Actually, I'm joking. Boras sold his soul long, long ago.

Yes, the Tigers have a good working relationship with Noras, thanks to past free agent dealings. But he would have wrangled every last single penny possible in a contract for Rogers. Not necessarily from the Tigers, though Rogers has continued to express that Detroit was the only team with whom he wanted to sign. Boras is all about the money, while Rogers wants a fair salary, and more importantly, a comfortable atmosphere. Thus, Rogers canned the super agent.

I'm sure the Tigers brass breathed a big sigh of relief when they heard the news that Rogers gave Boras the ziggy. That meant that they were 99% sure that The Gambler would return, and that he wouldn't cost as much. The Tigers got the best of both worlds.

Q: What happens if the Tigers and Rogers decide they can't make a deal?

Henning: The agents for Carlos Silva will be receiving another phone call from Detroit. The Tigers must get an established starter. Silva would require a longer and more expensive contract than they'd like to consider, but options aren't going to be plentiful if Rogers goes away.

Big Al: I seriously doubt that will happen, but if it does, Silva is the logical fall back signing. Even if he is the best of a very lame free agent pitching class.

As Rogers would likely get a 1 year, 8-10 million dollar deal, and the throughly average Silva will get Gil Meche money (5 years, 55 million), I can understand why the Tigers would rather exhaust EVERY option with Rogers first, before moving on the more expensive, yet not as good, Silva.

If not Silva? Then the Tigers are pretty much screwed. The free agents pitching is that thin.

Q: Why don't the Tigers get involved in the trade bidding for Twins ace Johan Santana?

Henning: The Twins would want Cameron Maybin and/or Rick Porcello, as well as Nate Robertson, Ryan Raburn and a hotshot prospect such as shortstop Danny Worth. And then the Tigers would need to sign Santana to a six-year extension in the neighborhood of $125 million. So, that's why Santana figures to be traded to one of the New York teams.

Big Al: I'm sure the Tigers did their due diligence in regard to acquiring Santana, and from all reports, they have, but do you really think the Twins would trade Santana within the division? For that matter, that the Tigers would want to give up the very high level and number of prospects needed to acquire Santana, especially within the division? Or give Santana a Barry Zito sized contract extension?

Me neither.

Q: While everyone is focused on Rogers, who figures to be the fifth starter in manager Jim Leyland's rotation?

Henning: Andrew Miller. You can expect that Miller will be sharp during spring training and convince everyone he's ready to go north. If he doesn't work out, the Tigers always can plug Chad Durbin back in, or go with Yorman Bazardo. But Miller should be ready.

Big Al: The fifth starter is going to be Jair Jurrj...Oh yeah, he's with the Braves now. It's going to be Carlos Silv...I forgot that the Tigers aren't going to shell out for TWO free agent starters. Virgil Vasqu...He's not ready. Jotdan Tat...He's not ready either. Yorman Bazar...No. Chad Durb...He's perfect for long relief. Zach Mine...He's going to be a bullpen fixture. Rick Porcel...Get real, he's 3 years away.

That leaves us with...Andrew Miller? Yep, Andrew Miller. The Tigers will give him every chance, and then some, to win a spot in the opening day rotation. He's got the talent, he's shown flashes of that talent, he just needs the consistentcy. Don't forget, Jim Leyland will take talent over experience every single time, and Miller is unquestionably talented. The most talented pitcher in the minor league system, than possibly Porcello.

So yeah, in my long winded way, I agree with Henning. Miller is the fifth starter coming out of spring training.

Q: What will the Tigers do about their bullpen between now and spring training?

Henning: Add another arm. It will not be a billboard reliever, but general manager Dave Dombrowski will find someone who can throw strikes and, here and there, chew up an inning late in a game.

Big Al: If you go by published reports, the Tigers know they need another bullpen arm, and are quite interested in signing LaTroy Hawkins to be that arm.

There is also the Octavio Dotel rumors floating around, and with the winter meetings starting shortly, I'm sure other names will pop up in contract discussions. At least these rumblings tell us that the Tigers are aware that the Joel Zumaya injury has left them short handed in the pen, and they intend to sign someone to help pitch in the 7th and 8th innings.

Q: Are the Tigers banking too much on closer Todd Jones?

Henning: They're pushing the wall, no question.

Jones will not be any less hitable as he turns 40. The Tigers are convinced Jones will be as effective as he was in 2007. That's a reasonable bet. But for any player 40 or older, it's wise to consider the facts of baseball life.

Big Al: Considering the huge amounts of money and years that were being thrown at closers like Rivera and Cordero, I think the Tigers took a calculated risk in re-upping with the Rollercoaster for 1 year. That buys them time to see if Zumaya recovers from his shoulder injury, which will determine if the Tigers will have to find a free agent closer for 2009. Basically, Jones allows them to tread water for a year, then see where things stand.

And as Henning says, it's not as if Jones will become any less hittable. As long as he throws strikes, and has a good defense behind him (Which the Tigers have upgraded, by the way), the Tigers can survive with the smoke and mirrors closer that is Jones for another season. But this is it for Jones, the last year! As a blogger, I'm putting my foot down!

Q: Will Joel Zumaya make it back?

Henning: One thing to consider about Zumaya: Doctors said last spring, after he tore his tendon in his right middle finger that Zumaya would be out three or 3-4 months but should recover fully. He was out 3½ months and within a few weeks was back touching high 90s on the radar gun. They have said in the aftermath of Zumaya's shoulder injury that he should make it back by midseason and be at full strength. As wary as anyone should be about a shoulder injury as serious as Zumaya's, I'd go with the doctors' evaluation ahead of anyone else's.

Big Al: Your guess is as good as mine. For a pitcher, the injury was damn near catastrophic. If he does make it back in July, great! But the Tigers can't act as if his return is a sure thing. Even if the doctors are encouraged, as they claim to be.

So what if Zumaya came back fully healthy from the finger tendon tear? We're talking about his shoulder, and a surgery that few, if any, pitchers have had to recover from. I'm sure Zumaya and the Tigers will do everything humanly possible to ensure his recovery. But the body is a funny thing, and no one can say for sure if he'll be the same pitcher he was before the injury. My fingers are crossed.

Q: Aren't the Tigers getting old? Is there a barren period ahead for a team that needs to win next season, or 2009, at the latest?

Henning: Think back to 2004. Where were Zumaya, Justin Verlander, Curtis Granderson and Miller? By 2006, three of them were helping the Tigers to a World Series. It will depend three years from now on the status of the pitching. Porcello, barring injury, should be about where Verlander is now. There are other promising arms in the system.

Middle infielders will have arrived to replace Edgar Renteria and Placido Polanco. Worth is a good bet to succeed Renteria, and Scott Sizemore might be at second base, with Cale Iorg at third. Maybin and presumably Granderson will be in the outfield. It's not always wise to look past the horizon. Some things can't yet be seen.

Big Al: Is this Kurt of Mack Avenue Tigers instead of Henning? "It's not the 90's!" That line still cracks me up...

I'm somewhat concerned about the advancing age of several Tigers. Pudge, Jones, Rogers (If signed), Ordonez, Sheffield, Guillen, Renteria, Placidome, they are all over 30. Some are definitely on the down side, //cough//Pudge//cough// or an injury risk. //cough//Sheff and The Gambler//cough//

But others are coming off of career years (Maggs, Placidome), have been accommodated to allow them to keep producing at a high level (Guillen), and others have remained effective as ever (Renteria, Jones). To quote Kurt again, "They'll be good. If they stay healthy." The Tigers older players are still good, they just can't get hurt. It's a gamble the Tigers are willing to take.

Henning is correct in his observations that the Tigers are regularly producing good young players again, for the first time in a quarter century. They are getting older, but the Tigers' pipeline is beginning to produce capable replacements. Dave Dombrowski and the Tigers are running the team correctly. By drafting well, keeping and nuturing along the best prospects, trading off surplus young players to fill roster holes, while investing in the right free agents, has made Detroit a contender, and a model for other franchises to follow.

They are aging, and may not win the World Series this year, but I don't think we'll see another decade of abominable baseball either.