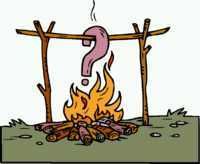 After being pelted from all angles, by all types of media, with Barry Bonds vs. the Feds, it seemed like a good time to answer another set of Tigers burning questions! That the News's Lynn Henning posted another Q&A today made it that much easier...

Today's topics include the Tigers' offseason grades to this point, Edgar Renteria, Jair Jurrjens, The Gambler, Scott Boras, and Joel Zumaya's shoulder. Henning has questions and answers, while I just have answers. Let's compare, shall we?

Burning questions after the Tigers kept up with the Joneses in trading for Jacque and signing Todd during a busy Hot Stove week

Q: How would you grade the Tigers' big three offseason acquisitions to date -- Edgar Renteria, Jacque Jones and Todd Jones -- in terms of roster value and price?

Henning: A solid B, maybe a B-plus. Signing Todd Jones was essential to a bullpen that remains tender because of Joel Zumaya's extended and uncertain recovery. The trade for Jacque Jones was safe and inexpensive because of Omar Infante's expendability. Renteria was a costly necessity in that the Tigers had to nail down a predictable, two-way shortstop.

Big Al: A "B" feels appropriate. Pitching-wise, the Tigers appear to be, at best, keeping the status quo, while the everyday lineup has definitely improved.

Zumaya's injury made signing a closer absolutely necessary, and the Tigers have a comfort level with Todd Jones, even if the fans don't. One season of Jones at $7 million seems like quite a bit. But when you see Mariano Rivera balk at accepting the Yankees offer of 3 years @ $45 million, meaning Francisco Cordero will get a Brinks truck of coin for multiple years as well, nailing down a closer who saved 38 games, while blowing only 6, makes $7 million for a single season a relative bargain. Even if that closer scares the living bejebus out of me...

Edgar Renteria was a player the Tigers absolutely had to obtain, no matter the cost. Upgrading SS defensively, while maintaining good offensive production, allowing Carlos Guillen to stay healthy by playing 1B, was priority one. They have essentially upgraded at 2 positions with that one trade.

As for the Jacque Jones trade, the Tigers gave up a player that literally had no future with the team (Infante), while getting a very serviceable player who can play all 3 outfield positions. If LF is platooned properly, with some mixture of Jones-Marcus Thames-Ryan Raburn, the Tigers should get very respectable production.

Q: Did the Tigers give up too much to get Renteria?

Henning: A shortstop who can field, throw and hit is going to hit you hard when it comes to compensation. Most observers thought parting with right-handed pitcher Jair Jurrjens was where the Tigers went overboard. Not so here. Gorkys Hernandez, the young outfielder who played at West Michigan last season, in this view will have a longer and better big league career.

Big Al: No. The Tigers had to make every effort to get the best available SS, and that was Renteria. For a team who claims they need to win, and win now, 2 prospects is a small price to pay. That it cost an outfielder who admittedly has the tools, but is a good 3-4 years away from being an everyday player, and a pitcher who is poised, but projects out as an end of the rotation starter, so be it.

As Hernandez was not going to be the Tigers CF of the future (Being blocked by both Curtis Granderson and Cameron Maybin), and that there are pitchers in the organization who project to be much better than Jurrjens (Andrew Miller, Rick Porcello), they were more valuable to the Tigers as trade bait.

Q: Why so dismissive of Jurrjens?

Henning: He has pitching talent, no question. The concern is durability. I keep wondering if the Tigers saw a red flag when Jurrjens missed a couple of weeks in August with supposed shoulder inflammation that proved to be pretty much nothing. I think the Tigers considered him replaceable.

Big Al: In my mind, Jurrjens' late season shoulder injury was a big time red flag. I agree that the Tigers have other pitching prospects who will be as good, if not better, than Jurrjens. The fact that the Tigers are aggressive in the amateur draft, by their ignoring of contract slots, I have confidence that the Tigers will continue to produce good, young pitching. And sometimes that good, young pitching gets traded to fill a vital need, example 1 being Jurrjens.

Q: What do you make of Jacque Jones? He hit five home runs in 2007 after hitting 27 a season earlier.

Henning: The key statistic with Jones is doubles: He had 33, which is the second-most he has hit in his nine big league seasons. What the Tigers can expect, conservatively, from Jones: .280 batting average, a dozen home runs, 70 RBIs in 400 at-bats. That adds up to decent production from left field when Marcus Thames will also contribute there.

Big Al: If Jones has the season Henning suggests, when combined with the production of Marcus Thames, 25+ HR's and 100 RBI is entirely possible from a position that was an offensive black hole the majority of 2007. I'll take a 2006 Craig Monroe-style year from LF, considering the strength of the rest of the Tigers lineup.

Q: Will the Tigers yet sign Kenny Rogers?

Henning: If forced to make a guess -- yes.

Big Al: Head games will be played by Scott Boras, the media will be up in arms, rumors regarding Dave Dombrowski contacting free agent pitchers, along with several teams about a trade, will spread like wildfire. After much posturing from both sides, Boras will blink, the Tigers will end up spending a little more than they at first hoped, and the deal will get done.

In other words, yes.

Q: Why did he not sign by now when everyone knows the Tigers made a healthy offer?

Henning: Rogers' agent, Scott Boras, figures he has everything to gain and nothing to lose -- financially -- by stretching out negotiations. The Tigers aren't likely to withdraw their offer, and any late-comers know what they have to do to beat it.

Big Al: Uh, it's Scott Boras! Stringing teams along till all other options have been exhausted, then finally agreeing to terms, is what he does. Boras will do his due diligence, and find other suitors for Rogers. I'm sure the Tigers have made a generous offer, and Boras realizes The Gamber's preference is to return to Detroit, so he'll make it happen in the end.

Q: Will the Tigers add another relief pitcher prior to spring training?

Henning: Yes. Expect to see an acquisition similar to last offseason's pickup of Jose Mesa.

Big Al: Shivers just went down my spine... Let's never, ever speak of Joe Table again.

But the Tigers (I won't say desperately...Yet) need a solid late inning set-up man. Jim Leyland will be juggling the back end of the bullpen, just like last season, if another decent arm isn't found. Zumaya is already missed...

Q: What do you make of Zumaya's chances of returning and being effective next season?

Henning: Remember that there was a good deal of doom and gloom last spring when Zumaya tore a finger tendon. Lots of people thought he was finished, at least for the year. He made it back in 3 1/2 months and was back throwing at 100 mph by late September. Doctors appear optimistic that he will heal and be somewhere close to normal by the middle of next season.

Big Al: I see Henning using terms like "Optimistic," and "Close to normal" in regard to Zumaya's recovery. Not exactly confidence inspiring, to say the very least.

A level 5 separated shoulder is is more than a bit different than the torn finger tendon. The tendon wasn't what generated Zumaya's 100+ MPH fastball. His shoulder, on the other hand... Is it possible Zumaya will return mid-season? Of course. But it would be pure folly for the Tigers to actually plan for Zumaya returning to his 2006 form. If he does, it's an unexpected plus, and a huge addition to the pitching staff. It's also entirely possible that his career is, sad to say, finished. At least as a premier, flamethrowing relief pitcher.

Either way, the Tigers need to plan for the season as if he's not coming back. Which means they need to find another bullpen arm, stat!