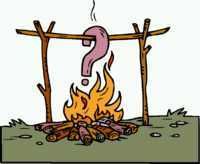 Lynn Henning's burning questions make their first appearance of the offseason, thanks to the Edgar Renteria trade. Which means it's time for TWFE to make sense of the latest Q & A.

Subjects covered include a certain shortstop, the cost of obtaining said shortstop, A-Rod, who's in left field, and what the Tigers do next.

Lynn's got questions, I got answers...

Burning questions after the Tigers pulled off a whopping trade Monday for shortstop Edgar Renteria

Q: How good, or bad, was Detroit's trade for Renteria? Does he fill the bill? Did Detroit give up too much?

Henning: Renteria appeared all along to be the Tigers' best option. They had to find an optimum mix of defense and offense that would hold up over 162 games and they probably got their most practical answer in Renteria.

Big Al: To answer Henning's questions in order, as for some odd reason, he doesn't

Great, he was the best fit realistically available, and no.

As Carlos Guillen moving across the infield was set in stone, the Tigers had to do something, and do it quickly. The longer the search lasted, the higher the price would have been. Not that the Tigers got off cheaply...

It's not as if the free agent market had any SS near Renteria's quality (Eckstein? Hell to the no!), or affordabilty (A-Rod? Only in your dreams!), and no one in the Tigers system was capable of making the leap, so a trade was the only the option. The Braves aren't stupid, and weren't going to give away their All-Star caliber SS for never-gonna-be's. Painful as it may have been, the Tigers said "I-75 is the quickest route to Atlanta, guys" to Jurrjens and Hernandez.

Q: Does he have significantly better range than the man he replaces, Carlos Guillen?

Henning: He has marginally better range. He has a much stronger arm. He also can hit .300 or better and, this is noteworthy, he can take a walk. If his .390 on-base average last season is an indicator, he should help produce plenty of runs in 2008.

Big Al: According to the standard fielding stats, and the (Incomprehensible to me) sabermetric zone rating stats, what Henning says is true. Renteria will be just fine defensively, and a welcome addition to an already powerful offense.

The Tigers acquired a healthier shortstop, who's better defensively, and a step down offensively. Then again, every shortstop in the majors would be a step down offensively from Carlos Guillen. Still, Renteria is a good offensive player, in the top level of shortstops.

The Tigers are also anticipating that a 1st base playing Guillen will be much healthier than a shortstop playing Guillen. Vital as he is to the Tigers offense, that's another check to add to pro side to this trade. Really, the only con is the cost of 2 very good prospects.

Q: Did the Tigers have to give up two hotshot prospects on the level of Jair Jurrjens and Gorkys Hernandez?

Henning: It was clear all along that the Tigers were going to lose a promising starting pitching prospect in any trade for a quality shortstop. The guess here was that it would be Double-A right-hander Dallas Trahern. Jurrjens is not the kind of pitcher you want to ship to another club, but that's the reality of the marketplace.

As for Hernandez, he's likely to be a .300-hitting, base-stealing leadoff man for the Braves for a long time. The Tigers understood that. But with Curtis Granderson and Cameron Maybin already likely to cover lots of ground when they line up as outfield starters, the Tigers could afford to part with Hernandez and worry about grooming a power-hitting right fielder.

Big Al: Henning brings up a couple of good points. We knew the Tigers were going to go the trade route to find Guillen's successor, and the cost would be, at the very least, one of the Tigers hotshot pitching prospects. I'll admit, my first thought when I heard about the trade was, "No! Not Jurrjens!"

But I also had to keep in mind that my impression of Jurrjens was based off of a very small sample size, a handful of late season starts. As good as he looked at times, his ERA was over 4.70. The shoulder injury he suffered in September was also a red flag. That the Tigers are committed to stockpiling young arms made the trade, in my mind, easier to accept. You can never have enough pitching, the reason being is so you can make moves like trading for an All- Star shortstop.

As for Gorkys, all I know is what I read from sites like Take 75 North, and the posters that follow the Tigers minor league system closely at Motown Sports. The general consensus being that he's got MLB tools, and was the fastest player in the system, but is a long ways (3+ seasons) from being an every day major leaguer. His main value in the bigs would be speed, and hitting for average, but odds are good that he won't develop a powerful enough bat to play a corner outfield position.

In other words, he's a center fielder, blocked by both Curtis Granderson, a budding superstar, and Cameron Maybin, who's a more impressive prospect, and will be in the Tigers outfield in 2 seasons, max.

With those two in front of him, it's no wonder why the Tigers thought Hernandez was expendable.

Q: How shocking was it that Alex Rodriguez is opting out of his Yankees contract? Did the Tigers have any shot at him?

Henning: Everyone knows Scott Boras, who is A-Rod's agent, has a pursuing team up his sleeve. That team figures to be the Angels. The Tigers never figured to be a player for A-Rod even before the Renteria deal was made.

Big Al: Considering Scott Boras is A-Rod's agent, I'd have been shocked if he DIDN'T opt out.

Having A-Rod in the middle of an already powerful lineup was nice to dream about, but that's all it was, a dream. The only reasons why you'd see the Tigers even mentioned as being on the periphery of the A-Rod sweepstakes was their need for a shortstop, and their good relationship with Boras.

It was never going to actually happen, and the trade for Renteria effectively ends that silly talk.

Q: Why not?

Henning: There were too many perils. To tie up $30 million a year -- which will be somewhere in the neighborhood of A-Rod's deal -- in one player was not going to happen in Detroit. The Tigers would have had to spend millions more to reconfigure Comerica Park to make it fair for a hitter of Rodriguez's style and status. He has lost too many tape-measure home runs in Detroit to endure such frustration when he's likely to challenge Barry Bonds' career home-run record.

Big Al: Why not?

Money money money money money money money money money money money money!
Money money money money money money money money money money money money!
Money money money money money money money money money money money money!

Also because of the, cash, moolah, clams, bread, greenbacks, legal tender, lettuce, Benjamins, cheddar, bucks, dough, C notes, paper, chips, coin, jack, lucre, wampum, loot, the long green, and scratch involved!

For that matter, there's one more reason. He's going to cost too much!

Boras will get enough money to choke a goat for A-Rod's services. The Tigers have cash, but enough to choke a goat? I don't think so.

Q: Would A-Rod not cure the Tigers' ills as a man who could have played shortstop and added 50 home runs to the lineup?

Henning: Can he pitch, too? Everyone forgets that it's still about pitching. The Tigers will be further ahead, for years to come, by investing in pitching first. Notice that the Yankees have had problems getting back to the World Series the past six years, all because they were consistently outpitched.

Big Al: As great as 50+ home runs, and 150+ RBI would be, the Tigers have more than enough offense. (Even though a left-handed bat would be a very nice addition) Their offense wasn't as good in 2006, yet they were a World Series team. Their pitching is what carried them to the World Series.

The Tigers missed the 2007 playoffs because of their pitching issues. A combination of injuries, ineffectiveness, and inexperience did in their pitching staff. The Tigers' 2008 hopes are pinned on how that pitching holds up.

I'm sure Dave Dombrowski's main focus from here on out will be on acquiring pitching.

Q: What's up for the Tigers?

Henning: They have 15 days to sign their impending free agents, which for them means Kenny Rogers and Todd Jones (Sean Casey will not be pursued). After 15 days, the players can become open-market free agents.

Big Al: Don't forget, they need a left-handed bat. Let me remind you, a left-handed bat! Do you hear me Dombrowski!? A LEFT-HANDED BAT!

Well that, and re-signing The Gambler and The Rollercoaster. Another arm or 2 would be advisable, but nailing down Rogers and Jones (Or a capable replacement for Jones, say, Rivera?) are next on the offseason to-do list.

Q: Will the Tigers sign both Rogers and Jones?

Henning: The belief here is yes. It will not be easy, but it seems reasonable to expect that deals will be worked out with both pitchers, which is imperative if the Tigers are to be a playoff team in 2008.

Big Al: Considering the Tigers are unquestionably in win now mode, I'm 99% sure they will be singed to the line that is dotted. I'd anticipate both getting fair 1 year deals. To be honest, I'm fine with that, as I think they both still have something left in their tanks.

Q: What about left field?

Henning: They will try to sign a left-handed power hitter. The most practical choice there is Geoff Jenkins after the Brewers formally declined his 2008 option.

Big Al: As long as he's left-handed, and has proven to have some pop in his bat, I really don't care who the Tigers sign to play left.

Jenkins would be a nice 1-2 year stopgap solution. I'm positive he's on the Tigers' short list of left field candidates, along with free agents like Brad Wilkerson and Cliff Floyd (To name two of the more prominent FA's), along with the in-house option, Ryan Raburn. (Though he's a righty, he earned a long look this spring after his performance in August and September)

Q: Will anyone from the Tigers' starting rotation, such as Nate Robertson, be traded for a catching prospect?

Henning: No. Not during the offseason. The Tigers will never risk backing themselves into a corner. Any team that comes out of spring training minus five reliable starters is asking for disaster. And any team in baseball would be happy to have Robertson as its rotation's No. 5 man.

Big Al: No. No. No. A thousand times, no! They've weakened their pitching depth already with the Renteria deal. There's no way in Hell will they trade their #4 starter, at least in the next 12 months, for what would essentially be a backup catcher with the 2008 Tigers, or in the minors for most of the season.

Obviously, they are looking for Pudge's replacement, but with their push to win, and win now, that hole may not be filled till November of 2008. There's too much at stake going into this coming season to trade one of the rotation members, unless something unprecedented happens over the next few months, and the Tigers acquire a 2nd front line starting pitcher (Assuming Kenny Rogers signs).

With their objective being quite obvious, win big in 2008, I wouldn't put obtaining another big time arm past the Tigers. The winter months are going to be a fascinating time for Tigers fans.