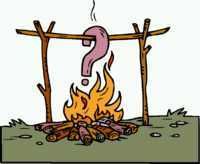 It's been over 2 weeks since the end of the Detroit Tigers' season. All has been quiet on the Tigers front, other than Pudge Rodriguez having his option picked up.

As nothing much will happen till after the World Series ends (At the rate things are going, in a few more years, it'll be December by the time MLB ends their season), the Detroit News' Lynn Henning has graciously posted a round of burning questions to tide us over till the hot stove league can begin in earnest.

Today's topics include speculation as to who will be Pudge's heir apparent, what we can expect from Gary Sheffield in 2008, and when Cameron Maybin and Gorkys Hernandez could join Curtis Granderson in the Comerica Park outfield.

Burning questions as the Tigers look, enviously, at a Cleveland Indians team locked in a superb playoff series with the Red Sox.

Q: What are the chances the Tigers will have any better luck during the next year finding a catcher now that Pudge Rodriguez's option has been picked up?

Henning: The Tigers have been trying for more than a year to find a successor to Pudge. Obviously, they came away with zero as far as practical answers, nor were they likely to find the grass any greener ahead of next month's deadline for accepting or declining Rodriguez's option.

Turning down the $13 million option would have put backed the Tigers into a corner and increased other clubs' leverage in dealing with a Detroit team that would have painted itself into a corner.

Big Al: It's not as if the Tigers are the only big league team looking for a young, major league quality, catcher. For that matter, a quality catcher, period. You can add about 25 other teams to that list.

To be honest, considering the absolute dearth of decent catching at the major league level, it would not surprise me in the least if the Tigers extend Pudge Rodriguez past 2008, especially if he has a better season than his not so good 2007.

Picking up Pudge's option for '08 was pretty much the only thing the Tigers could do. If you can find a comparable catcher in free agency who won't break the bank and require an overlong multi year deal, or several good prospects in trade, name him. There just isn't any catching available.

The Tigers will be doing their damnedest to find Pudge's successor over the next 12 months. I wish them good luck, because they are definitely going to need it.

Q: Why haven't the Tigers been able to develop any minor league catching?

Henning: Message to all you kids out there who dream of becoming big leaguers:

Ask Santa Claus for catching equipment. Never has baseball seen such a dearth of creditable catching prospects.

The Tigers tried two years ago to draft Pudge's replacement when they took University of Illinois catcher Chris Robinson in the third round.

Robinson made it clear that hitting would remain a challenge, which is why he was sent to the Cubs in August 2006 for (gulp) Neifi Perez. This year, the Tigers were crossing their fingers that Travis d'Arnaud of Lakewood (Calif.) High School would hang around long enough to be gobbled up by Detroit. But he went to the Phillies with the 37th overall pick, which the Tigers had to accept when Rick Porcello was, astonishingly, waiting for them when they drafted 27th.

Big Al: You can't blame the Tigers for passing over a catching prospect when the consensus best high school pitching prospect in years, Porcello, dropped into their lap at the 27th pick. Still, that does not change the fact that the Tigers are desperate for young catching.

As Henning mentioned, the Tigers have tried to develop a catcher, with little success. Again, so is every other team in baseball, with little success.

Kids don't want to catch anymore. It's a hard, dirty, physical position to play, one that takes a toll on your legs. If you have a kid that plays catcher, who throws right and bats left? You are sitting on a God damn goldmine. He'll be in the major leagues faster than you can say "Andrew Miller."

Q: By the way, who would the Tigers have drafted if Porcello had already been taken?

Henning: The Tigers' most realistic first-round option was Owasso, Okla., high school shortstop Pete Kozma, who was grabbed by St. Louis with the 18th pick. The Tigers would have gone for d'Arnaud at that point, knowing that prized North Carolina high school left-hander Madison Bumgarner (San Francisco Giants, 10th overall pick) was not going to be around and never dreaming that Porcello would be there for the taking.

So, while they missed out on three players, they got a pitcher who was good enough to have been picked no lower than No. 3 overall.

Big Al: The Hell if I know who they would have picked. I can only go by what "Experts" like Henning tell me. But that won't stop me from pontificating!

Who would the Tigers have drafted? Whomever the Tigers felt was the best available player, as I'd think it would be pretty damn hard to target a specific position in the baseball draft. Anyway, we know by now how Dave Dombrowski operates. Load up on the power arms in the draft, hope some develop to be of major league quality, then either promote them to the big club, or trade them to fill a need. It's proved to be quite a successful formula.

There's nothing harder to predict in ANY sport than how good a 17-18 year old high school kid will turn out to be. College football and basketball recruiting, baseball scouting, it's all a total crap shoot. That's why I take all college recruiting news, despite some fans utter fascination with it, with a very large grain of salt.

Rick Porcello could turn out to be a Justin Veralnder, or just as easily, God forbid, any Tigers 1st round pick of the 1990's. You just don't know with teenagers.

The Tigers do have something in their favor. The fact that they are willing to ignore contract slotting, and pay the true market rate for a stud prospect (Such as Cameron Maybin and Porcello), lessens their risk of drafting a bust.

Maybe one of these days that strategy will net them a catcher...

Q: What do Tigers fans make of Gary Sheffield's chances for a full recovery and a big year in 2008?

Henning: Here's how good someone believes Sheffield can be next season, at age 39. He could be a candidate for Most Valuable Player, even as a designated hitter. That's how skilled and talented Sheffield remains even at an advanced age.

He would have put up MVP-grade numbers (in any season when two men named Alex Rodriguez and Magglio Ordonez weren't having career seasons) in 2007 had he not gotten hurt on that fluky right-field collision with Placido Polanco.

Big Al: We saw just how good a healthy Gary Sheffield can be, in that before he got hurt, you could have easily made the argument that Sheff was the Tigers' MVP, even over Magglio Ordonez. He was THAT good. So to say that Sheffield could be a 2008 MVP candidate is not a stretch. (I doubt he'd win it, as the voters have this thing that the MVP should wear more than just a batting glove, but that's another argument for another time)

Good Lord, if he hadn't collided with Polanco in July, Sheffield would have been on track for a 30-30 season, and 40-40 wouldn't have been out of the question.

After finally getting to see Gary Sheffield, with my own eyes, on a night by night basis, I can now fully understand where the hall of fame talk was coming from. He's an impact player, even as a pure DH, and is a big reason the Tigers will contend in '08.

Q . Will Tigers manager Jim Leyland ever use Sheffield in the field again?

Henning: Ask Leyland what he most regrets doing in any single game in 2007. It would be the night he went against his basic belief Sheffield should not play the field and wrote his name onto the lineup card against the Kansas City Royals.

Remember, not wanting to risk Sheffield's health is why Leyland -- against most fans' desires -- said Sheffield would be pretty much a DH only. Leyland relented a handful of times when he thought Sheffield could be deployed in the outfield and beat the very long odds against him getting hurt.

Of course, one crazy play where everything had to go wrong -- and did -- made Leyland regret he took even the slimmest chance. You will not see Sheffield play in the field next season, unless there are absolutely, positively no options.

Big Al: God, I hope not! Looking back, the Tigers' post all star game slump began when Sheffield injured his shoulder. You could say that it was a biggest reason why they didn't make the playoffs. (Or least made the wild card chase Hella more interesting) So I think it's safe to say that if there was one 2007 season decision Jim Leyland would take back, it's when he decided to give Sheffield some time in the outfield.

The only glove Sheffield will be wearing next season is a batting glove. He can just show up to spring training with his bats, and of course, attitude.

As for Henning's contention that the "Fans" wanted Sheff in the outfield, that's news to me. When the Sheffield trade was announced, most every fan was concerned about Sheff's health, especially his shoulder, and fully approved his being installed as a full-time DH.

Going into the '07 season, I think pretty much everyone was OK with a Monroe-Granderson-Ordonez starting outfield, with Sheff out of the mix. Most fans realized that Monroe was just a year to year stopgap, a placeholder for Maybin. It was assumed that he'd have a decent season, similar to his 2006. No one anticipated Monroe becoming the worst hitting corner outfielder in the majors. But I digress...

In 2008, Gary Sheffield is a full-time DH. No ifs, ands or buts. When it comes to Sheff and glove leather, never the twain shall meet.

Q: When will Cameron Maybin be ready for the big leagues? Most fans who were all excited about him got progressively unenthused about his talents as they saw him struggle.

Henning: It might be better for all parties that Maybin showed his youth when he did. The Tigers can now give him all of 2008 (ahead of a September call-up) to round into the spectacularly talented prospect he will again prove to be.

A personal belief is his time in Detroit did nothing to hamper his development. Rather, it provided him with a dose of reality. He will end up surprising fans on the plus side every bit as much as he popped their balloon in 2007.

Big Al: I'm not all that concerned that Maybin looked totally lost and overwhelmed in his 2007 call up. I agree that it gave both the Tigers and Maybin a much needed slap in the face of reality. After his call up to AA ball from the low minors last August, and no one being able to get him out that first week in Erie, expectations spun out of control. So much so that the Tigers, desperate for any kind of spark, brought Maybin up to the big club, where he flamed out.

As good as Maybin is, and odds are excellent that he will be damn good, the 5-6 weeks he spent with the Tigers confirmed that he needs more seasoning. Even if he tears up the Arizona Fall League, and 2008 spring training, the Tigers need to resist temptation, and not keep him on their opening day roster. A full season at AA Erie is best for all concerned.

The next time Maybin is called up, as Henning suggests, in September '08, it'll be for the last time.

Q: How about Gorkys Hernandez, the hotshot center fielder who just turned 20 and was regarded as one of the best prospects in all of Class A this year at West Michigan?

Henning: Don't look for him to join the Tigers much ahead of September 2009.

Big Al: Everything I've read about Hernandez says that he has all the tools, and may be unbelievably fast, but he's also quite raw, especially at the plate. He's at least a couple of seasons away.

If he continues to progress, it wouldn't surprise me to see Hernandez become prime time trade bait, say...For a catcher? But to think think of an outfield, going into the next decade, of Granderson, Maybin, and Hernandez? The mind boggles at the possibilities.

Would ANY balls fall into the outfield? If Maybin and Hernandez both pan out, the Tigers could have the best defensive outfield in memory, and their offense would be nothing to sneeze at. Unfortunately, that possible scenario is a good 3 seasons off, but it sure is nice to think about...