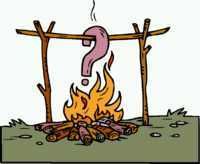 After watching last night's thrilling wild card playoff (In case you were wondering, it was a home run, and Holliday didn't touch the plate), I'm in the mood to talk some baseball. So it's time for the 1st offseason set of burning questions from the fertile little mind of Detroit News baseball "Expert" Lynn Henning.

On Henning's mind this week are the Tigers playoff chances in 2008, who will be the opening day starter, Sheff's shoulder, and the 2 questions all Detroiters have on their mind, who will play shortstop and catcher for the '08 Tigers?

Burning questions as the Tigers head for home and contemplate changes for 2008:

Q: Should the Tigers be in the playoffs when so many weaker National League teams are still playing? Or did they get what they deserved when they lost the Central Division race and missed a wild-card reservation that was theirs for the taking?

Henning: Had they won 90 games, there would have been a greater sense of injustice. They went 31-38 after July 19, so it's tough to say the Tigers got shafted. But, yes, from an overall standpoint, a reasonably healthy Tigers team is probably the fifth-best team in baseball.

Big Al: Pure and simple, the Tigers didn't win enough games, thus they don't deserve anything other than going home for the winter. They had their own destiny in their hands, and for numerous reasons, couldn't follow through, falling well short of the post season.

Would the Tigers have won more games if they had played in the JV league, instead of the against the varsity? Without question. The Tigers would have won well over 90 games. But they don't, and they didn't. It's not worth talking about.

Are the Tigers better than their record? If fully healthy, sure. But they couldn't overcome their injuries. Other teams, such as the Yankees and Phillies, had more than their fair share of injuries, and they did make the playoffs. I understand the reasons why the Tigers only won 88 games, but they don't deserve any sympathy.

Q: Will the Tigers make the playoffs in 2008?

Henning: The injuries issue -- as was stated even before the season began -- was going to have everything to say about Detroit's playoff bid in 2007. It will be the same story in 2008. But the thinking here is that the Tigers will be a playoff team in '08.

Big Al: I thought going into the 2007 season that the Tigers were as close to a playoff lock as you'd find. Unfortunately, as we found out, there is no such thing as a lock in baseball.

Despite missing the 2007 post season, Tigers are a still legitimate World Series contender. Yes, I do think they will make the playoffs.

Q: Why, when Cleveland, and Boston, and the Yankees, etc., all figure to be as good if not better than they were in 2007?

Henning: In great part because Detroit's pitching is likely to be sturdier and should more closely resemble the 2006 group.

Big Al: I agree with Henning on this. The Tigers pitching will be better in 2008. //knock on wood//

And to turn the question around, there's every chance that the teams mentioned will regress as the Tigers did this year. Injuries, slumps, age, decline, you name it, can adversely affect any team.

Q: What else puts them in the playoffs?

Henning: Their dispositions. Expect the Tigers to be hungrier -- angrier might be the better word -- next year. It's a matter of human nature. The Tigers unfailingly played hard this year, but they weren't what you would call a mean and nasty team. A little hostility can make the difference in any number of games.

Big Al: I think the Tigers will come back in full health, and with a very large chip on their respective shoulders. They'll be hungry to get back to the playoffs, and have something to prove. They know that they are better than a 88 win team, and will be out to prove it in '08.

Detroit also had a huge amount of bad luck in '07, as it seemed as they never got a break.
It started in the spring with the blood clot in Kenny Rogers' shoulder, and ended in late summer with Jeremy Bonderman's elbow going south. The Tigers had very little luck come their way in '07, which was a 180 when compared to '06.

The Tigers are due to get a couple of good breaks in 2008. I'll be happy if they just manage to stay relatively healthy...

Q: Personnel questions: Will Gary Sheffield come back to be the hitter he was during the mid-season when he was demolishing pitchers?

Henning: Yes. Everyone figures advanced age translates into disability. It has its percentage effects, but there is no reason an athlete as exceptional as Sheffield should have any undue problems at age 39, which is what he will be next season.

Joel Zumaya missed almost four months this year and is 22. Age isn't the index some think. Sheffield's likely long-term effect on Detroit's offense in 2008 is one more reason why the Tigers have a solid shot at returning to the playoffs.

Big Al: Sheffield is an elite athlete, so I wouldn't be overly concerned about his recovery from whatever type of procedure ends up being done. Obviously, I hope it's relatively minor. If it's a major surgery, then you have to be concerned if Sheffield will want to suffer though the rehab necessary that would allow him to get him back on the field. Don't forget, Sheffield has 26 million reasons over the next 2 years to do the rehab...

If the Tigers are going to make the playoffs, Sheffield's bat will be a big reason why. We saw how much better the Tigers' offense was with a healthy Sheffield. It was the difference between being elite, and merely good.

At the age of 38, Sheffield didn't look to be anywhere near being in decline, so age is somewhat irrelevant in his case. The bat speed is still there, and so is his high baseball IQ. There's no reason to think, as long as he has a clean bill of health, that Sheffield will not be the hall of fame caliber player we saw from May through the All Star break, when he was just punishing pitchers, and the Tigers were scoring runs at a record pace.

Q: What will happen as Carlos Guillen moves to first base?

Henning: The Tigers will shop for a slick-fielding shortstop who can hit a bit more than Ramon Santiago. Good luck. They undoubtedly would like to pry Jack Wilson loose from the Pirates, but the new Pirates front office might decide Wilson's remaining contract ($13.75 million through 2009 with an $8.4 million option or $600,000 buyout for 2010) is no serious issue.

If they opt to keep Wilson, the Pirates will probably decline the option on Caesar Izturis, which would make a 27-year-old shortstop a free agent. But Izturis doesn't hit any heftier than Santiago.

The Tigers need to get a big bat to go with a great glove if they plan on going with someone other than Santiago, which is what they intend to do as the off-season begins.

Big Al: I covered this in more detail last Friday, after it was announced that Guillen moving across the diamond was a done deal.

In a nutshell, it comes down to this... The free agent shortstops that will be available, when looked at as a group, to put it mildly, suck. If one of those players is in the Tigers' opening day lineup, it's because they exhausted all other options, and became desperate. I'd rather they keep Guillen at SS for another season, with Ramon Santiago as his caddy, than sign any one of that motley crew.

If a new SS is to be found it's going to be via trade, and the odds are good that it will be one of 3 players. Edgar Renteria, Miguel Tejada, or Jack Wilson, in that order. I'd be thrilled with either Renteria or Tejada, and bitterly disappointed if it's Wilson.

As to whom the Tigers will end up with, be it one of the above, or someone not yet on the radar, your guess is as good as mine. I doubt Dave Dombrowski even knows his exact plan of attack. The Tigers SS search is going to be a fascinating process to watch.

Q: Is there any possibility that the Tigers will not pick up Pudge Rodriguez's 2008 option?

Henning: Unless they swing an improbable deal in the days immediately following the World Series, no. Rodriguez is coming back.

Those who say the Tigers are crazy to pick up his $13 million option haven't been very good at naming replacements, or in stating what the Tigers would have to give up to find a replacement catcher. Pudge pretty much wins by default.

Big Al: This will be the biggest can of worms of this off season. Just what are the Tigers going to about Pudge?

One thing to consider is that the Tigers already have holes in their lineup that need to be addressed. Their number 2 starting pitcher is a free agent, so is the closer. Finding a shortstop and left fielder are high on the off season to-do list. Let alone there's the now 3 year long search for a left handed bat.

You want to add catcher to the list, and try to fill 5 positions in a single off season? That's a tall order for any GM.

Yes, the Tigers could go with a Vance Wilson/Mike Rabelo platoon, but that could be even worse offensively, and there's no guarantee that Wilson will be fully recovered from his Tommy John surgery in time for spring training. Rabelo is what he is, a backup. For that matter, Wilson has only 1 year left on his deal, so you'll be looking for a catcher in a year, either way.

The Tigers could go the free agent route, with the top 2 catchers mentioned being Jorge Posada and Paul LoDuca. Both are as old as Pudge, and considering the current lack of legitimate catching talent in MLB, you are going to overpay both by a pretty penny, and in contract length, for their services.

I'm of the thought that a bird in the hand is worth 2 in the bush. You already have a catcher on the roster, one who's been quoted that he wants to stay. There's no guarantee that you'll find anyone better, and odds are, you won't. It's only going to take a stroke of the pen to keep him. Picking up Pudge's option, as expensive a pill it might be to swallow, buys the Tigers another year, giving them more time to find a good, young catcher.

Q: Who will be Detroit's Opening Day pitcher?

Henning: Justin Verlander. He will become Detroit's first 20-game winner since Bill Gullickson in 1991.

Big Al: Next season is the year that Verlander becomes the Tigers' unquestioned number 1, the team ace. As things stand in October 2007, Verlander should start on opening day 2008. But you never know what the Marlboro Man will pull out of his pack of smokes. If Rogers resigns, it wouldn't surprise me one bit if he's on the mound on day 1 of the season. Still, it's Veralnder's gig to lose.

It's hard to believe that Gullickson was the Tigers' last 20 game winner, and to be honest, he wasn't all that good. Then again, neither were the Tigers.