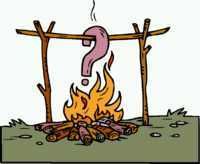 4 weeks into the NFL season, the Detroit Lions are a surprising 3-1. Once the shock has worn off, questions are raised. which means it's time for another round of my answering Detroit News beat writer Mike O'Hara's "Burning questions."

This week O'Hara ponders questions regarding the Lions and their "New" attitude, the Bears' QB quandary, what grades the Lions' performance deserves, and how big a shock yesterday's victory actually was, if you take into account the Bears' big time problems.

Let's smoke out some answers, shall we?

Burning questions from the Lions' 37-27 victory over the Bears at Ford Field Sunday:

Q: What made the difference for the Lions?

O'Hara: It isn't just talent, although the Lions have more than in recent seasons. They use what they have better, but there's a different feeling on the team than there used to be.

Big Al: Yes, for the most part, it is because of the talent. Along with the fact that they are more than a year into learning the offensive and defensive schemes, and can use their entire playbook.
I don't go for the "Team has more heart" bullshit. You can't tell me that other Lions teams didn't have a burning desire to win. Say whatever you want about Joey Harrington, you cannot deny that he wanted to win. All players desperately want to win. Those Lions teams lost because they just weren't very good, thanks to rosters full of dead weight. The NFL is a league where you win because of talent. Period.

I'm not saying the Lions are an extremely talented team. But they are more talented than Oakland and Minnesota. On the other hand, Philadelphia was a more talented team, and they destroyed the Lions.

As for their beating Chicago? Chicago has a ton of issues, including a defense decimated by injury, and lousy quarterbacking. Right now, Chicago is not a very good team. They've earned their 1-3 record, and last place in the NFC North.

Q: Where did it show up?

O'Hara: In the fourth quarter. Even last year, players would have gotten frustrated that the defense was making stops while the offense wasn't cashing in. There was a bigger division on the team than most people realized.

Quarterback Jon Kitna spoke about it after the victory at Oakland in the opener. A year ago, players were ridiculing the offense and making comments. That doesn't happen now.

Defensive lineman Jared DeVries is in his ninth season with the Lions. No position player has been on the team longer. DeVries had three sacks Sunday. In the past, the Lions have lost games like Sunday's. He was asked what has made the difference.

"It's one word: 'attitude,' " DeVries said. "And 'belief.' That's two words."

Big Al: Again, enough of the "Attitude" and "Belief" crap. Did past Lions locker rooms have dissension? Sure did, because they lost a ton of games, mostly in thanks to a dearth of talent. If the offense wasn't putting points on the board, I bet there would be plenty of the locker room smack O'Hara brings up.

It helps that the Lions have a QB that is playing quite well, possibly the best wide receiving corps in the NFL, and a defense that is giving up yards, but also causing turnovers. It that because of "Belief," or due to adding more talented players on both sides of the line?

I'll also give credit to the coaching staff, who appear to have full control of this team, something previous regimes couldn't say. Rod Marinelli may have a long way to go with his in game coaching (Kitna playing every snap in a blowout loss, the constant missuse of replay challenges), and personnel decision making (No legit backup QB, shaky O-line and D-backfield), but you cannot deny that the man runs a tight ship. Sgt. Marinelli won't tolerate locker room head games, and players bitching behind another's back.

Q: There were some breakdowns on the offensive line and on special teams. How would you grade the Lions?

O'Hara: I'd give the offense a B. Jon Kitna was efficient, and he didn't have a turnover. The running game was better. The defense gets a B+ for six sacks and three interceptions.

On special teams, Shaun Rogers blocked a field goal, but the Lions had a field goal and extra point blocked, and Devin Hester returned a kickoff for a touchdown. That adds up to a D-.

Big Al: Offense: C - Somewhat forgotten in all the excitement over the explosive 4th quarter, was that the offense didn't do much of anything for the 1st 3 quarters. The Lions only had 3 points, and were hurt badly by turnovers. Kitna fumbling deep in Lions territory, and Tatum Bell outright dropping the ball in the shadow of the Bears goal line, could have loomed large.

Defense: B - I love the turnovers the defense created, along with their shutting down the run. But the Bears did drive the length of the field twice, only to be stopped just shy of the end zone by ill advised Brian Griese passes that ended up as interceptions. A better QB could have converted those opportunities into points. All in all, considering the fiasco against the Eagles, this was a nice step up in defensive performance.

Special teams: The D- works for me. Blocked kicks are never acceptable, and their kick coverage on Devin Hester was abysmal.

Q: What about coaching?

O'Hara: The best move Rod Marinelli might have made was putting the team back in pads when practice started Wednesday. He took them out of pads the previous week because they had a long overtime game against Minnesota. Saying that caused the 56-21 loss at Philadelphia is a stretch, but it went against Marinelli's belief and the mind-set he has. The bottom line is, they played better.

Big Al: The Lions coaches had better days. First off, why continue to kick the ball to Hester? That was outright idiotic, and someone should be held accountable. Hopefully it was, if behind closed doors.

Marinelli had another bad day on replay challenges, going 1-2. Specifically though, I referring to his challenging the spot of a Roy Williams catch. You didn't need the replay to see the refs made the correct call. It was a waste of a time out, and of a challenge that could have been needed later in the game.

On the plus side was the willingness to use the ground game. The Lions needed to run clock late, and on their final 8 play scoring drive, they ran the ball 6 times, killing 5+ minutes in the process. We've seen other games where the Lions coaching staff were much too willing to abandon the run altogether.

As for the full pads stuff? It's overrated. I honestly doubt that had ANYTHING to do with the victory. The Lions out and out played better, against a weaker foe.

Q: How did the players react?

O'Hara: Linebacker Ernie Sims said it made a difference, and he's one of the players who sets the tempo.

Big Al: Probably like this... "WHAT?! We gotta practice in pads? SHIT!"

Q: Bears coach Lovie Smith benched quarterback Rex Grossman and started Brian Griese. How did that move work out?

O'Hara: It didn't, and now the Bears have to know they aren't any better off with Griese than they were with Grossman. Griese played like he was in slow motion. He had two interceptions in the red zone that likely cost the Bears points. He's supposed to be a smart, conservative quarterback who plays smart. He wasn't any of that against the Lions.

Griese never has had a strong arm, and it looked like he had trouble on anything except short throws over the middle. The problem for Smith now is he has nowhere to turn -- unless he goes to Kyle Orton, who began the 2005 season as the starter.

Big Al: Griese hasn't been a starting QB for several seasons for a reason. But many thought, including myself, that even though he wouldn't win the game for the Bears, he would do nothing to lose it, either. I thought Griese would play within himself, take what the defense gave him, and refuse to take risks with the ball. Boy, were we mistaken!

Lovie Smith is now up shit creek, as he knows that he doesn't have ANY QB worth his salt. Playing Griese was his trump card, and he reneged. The ex-Wolverine proved to be not all that much, if any, better than Rex Grossman, and as O'Hara says, all Smith's got left is Kyle Orton. That's basically saying he's got nuttin'.

It's going to be a long, hard fall for the defending NFC champions if they can't get adequate QB play.

Q: Was it a surprise that the Lions beat the Bears?

O'Hara: It wasn't a shock, but I didn't predict it. This was one time when they didn't blow an opportunity. They had a tough game against a division team, and they found a way to win it.

It looks like there is something new to the Lions after all.

Big Al: I agree, it wasn't a total shock, as the Bears look to be on a downward spiral. This was the type of game the Lions customarily lose. Sick teams like the Bears normally cured what ailed themselves against the Lions. It was refreshing to see Detroit take advantage of a struggling team, rather than vice versa. That it was a divisional game made it that much better.

Despite their success, it's too early in the season to say that this is a "New and improved" Lions team. They did have to go to OT to beat the rotten Vikings, they allowed a bad Raiders team to get back in the game, and you cannot ignore the embarrassment that was the Eagles loss. A bounce of the ball here or there, and a Vikings field goal hitting the goalpost, and the Lions are 2-2, or quite possibly, 1-3.

The Lions are not a deep team, and they are a Jon Kitna injury from a Bears-like collapse. When you consider the punishment he's been talking (15 sacks over the past 2 games), it's not a question of if that injury is going to happen, but when. The Lions need to stay healthy, or the fast start will have gone for naught.

Next Sunday the Lions play a team they NEVER beat, the Washington Redskins. Beat the 'skins, and then I may buy into the idea that this isn't the same old Lions we've come to know and hate.