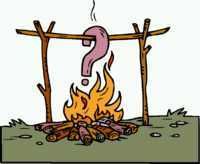 It's a day late, and I'm always a dollar short, but it's time when TWFE answers Mike O'Hara's burning questions about the team we love to hate, that is the cause of more angst than an Emo band, the Motor City Kitties, your 3-2 Detroit Lions.

Today we burn the Lions awful offense and lame defense, ponder the convoluted reasoning behind Jon Kitna taking every snap in a blowout, and try to comprehend why on earth Aveion Cason is taking touches away from Kevin Jones and Tatum Bell.

Burning questions from the Lions' 34-3 loss to the Washington Redskins at FedEx Field Sunday:

Q: It was a bad performance by the offense. How much was the offense to blame?

O'Hara: It gets its share, no doubt. The Lions wound up with 76 yards passing -- after 30 yards were deducted from Jon Kitna's total because of five sacks.

There was nothing good about anything from anybody in the game -- players and coaches. But the defense shouldn't get off without criticism.

Big Al: For a team that has the vast majority of their salary cap space on the offensive side of the ball, 3 points and 144 yards of total offense is inexcusable. The offense was putrid, for lack of a better word.

The defense wasn't all that much better, but with the offense continually going 3 and out, they didn't give the defense a chance to even get a blow. The Redskins had close to 10 minutes over the Lions in time of possession, helped by the Lions and their patented "Throw the ball 3 times and punt" offense. It's not an excuse, but a tired defense playing in tropical temperatures doesn't have a chance if they are kept on the field for an entire half.

The offense did the defense no favors on Sunday.

Q: Shouldn't the offense give the defense some help?

O'Hara: Yes, but it isn't against the rules for the defense to help out the offense, either. The Redskins were able to get five sacks by rushing four linemen, with almost no blitzing. They beat the Lions' offensive line man for man to get to the quarterback.

If the Redskins could do that, then there's no reason the Lions' defense shouldn't be accountable for not getting to Jason Campbell. The Lions didn't have a sack.

On three of their first four possessions, the Redskins had the ball for 12 plays and punted, 14 plays on an 80-yard touchdown drive and seven plays on an 83-yard touchdown drive.

There were plenty of opportunities in there for the defense to make a play, and it didn't.

Big Al: The Redskins aren't exactly an offensive juggernaut, but the Lions defense sure made them look like one. The 'Skins Jason Campbell may be an up and coming QB, but he's far from being considered as part of the NFL upper tier. The Lions, who have a history of allowing no-names to have career days, made Campbell look like a hall of famer.

What happened to the aggressive defense that created multiple turnovers? Continually pressured the QB? That gave the offense a short field? That would bend, but not break? Oh yeah, that D only shows up against bad teams.

A decent team, like Washington, will shred the Lions back 7 if the front 4 can't pressure the QB. Sunday won't be the last time we see the Lions defense struggle. Any respectable NFL QB will get more than their fair share of chunk plays against Detroit.

Q: What about the offense, with only three points and no touchdowns?

O'Hara: It's fun to watch Mike Martz's offense, with all the passing, but it's as maddening as it is fun that the running game gets neglected week after week.

The Lions had two running plays on their first possession and had only two runs by a running back the rest of the first half. That isn't enough to get any kind of running attack going.

Martz has a reputation in the NFL of being pass-happy, and it's well deserved.

Big Al: Maddening? To say the very least! I love to watch a pass happy offense as much as the next guy, but there are times where you need to run clock, keep your defense off the the field, and grind out yards and first downs on the ground. Unfortunately, I don't think the Lions offensive line is capable of any sort of effective run blocking. If I can see that, you know that Mike Martz does, and calls plays accordingly.

If Martz's reputation as an offensive super genius is deserved, you would think that he could find some way to develop even a modicum of a running game. Then again, if I had an in his prime Marshall Faulk carrying the ball in my offense, I'd be called a super genius too!

It's easy to call plays when you have the horses, you really show your stuff when you get the offense clicking with lesser players, and we all know the Lions have a roster full of lesser players.

Martz needs to start earning his fat paycheck.

Q: Grade the Lions.

O'Hara: An F for the offense -- no touchdowns. A D for the defense, even though there really was no D. Special teams gave up a long punt return for a D+, and coaching gets a D.

Big Al: That's easy. F's for EVERYONE! The coaching staff continued with their screwy decision making, the offense was non-existent, the defense was AWOL, and special teams weren't very special.

This is the 2nd time in 3 games you could give the Lions a failing grade in every category. One game where you are sorely outplayed may be an aberration, but two games? (Or for that matter, being outplayed in 11 of the last 12 quarters) That's a trend. A very disturbing trend.

Q: Lions players said the Redskins didn't do anything on defense that they didn't expect. They rushed four men and dropped their safeties deep into coverage. Why couldn't the Lions' adjust and take advantage of what they knew was coming?

O'Hara: That's twice in three games that the Lions have lost the chess game. The Eagles did it to them two weeks ago, on offense and defense, and the Redskins' defense destroyed them. That's something for the coaches to figure out, if they can.

Big Al: The Lions being out coached is becoming all too commonplace. Whatever the reason, the Lions coaching staff has been unable, or unwilling, to make in game adjustments. I can't say if that is in thanks to their lacking in personnel, reacting to what the opposition is doing rather than forcing the play themselves, or just having a bad coaching day. Probably a combination of all of the above.

Be that as it may, Marinelli and (Marinelli'is son-in-law) Joe Barry have not impressed over the past 3 games. Considering the inexperience of Marinelli and Barry in their respective positions, maybe we shouldn't be surprised at their struggles. The NFL isn't the best place for on the job training...Unless it's the Detroit Lions, where on the job training is encouraged.

As for Mike Martz's steadfast belief in his own (Supposed) genius, refusing to adapt his play calling to the situation at hand, and throwing the ball at will? Marinelli has to put his foot down, and demand that Martz call the occasional running play. Marinelli is the head coach, yet his offensive coordinator seems to do whatever he wants, whenever he wants.

Who actually running the team, Martz or Marinelli? I sometimes wonder...

Q: Rod Marinelli kept Jon Kitna in the game again all the way, just like he did against the Eagles. Right thing to do?

O'Hara: No, on two fronts. First is the unnecessary risk of injury. They made changes on the offensive line, so they can do it at quarterback. And the other side is that the backups could have used some game work when it was 27-3 with three minutes left.

Big Al: Let's go back to Sunday's live blog for my thoughts as Kitna was playing out the string...

Why in the living HELL is Jon Kitna still in this game? He's been beaten and battered all damn day, they are down 4 scores, and there's 2:30 left in the fucking game! It's this kind of thinking that has me believing that Marinelli has issues as the head coach, and is still in over his head, especially with his in game decision making.

It's absolute STUPIDITY to have Kitna at risk late in a blowout. And how the Redskins have unrelentingly rushed the passer today, Kitna is definitely still at risk.

Kitna remained in the game, and I continued to go off on Marinelli...

Kitna has to scramble AGAIN, and takes ANOTHER hit on the slide. Christ almighty, this is sheer stupidity having Kitna in the game! What is Marinelli thinking? It's not as if JT O'Sullivan has a ton of experience, he should be under center gaining that experience. Yet Marinelli has Kitna taking useless, unnecessary snaps.

There is no way to justify risking your entire season by allowing Kitna take meaningless snaps at the end of a game that is long lost. You have backup QB's for a reason, one of those reasons being to play at the end of blowouts. Call it folly, call it stupidity, call it brain lock, Marinelli should have been called out for his total lack of common sense.

We shouldn't even be talking about this, as I'd expect a Pop Warner coach to know better, let alone the head coach of an NFL team.

Q: Aveion Cason fumbled in the last two minutes of the first half, but the Lions kept possession. What about having Cason in the game?

O'Hara: Another coaching decision that defied logic. Tatum Bell and Kevin Jones are the healthy tailbacks, but neither was on the field at a critical point of the game.

Cason has been released twice since the end of the exhibition season. He was signed in the middle of last week. There was no way in that situation on Sunday Cason could have been a better choice than Bell or Jones.

Big Al: This is what I said about Cason during my live blogging...

"What in the HELL is Cason doing in the game anyway? Where is Bell or Jones? I know Calhoun and Duckett are hurt, but Cason shouldn't be on the damn field. HE BLOWS."

Glad to see a beat writer agree with me. Cason getting prime time snaps is just another sign of Marinelli's game management issues, or another sign of Martz's pure hubris, thinking he can use any old waiver wire running back in his "Vaunted" offense.

Cason should be, at worst, playing on special teams, or at best, back on the waiver wire. Either way he should not taking touches away from Kevin Jones and Tatum Bell.

Q: You made the Lions over the Redskins your best bet. Why?

O'Hara: Because I'm an idiot.

Big Al: You're an idiot? No God damn kidding you're an idiot! Along with being a boneheaded, dumbass, Lions slappy... I've been a fan of the Lions for more years than I'd care to admit, and if there is ONE thing I've learned, it's NEVER, EVER BET ON THE LIONS!

There's one other gambling adage I always try to keep in mind. It's one I learned from Wesley Snipes while he was on an airliner...Always bet on black!