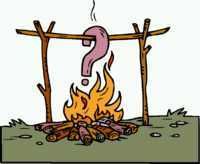 To quote noted marine and mechanic Gomer Pyle, "Surprise, surprise, surprise!" It's a burning questions Tuesday at TWFE! Detroit News columnist Lynn Henning must have had plenty on his mind, as for the second consecutive day, we have another set of burning questions about the (Soon to be eliminated from the postseason) Detroit Tigers.

Today's topics include Magglio Ordonez, Todd Jones, Kenny Rogers, and the 5th starter in 2008. Time to make some decisions regarding the Tigers' future...

Burning questions as the Tigers say a six-month goodbye to Comerica Park

Q: What, above all, stood out from the Tigers' 2007 season?

Henning: You can follow this game for decades and, every once in a while, something happens that is so remarkable you realize it will go into a personal vault of memories and moments.

For me, it has been the privilege -- the word is quite appropriate -- of watching Magglio Ordonez hit a baseball. Every game has been extraordinary for the skill and talent he has exhibited in doing the single most difficult thing in sport.

I felt the same way three years ago when Pudge Rodriguez went 43-for-86 during June. I never expect to see anything like it. Nor will it be easy for any hitter to replicate Ordonez's 2007 season. His hitting prowess has been a rare event, primarily because he has blended so much extra-base power with all those sharp singles to all areas of the field.

Big Al: Magglio Ordonez is a no-brainer choice. Maggs started hitting in April, and never stopped. It's the best offensive season from a Detroit Tiger since Norm Cash's insane 1961. It's looking more and more as if Ordonez will match Cash's feat of winning a batting title. He'll also, just like Cash, be overshadowed in the AL MVP vote by a New York Yankee, which is a damn shame.

A few other Tigers do stand out, other than Ordonez. When Gary Sheffield was healthy, he was a great all-around ballplayer, quite possibly the team's MVP. Sheffield hit for average, hit for power, was the best baserunner on the team, just an offensive force of nature. If he hadn't taken that right field tumble in July, ruining both his shoulder and season (Quite possibly the Tigers as well), you could easily have envisioned Sheffield having a 30-30 year. He had his eye on a 40-40, which would not have been out of the question.

Of course, you can't forget the freakishly good stat line of Curtis Granderson, who became an impact player in his second full season, and Placido Polanco, who did nothing but hit and field, both flawlessly.

Q: What is his future in Detroit? Will he end up playing seven years here?

Henning: Yes. He would need to run into injuries or some sort of sudden nosedive to not accumulate enough at-bats during the next two seasons to trigger the final two years of his contract. It means the Tigers will end up fulfilling a seven-year, $105 million deal.

And, right now, owner Mike Ilitch -- who was the person most responsible for this deal -- won't begrudge Ordonez one penny of it.

Big Al: Most fans felt Ordonez was worth the big money contract the moment he hit the home run that clinched the 2006 AL pennant. This season confirmed that Ordonez is still the impact clean up hitter the Tigers hoped, when they took a chance that he was fully recovered from his knee injury, 3 years ago.

I don't see Maggs going anywhere, other than out to patrol right field, and remaining a fixture in the middle of the order, for quite some time to come.

As Henning says, Ordonez would have to have a Craig Monroe-like collaspe, a totally unforeseen sudden decline, or some sort of catastrophic injury, for him to miss out on the at bats that kick in the final 2 years of his contract. At that point, he'll be too old, and too expensive, to deal. So keep your fingers crossed that Ordonez remains both healthy, and productive, for the next 4 seasons.

Up to this point in time though, Ordonez has been well worth the money. We may be singing a different tune 3 years from now.

Q: Will he remain a productive hitter throughout?

Henning: That's pretty much up to Ordonez. He will need to be disciplined and rigorous if he wants to hit at a lofty level as he ages. He will be 34 in January and it will not get any easier, as Ordonez concedes. He said a few days ago that he was aware of how he must work increasingly harder each year to keep his body toned and flexible.

Injuries will always be a concern. But notice how well he came back from his old knee and hernia-related impairments to play so terrifically in 2007.

He was better in the field, as well, all because a remarkable athlete was finally physically intact.

Big Al: Ordonez is coming off the best season of his career at age 33. If he stays healthy, there's no reason to expect Maggs to decline precipitously for a few years. Obviously, odds are he won't ever replicate his outstanding 2007, as that would be too much to expect of anyone.

But without question, the man can hit. Will Ordonez do so in years 6 and 7 of the deal? Who knows? I like the odds that he will. He may be a Gary Sheffield type, and remain a big time producer into his late 30's. It appears, as Henning stated, that Ordonez realizes that for him to remain at his current elite level of production, he'll have to work harder in the off seasons.

Considering the horrific knee injury, and sports hernia he's come back from, Ordonez knows exactly what he needs to do.

Q: Is his sore heel a concern?

Henning: Trainers seem to believe it won't be anything that affects him in 2008.

Big Al: If the Tigers are fine with it, so am I. It sure didn't affect his batting stroke...

Q: Will he continue to play right field?

Henning: Yes -- not only in 2008, but in 2009, as well. The Tigers won't be able to move him to designated hitter until 2010, after Gary Sheffield is gone. It will be the sixth year of his seven-year deal and pretty much guarantees he will be Detroit's DH through 2011.

Big Al: It's not as if there is a choice in the matter. The Tigers have none, and playing Ordonez in right is their only option with Sheffield locked into the DH role. As an aside, if I'm Jim Leyland, I hide all of Sheffield's gloves, save for his batting gloves. He's too valuable at the plate to risk him getting hurt in the vast spaces of Comerica's outfield.

If Sheffield plays out his contract, Ordonez wouldn't be able to slide into the DH role for 2 more seasons. He's not a gold glove outfielder by any means, but Ordonez was just fine this season, so I'm comfortable with his remaining in right field. It helps immensely that there is a gold glove caliber center fielder in Granderson who can cover much of the ground that Ordonez is unable to reach.

Q . What are Tigers fans to make of Todd Jones' words Monday that he would be interested in coming back in 2008?

Henning: Jones had been playing it coy on his future -- until Monday. Jim Leyland's remarks Sunday that he would "love to have Todd Jones back" seemed to free up Jones to talk with the same passion about the Tigers.

It would seem, from a business standpoint, that Jones could reasonably pursue a two-year contract with a team that would look at him as a young 39, which is very much the case. But Jones says other things matter more: relationships, comfort zones, his role, his teammates, etc. It's a refreshing viewpoint, although in this business-oriented society, the bottom line normally wins out. The chances that Jones and Kenny Rogers will be back next year just moved in Detroit's favor.

Big Al: Leyalnd wants him back, Jones wants to come back, and it sounds as if he'll give the Tigers a hometown discount to do so. You do the math, and it means Tigers fans will have to accept that Jones will remain the smoke and mirrors closer to start the 2008 season.

When the man says that he wants to stay a Detroit Tiger, will accept a 1 year deal rather than 2 years, and is willing to give up being the closer, I think it's safe to say The Rollercoaster will be back for 1 more season. Considering Joel Zumaya's injury basically set him back a year, it makes sense.

As much as we all love to rail on about Jones' ability as a closer, he's effective enough to get 38 saves. Just don't ask me how he does it...

You also have to remember that if the Tigers do let Jones walk, they'll have to find an effective set up man to replace the closer-in-waiting, Zumaya. Good luck in finding someone, as that won't be easy, or even doable. (We all saw how well Joe Table worked out) So I can understand Detroit keeping Jones around as pitching insurance, as a mentor, and as a fairly effective closer.

Q: Will Rogers change his mind if a nice, two-year deal comes his way? Will a pitcher who already said it's either "here (Detroit) or nowhere" think differently if a heftier contract is offered?

Henning: A personal opinion is no, because the Tigers will make him a generous offer. His agent, Scott Boras, no doubt was on the phone 30 seconds after he heard of Rogers' remarks and tongue-lashed (as gently as Boras reprimands anyone) his client for potentially costing them a few million dollars.

But the parties will ultimately conclude -- in this view -- that the Tigers and Rogers will do fine by each other in 2008.

Big Al: Just as Jones did, The Gambler has stated that he wants to remain a Tiger. He's gone as far as the "Here or nowhere" quote Henning mentions. That sounds like a man who likes his current situation, and sees no real reason to look elsewhere. After years of being a mercenary, and never being fully appreciated, Rogers has finally found his "Grass is greener" situation.

I know I've said this before, but it bears repeating. Kenny Rogers has never been happier as a professional. The Tigers organization loves him, Leyland loves him, the fans love him, and most importantly, the young pitching staff looks up to him. He's repaid it in kind, as when healthy, Rogers has pitched like an ace.

I'm sure, as long as Rogers wants to continue pitching, the Tigers will compensate him fairly, as the organization is no longer known as being cheapskate skinflints. Rogers will get a more than fair contract. Maybe not quite as much as a team desperate for starting pitching would be willing to (Over) pay, but I can see a 1 year deal in the 8-10 million range. Even at those rates, that's a steal for a number 1 starter.

Q: What will be manager Jim Leyland's disposition toward his starting rotation when the Tigers come to Florida? How does he view Andrew Miller and Jair Jurrjens?

Henning: Extreme wariness and caution, as he made clear Sunday. Leyland loves both pitchers and their obvious skills. But he knows that rushing a pitcher to the big leagues accomplishes nothing, for either the team or the player, if the player clearly needs more seasoning. Everyone will get a better sense for that in Florida during February and March.

The bet here is unchanged: Miller will go north with the team. Jurrjens will temporarily head to the minors. At some point next season, Jurrjens and Miller will be in the rotation, contributing in a relative fashion what Justin Verlander and Joel Zumaya brought the Tigers in 2006.

Big Al: Hopefully, 2007 was the worst case scenario in regard to starting pitching. After getting through this past season with spit and bailing wire holding the rotation together, Leyland will know that no one is a sure thing in 2008. The more big league ready pitchers he has available, even if they start the season in Erie or Toledo, the better. Odds are you'll need those arms sometime during the season.

The fact that Jurrjens is helping the Tigers win games right now, while Miller is cooling his heels in Florida, say volumes. Miller may have more upside, but Jurrjens sure looks like the more polished, and more big league ready, pitcher. So I'm not convinced that Miller will be in the rotation to start the '08 season.

Miller was rushed to the big leagues, partly due to talent, and mostly due to the big league contract he signed coming out of college. Would it really hurt him all that much , if at all, to spend a few months in the minor leagues? It may be the best thing for him, in the long term.

When it comes to the 5th starter in 2008, I honestly think that whomever pitches best in spring training between Miller and Jurrjens will decide which pitcher goes north. Either way, no matter who ends up in the rotation, we've learned that you can never have enough pitching. So I'd expect both will end up as important contributors next season.