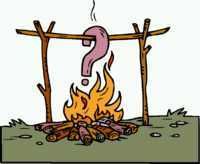 Burning questions Monday continues! It's now time for a set of Burning questions from Lynn Henning of the Detroit News, regarding your favorite 2nd place baseball team, the Detroit Tigers.

Today's topics include what positional needs the Tigers may target in free agency, A-Rod, The Gambler, The Rollercoaster, and will one, both, or neither be a Tiger in 2008? Let's burn away, shall we?

Burning questions as the Tigers get ready for one last home series:

Q: What acquisition are the Tigers most likely to make during the off-season?

Henning: A left-hand hitter who can play left field or first base, or both. The Tigers can get away with a committee approach to left field if they so choose in 2008, but it's natural to assume they want a more regular presence out there.

Timo Perez isn't the power hitter the Tigers ideally want. They need someone who can reach the seats. Had a first baseman at Tampa Bay named Carlos Pena done with the Tigers what he decided to do this year for the Devil Rays, the left-hand power bat would have been in place. And the 2002 trade that sent Jeff Weaver to the Yankees would have been made to look all the better for Detroit, which got Jeremy Bonderman, principally, in return.

Big Al: First off, please, please, please stop the Timo madness. I can understand why Jim Leyland played him down the stretch, as his bat was smoking hot. I do think we can all agree that, as nice of a September he may have had, Timo's not the long term solution in left. Never was, and never will be. Moving on...

Regarding Carlos Pena, all I can say is that 99% of the Detroit Tigers fanbase said "Don't let the door hit you in the ass" when he was traded. It was obvious that he was never going to produce in Detroit. Considering Pena has finally lived up to his potential doesn't change that fact. It never pays to look back, hindsight is 20/20, and all that jazz. Pena had a great season for a bottom feeding team. So be it..

As to the Tigers' biggest need, it's been said over and over again that they need a left handed bat with more than a little pop. Dave Dombrowski has been on the hunt for that bat for a couple of seasons now, with no success. Matt Stairs was here for for all of two weeks at the end of 2006. My 9 year old nephew hits for more power than Sean Casey. Timo Perez is a Casey who plays outfield. None of them is the solution. So the Tigers will try again after this season.

If the opportunity arises to get that bat in this coming off season, if he plays 1st or left makes no difference. Honestly, if they could find a left handed platoon bat for left field, and a full time left hand hitting 1st baseman with power, I'd say the Tigers would have hit Triple 7's, a flush on the river, and got themselves a BINGO! I'd call that a successful off season.

Q: Thoughts on whom the Tigers might consider?

Henning: One guy who might fit the bill is Geoff Jenkins of Milwaukee. He has a $9 million option for 2008 that the Brewers are not about to pick up, which will make him a free agent at the end of this season.

Jenkins is 33 and has hit 21 home runs in 125 games this season. He can play first base or outfield. He would be the short-term guy with pop in his bat and the versatility Detroit is seeking.

If you're looking for a leader in the clubhouse among players most likely to be approached by Detroit this off-season, Jenkins isn't a bad bet to be pursued.

Big Al: To begin, let's look at free agent left fielders.

Moises Alou (42) - $7.5MM club option for '08
Barry Bonds (43)
Milton Bradley (30)
Adam Dunn (28) - $13MM club option for '08; becomes free agent after season if traded
Cliff Floyd (35) - mutual option for '08
Luis Gonzalez (40)
Geoff Jenkins (33) - $9MM club option for '08
Reggie Sanders (40)
Shannon Stewart (34)
Brad Wilkerson (31)

Disregarding what side of the plate they hit, from looking at that list, you can drop Alou, Bonds, Bradley, Floyd, Gonzalez, Sanders, and Stewart off it immediately.

Alou is old as dirt, and is probably going to retire.
The Tigers already have a DH in Gary Sheffield, so that counts out Bonds. (I'm not even going to delve into Bonds' baggage)
Bradley is a loon, so no. (Even though I have to say if an umpire called me "A fucking piece of shit," I'd lose it too...)
Floyd is too brittle, he's only played more than 120 games 4 times in his career. Though the thought of Floyd as the lefty part an outfield platoon is intriguing. I'm guessing he still fancies himself a full time player, and would be too expensive for the production you're likely to get.
Sanders is 40, 'nuff said.
Stewart is basically a higher paid Craig Monroe.

That leaves Dunn, Jenkins, and Wilkerson.

Dunn would be a PERFECT fit on the Tigers. As he's patient left hand hitter, has a ton of power, a high OBP, can play both 1B/LF, and still in his prime, I can live with his high strikeout rate. But the odds of the Reds letting Dunn walk is slim to none. If the Reds lost Dunn, what's left of their fanbase would walk with him. As much as I'd love to see Dunn don ye Olde English D as a 1st baseman, it's not going to happen.

Wilkerson can also play 1B/LF, but he's just a left hand hitting Craig Monroe who's stats have been on the decline for a couple of seasons.

That leaves Jenkins. On the plus side he plays both LF/RF, has 25 home run power, and until this season, a solid OBP. On the down side, his stats have declined for 3 consecutive seasons. but if you check his splits, Jenkins appears to be a nice fit as the left handed part of a platoon. So I can see where Henning is coming from in regard to the Tigers being interested in Jenkins.

OK, let's do 1st base.

Sean Casey (34)
Tony Clark (36)
Adam Dunn (28) - $13MM club option for '08
Darin Erstad (34) - $3.5MM club option for '08
Scott Hatteberg (38) - $1.85MM club option for '08
Ryan Klesko (37)
Mike Lamb (33)
Doug Mientkiewicz (34)

Off the list right off the bat is Casey, Clark, Dunn, Erstad, and Mienkiewicz.

Do I even have to go over soon to be former Tiger Casey, and former Tiger Clark? No? Good. Dunn I've already covered.

Erstad has been on the decline for years, and is so far beyond being washed up, it's not funny.
Mienkiewicz couldn't hit his way out of a wet paper bag.
Klesco is interesting as part of a 1st base platoon, but no longer hits with any power. Might as well keep Sean Casey, as they are the same player at this point of their careers, and Casey would probably take a pay cut to stay in the D.

That leaves Lamb. He plays both 1B/3B, which gives you infield flexibility. Lamb has good power, a decent OBP, and is a good fit as the lefty in a corner infield platoon. But questions abound... Would a team give Lamb the opportunity to play full time? Do teams see him as a platoon player, or a full time starter? Will Houston just ante up and pay Lamb?

Keeping trades out of the equation, Jenkins and Lamb appear to be the sort of players the Tigers would target. They are pieces that would enhance the core.

Q: Will the Tigers be interested in Alex Rodriguez if he becomes a free agent?

Henning: They'll be interested in the way most people are interested in becoming millionaires. The problem with A-Rod, should he opt out of his Yankees contract, is that he will be chased by teams such as the Red Sox and the Cubs, and will be offered pretty much a blank check to hit his next 200 home runs in those wonderful ballparks with teams that figure to be contenders.

The Tigers would need to offer A-Rod something in the neighborhood of $25-30 million a year, and that probably isn't realistic for any middle-market team, even one that has had a big year at the box office. A-Rod would become nearly one-quarter of a payroll in the $125 million range, which is way beyond the ceiling the Tigers can realistically consider.

Big Al: As good of a fit A-Rod would be, despite the good relationship the Tigers have with Scott Boras, I just don't see it happening. Especially when I heard the $30 million a season number being thrown around this past weekend.

A long term contract at $30 million per year? That's...That's...Just...Oh my fucking God, that's insane! Even for the best player in baseball!

Sure, the Tigers are willing to spend, which is why I wouldn't rule out a trade, taking a contract (Say Miguel Tejada?) off of someone's hands, but A-Rod money is too rich for their blood. For that sort of jack, Rodriguez will end up playing in 1 of 4 cities. Boston, Chicago, Los Angeles, or New York.

I hate to admit it, but those are the facts of major league life. Only the biggest of the big markets would be able to, or even think about, signing Alex Rodriguez.

Q: Won't Tigers owner Mike Ilitch be tempted to at least talk with A-Rod and his agent, Scott Boras?

Henning: One would think so. The Tigers were thought to be laughably approaching a couple of Boras clients in 2004 and '05 named Pudge Rodriguez and Magglio Ordonez. The Tigers signed both of them. Ilitch has a tendency to think big, very big, when he sees an opportunity, as he showed during the Red Wings' pre-salary cap days. The difference is A-Rod represents another realm.

It's easy for us to spend the owner's money. At some point, however, you have to practice fiscal sanity, and $30 million for A-Rod when your payroll is already approaching $100 million is asking a lot from even the most generous of owners when his team plays in Detroit.

.Big Al: Of course they'll talk. You'd be negligent otherwise, and you never know what might transpire. Hell, maybe Ilitch will surprise us all, and jump into the bidding. Don't forget, Ilitch was willing to give Juan Gone $140+ million. So he won't gag at big numbers. But it's the longest of long shots.

Just think about it. We're talking $30 million a year for, let's say, 7 years? That'd make anyone think twice, and still gag at the thought.

There's also the fact that the Tigers will have to factor into their budget the signing of young players like Curtis Granderson and Justin Verlander to long term deals sooner, than later. You know they won't come cheap.

I actually like the way the Tigers are currently spending money, not just on the occasional free agent, but in giving big bonuses to top shelf amateur talent. It's a much more cost effective way of doing business.

Q: Quick forecast: What are the chances the Tigers will retain one, both or none of the two impending free-agent pitchers they have in Kenny Rogers and Todd Jones?

Henning: They will re-sign one: Kenny Rogers. That's the guess here, although the Tigers will want to re-sign both. Again, the likelihood is that Jones will draw a two-year contract offer from some club that must boost its bullpen next year and will take the gamble on a second year.

The Tigers, however, will probably draw the line at one season, no matter how badly they would love to re-sign Jones, and make no mistake, they want to sign him.

Big Al: You all know my thoughts on the Gambler. I think the Tigers feel the same way, and will re-up him to a 1 year deal at a price near what he's making now, $8 million per. I could even live with a 2 year deal, as Rogers has been that important to the Tigers. You can never have enough starting pitching, as we learned this season. So you don't let Rogers go.

What to do with the Rollercoaster is a much thornier question. I really could see keeping him as the closer for another season, but just 1 more season. I'm sure that Jones wants to stay, but if it takes a 2 year contract to keep a puff ball throwing, soon to be 40 years old, smolk and mirrors closer? I'm not too enthused about that idea.

If another team offers Jones a multi-year deal, you tell him, "Thanks for the memories."

Q: What will happen if the Tigers don't sign Jones?

Henning: Joel Zumaya will be your new closer. The Tigers have to be reassured by how Zumaya has thrown the ball since he returned a month ago from his 3 ½-month layoff. He essentially closed Sunday's game and was sparkling, with his old 100-mph fastball in harness.

I would guess the Tigers are growing increasingly more comfortable with thoughts that Zumaya, who is destined to be their closer at some point down the line, can handle the role if necessary in 2008. But they would dearly love to have Jones as insurance, which is why you can't rule out anything when the Tigers and Jones' representatives talk this autumn.

Big Al: I'm not convinced that Zumaya, or for that matter, Rodney, are ready for/could handle the closers job. Plus I'd hate to lose the late inning 1-2 punch that a healthy Zumaya and Rodney would give you. When Zumdney were on and healthy in 2006, games were 6 innings long. Let alone it's hard enough to find bullpen help, as we found out this season. Especially someone who could handle the high leverage situations Zumaya often faced.

But if Jones leaves, Zumaya is the best bet. It's a no-brainer. But you'd have to find a replacement for his set-up role. Good luck with that, to say the very least.