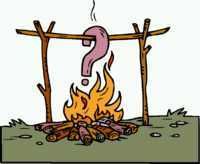 Well, Detroit News columnist, and supposed Detroit Tigers expert," Lynn Henning surprised us with a special Monday edition of his "Burning questions" column.

Since my beer drinking got in the way of answering last Thursday's questions, I felt compelled to answer the latest odd, strange, and semi-interesting set of questions burning a hole in Henning's skull. At least he's moved on from kvetching about the bullpen, so we finally go in a new direction in our dissection.

On with the flaming answers...

Q : Are the Tigers looking at long-term pitching issues with Jeremy Bonderman's troubles continuing and Justin Verlander going into a late-summer slump?

Henning: It's easy to forget that baseball is the least tolerable of all professional sports when it comes to rewarding young players. This is true for hitters and for pitchers, but anymore it is clear that starting pitchers require extra time, and generally a lot of it, before they truly pitch more than they throw.

Bonderman is 24 years old. He has thrown rather than pitched for much of his five seasons in a Tigers uniform. He has gotten by for most of the time with a sharp-moving fastball and deadly slider. He has never had a third pitch that caused hitters any deep concern.

It's late in the summer, and the fastball isn't moving the way it must move on the outside of the plate (against right-handers) to set up his slider. Without a legitimate change-up, the stresses placed on his two pet pitches are immense. It's no wonder he got hit hard Saturday night and never struck out a single batter.

Big Al: When fans bring up the long-term issues argument, I have to ask, "Jump to conclusions much?" Long-term issues? Jesus Christ, the Tigers have the youngest starting rotation this side of Williamsport! Good Lord, most of the starting rotation still gets carded in bars!

To expect excellence every time out from such a young staff is unreasonable. It's frustrating, to be sure, but I agree with Henning that they require time to grow, and that's hard to find in the middle of a pennant race.

To write off the rotation in the long-term is silly and short sighted. Will they become the dominant rotation of the decade? Too soon to say, but I like the odds.

The learning by doing, and considering the potential of the starting staff (Picture a rotation of Verlander, Bonderman, Miller, Porcello), I think the Tigers will be in the thick of things most every season. That's not to say they will make the playoffs every year, but they will be a threat to make them for the foreseeable future. After 2 decades of, to put it bluntly, shit baseball, I'd be fine with that happening.

I'm willing to live with the mistakes, losses, bad mechanics, and painful lessons learned, if it pays off with a great rotation 4 years from now. As I said, I like the odds.

Q: What can a pitcher five seasons into his big league career change?

Henning: The Tigers vowed at the end of last season, as they have pretty much vowed each and every year, that Bonderman would not leave spring training until he had mastered a serviceable change-up. He worked on it throughout March, but a pitcher in a regular season game is going to throw the pitch he trusts. And Bonderman is nowhere near throwing a proper change-up, much less trusting it.

It seems reasonable to assume he and the Tigers will consider a different pitch. A split-finger fastball makes sense. But you don't begin twirling split-fingers overnight, either.

Big Al: If Bonderman hasn't been able to come up with an effective change up by this time of his career, he never will. So be it a split finger, knuckler, eephus, LaLob, Folly Floater, spitter, knuckle curve, slurve, screwball, gyro-ball, or Bugs Bunny's powerful, paralyzing, perfect, pachydermous percussion pitch, Bonderman has to develop a relatively consistent 3rd pitch in this coming off-season, or we're having this same discussion in August 2008, 2009, 2010, and so on.

Personally, my money's on the powerful, paralyzing, perfect, pachydermous percussion pitch... Unless you have a giant redwood for a bat, it's unhittable.

Q: Then Bonderman is essentially destined for annual trouble because he leans on two bread-and-butter pitches?

Henning: Youth will give way to maturity. Bonderman will get so fed up he will develop an off-speed pitch. Necessity will be the mother of invention. He has the skill to come up with a third option.

Big Al: Hopefully experience will win out, and Bonderman works through his odd issues. But will he ever figure it out? Hell if I know. Jeremy Bonderman is an enigma, wrapped in a riddle, shrouded in mystery.

Q: What about Verlander? His velocity was down significantly his last start.

Henning: He had arm fatigue at this time a year ago and appears to be enduring a milder version now. Again, remember that a 24-year-old pitcher has a lot to learn about pitching, pacing, conditioning, etc. Fans don't enjoy cutting talented young guys slack when they've been around for a few seasons, but people are going to have to deal with the fact the Tigers are relying on kid pitchers.

It doesn't matter if it is Bonderman, Verlander or Andrew Miller. They won't become pitchers, per se, until they get more deeply into their 20s.

Big Al: Since Henning asked these questions before last night's dominant performance, Verlander's contention that he had discovered a mechanical flaw looks to have proved correct. For that matter, who's to say that the flu virus that struck him hadn't sapped Verlander of quite a bit of strength for a couple of weeks.

In beating the Yankees, with all cylinders firing, we saw Verlander's best performance since the June no-hitter. It was a sight for sore eyes.

Obviously, 1 start is just 1 start, and it won't mean a hill of beans if he gets shelled in his next appearance. I'll need to see Verlander put together a nice string of games to prove that he's broken through the proverbial "Wall." But it was damned encouraging, all the same.

I agree with Henning in that the young pitchers are still, at times, throwing, and will become much more skilled pitchers as they gain experience. You don't become a "Crafty" pitcher, like Kenny Rogers, overnight.

Q . When youth is taking its toll throughout the rotation, why should anyone think Kenny Rogers would offset any problems when he can only pitch every five games, even if he were healthy?

Henning: Rogers gave everyone a breather. The kids in the rotation could relax. The bullpen could count on Rogers getting into the seventh inning or so, which allowed everyone a chance to catch their breath. With Rogers gone, the kids press, the bullpen gets overworked, and just about everything relating to Detroit's pitching staff weakens.

Big Al: What Henning said. The Gambler going down was a huge reason for the Tigers' pitching "Troubles." His injury began a domino effect on the Tigers' staff, causing both the rotation and bullpen to work harder, and become more stressed, than anyone would have been anticipated.

The Gambler gave the Tigers a chance to win most every start, and was guaranteed to go deep into the game. It cannot be said enough, Rogers has been missed. SORELY missed.

Q: Will Rogers make it back in September?

Henning: At best, he might feel good enough to put together a quick rehab and make a couple of starts during the regular season's final two weeks. But that seems optimistic.

Big Al: Please God, for all that is holy, I hope so. //crosses fingers, knocks on wood, rubs rabbit's foot, shakes fist at the baseball injury Gods//

Q: Will the Tigers re-sign him for 2008?

Henning: The bet here is yes. It will be a one-year contract, contingent on him getting completely healthy. If he feels good and can throw with his usual zest, the Tigers will certainly want him back in 2008. Their rotation will need a veteran arm, and a healthy Rogers makes as much sense now as he did when they signed him two years ago.

Big Al: If Rogers proves healthy in this coming off season, it would be asinine not to sign him. The Gambler has stated unequivocally that he likes it in Detroit, wants to stay in Detroit, and end his career in Detroit. That's fine by me.

Considering the dearth of quality starting pitching available via trade or free agency, to have an established ace want to stay on, even if he may be close to collecting Social Security, and coming off an injury filled season (The blood clot in the shoulder was a fluke, it remains to be seen about the elbow issues), you give Rogers the benefit of the doubt, and re-up with him. You don't go whole hog on a multi-year deal, but a fair 1 year contract would work for both sides.

Screw the Kenny Rogers haters, and I know that there are plenty out there in internet-land. Rogers has been a model citizen, and is a huge asset to the Tigers. In my mind, The Gambler is welcome to stay in Detroit as long as he wants.