(My apologies to the women that read TWFE, and I know there are a few, but the following post is going to outright pander to TWFE's vast male readership. We are all pigs, as if you didn't already know...)

Earlier this week, in a interview with the Swedish media, Henrik Zetterberg claimed that he wants to spend his entire career as a Red Wing. As good to hear as that is, it does brings up one important question.

Will Emma Andersson be with him as well?


Turns out that the Zetterberg & Andersson pairing is the Swedish equivalent of TomKat or David Beckham and whatever Spice Girl he hooked up with. (I believe it was "
Skinny Spice
.")
If you think the above picture is nothing special, that Andersson's just "Cute," or "Perky," let's see what else I found while poking around the series of tubes called the internets. Turns out she's quite the dish.
As Ralph Kramden used to say, "Homina-homina-homina..."
If you'd like to see more, lots more, wink-wink-nudge-nudge-know-what-I-mean, check out this
NSFW link.
As I like to think that TWFE is an equal opportunity blog, I did
a 3 page Google image search
my best to find a beefcake shot of Zetterberg for my female readership (All 5 of you), this was the best I could do.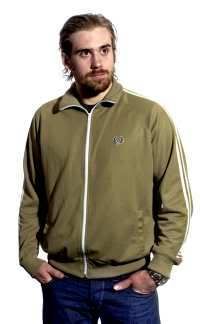 I hope you like the scruffy, Colin Farrell lite, wearing a thrift store track jacket while trying to appear pensive, look.
Obviously, I'm thrilled to hear that Henrik wants to remain a Red Wing, as he is a Hell of a hockey player, but the side benefits aren't bad, either. Glad to see a Red Wing step into Sergei Federov's skates on, and especially off, the ice.