Chauncey Billups was a rich man. Now he's a VERY rich man with the announcement that he and the Detroit Pistons had agreed in principle on a new 5 year deal worth up to $60 million dollars, with $46 million guaranteed.

So what do you know, Chris McCoskey was proven right after all...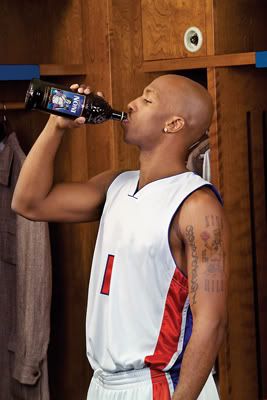 Still unable to afford Cristal after settling for $46 million guaranteed, Chauncey Billups again shoots a 40 in celebration of not having to listen to his delusional agent ever again
The Pistons didn't have to give Chauncey Biillups $12 million a season, but it's sill a below market value deal (When compared to Rashard Lewis'
insane
new contract, as Chauncey is a better player who plays far more important position) for a point guard thought to be in the top 5 at his position.
I've read the opinion of some fans who argued that the Pistons overpaid for Billups, as there were no other real bidders for his services, other than the imaginary ones that Billips' agent conjured up after McCoskey broke the story a week ago. But think about it, do you really want to lowball arguably your best player?
Force Chauncey into a miserly deal (By NBA standards), and you'll just end up with a pissed off point guard badmouthing his agent, his owner, his team, his situation
and
his long-term contract. The only person happy would be Bill Davidson's accountant, and fans couldn't give a shit about him.
There is also the fact that if you become a team known for offering cut rate contacts, you'll never get future free agents to consider, let alone actually sign with, your team. Joe Dumars is having enough trouble as it is finding a backup SF, why handicap yourself by being thought of as a cheap ass organization?
You could also say the Pistons are rewarding Billups for far out performing his previous contract. They had Billups locked into a deal of a deal, so to speak. The Pistons had an elite level player, yet only had to pay him run of the mill player money for the past 5 seasons. There was no question that some of Billups' new contract would, in part, be considered payment for past performance. It's the price of doing NBA business.
In my mind, the final year being a team option puts the deal nicely in the Pistons' favor. Realistically, if Bullups declines faster than anyone anticipates, it'll be that much easier to either trade his soon-to-expire contract after 3 seasons, or let him dribble off into the sunset after 4. Personally, I doubt that either scenario will be the case, as all signs point to Billups remaining a excellent to good player for the length of the contract. At least the Pistons do have an out if Chauncey suddenly turns into an older version of Mateen Cleaves over the next few seasons.
This news does not, by any means, guarantee that the Pistons are a lock for another conference finals appearance. But it does mean that they will remain in the thick of things in the east for the next couple of seasons, at the very least. I've said it numerous times, if Chauncey Billups left Detroit, Joe Dumars would be trying to rebuild, rather than reload.
Joe Dumars was able to keep Billups in Detroit with a big, but also a smart, contract. Both sides came out of negotiations winners.