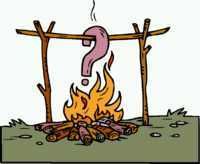 It's the time on TWFE when we answer Detroit News columnist Lynn Henning's "Burning questions." Let's see how much we agree to disagree...

Q: Why would the Tigers have called up Virgil Vasquez to pitch Tuesday's second game of a doubleheader against the White Sox? Vasquez got rocked in an earlier outing in Minnesota, and they could have plugged in a reliever such as Chad Durbin or Zach Miner to have pitched the nightcap?

Henning: First: Vasquez had pitched deftly at Triple-A Toledo before the Tigers gave him a spot-start against the Twins in May. His problem at the Metrodome (six runs, nine hits in 2 2/3 innings) was that he pitched as if the strike zone was at a hitter's belt buckle. That foible neither existed before the Minnesota start, nor has it been a hang-up since Vasquez returned to the minors.

Coaches, managers, and minor league scouts know if a guy has the stuff to get big leaguers out. Vasquez has been viewed as the pitcher who is most ready for the big leagues, and he was much better this time out. He allowed two runs in five innings and left with the Tigers leading, 7-2.

Big Al: Vasquez was just fine, giving up 2 runs, in 5 innings, against the ChiSox. He deserved better than a no-decision. Last night proved that Vasquez will likely end up in the big leagues, even if it's not with Detroit. You don't write a kid off after 1 bad performance, even if that performance, against the Twins, in Minneapolis, at the Baggiedome, on national TV, (When combined, it's not exactly the easiest of circumstances to step into) was about as bad as it gets.

If anything, showcasing Vasquez may have been to help generate interest with the teams Dave Dombrowski been talking with in regard to his never ending quest to bolster the bullpen. Vasquez, though talented enough to pitch in the bigs, probably doesn't have a future in Detroit. His value is as trade bait.

Q: So why not use an established arm such as Durbin or Miner against the White Sox rather than risk another Vasquez meltdown?

Henning: Because manager Jim Leyland understood he would need to keep his bullpen fresh. Durbin and Miner have become so important to the re-stabilizing of Detroit's bullpen that to have removed them would have been inviting a recurrence of old problems.

Leyland also understands once a reliever has made the adjustment to shorter pitching stints, it's difficult to re-acclimate him to additional innings. The combination can lead to double trouble in stressing a bullpen.

Big Al: Hey, we agree! The Tigers are in midst of playing 5 games in 4 days in Chicago. The odds were good that Jim Leyland was going to need 3-4 innings from his bullpen with Vasquez on the mound. So keeping the bullpen as fresh as possible was a priority. The pen has been stressed enough as it is, so it would have been a huge risk, and not all that smart, to use one of your most important middle to late inning relievers (Durbin and Miner) in a spot start.

Leyland is known as one of the best handlers of pitchers in MLB, I trust him to use the relievers correctly. In his judgment, starting Vasquez was a better option than juggling the bullpen. He was proved right, even though the pen ended up blowing the game.

It's not the Marlboro Man's fault that Macay McBride and Durbin couldn't find the strike zone if you gave them Google maps, a compass and a Sherpa guide.

Q: Are the Tigers any more inclined today to make a trade ahead of next Tuesday's deadline?

Henning: Probably not.

It's not as though they wouldn't seek one more arm for their bullpen, or another hitter or catcher, but the asking price is going to be so steep that it doesn't make a lot of sense to spend heavily on additional players that might or might not help a well-constructed team make the playoffs.

The Tigers have to be careful. They've added significant pitching help to their bullpen and stand to add more in the coming weeks as Fernando Rodney and Joel Zumaya heal. Trading young talent they will need to compete in coming seasons is a price that should not be paid unless there is a serious need and reasonable guarantee that you'll get better.

Big Al: I hope Henning's wrong. Lord, I hope he's wrong...

First off, let's call Zumaya / Rodney "Zumdney" from here on out, as they are so intertwined together with the Tigers' playoff chances. That said, there's too much at stake to put all the Tigers' 7th and 8th inning eggs in the Zumdney basket. It's all about Dombrowski finding a set-up man in the next 6 days.

Call me a cynic, but I need to Zumdney pitch, and pitch well, for a couple of weeks, before determining that they are fit to work important innings in the stretch run and (Hopefully) playoffs. The problem with that is the deadline is next week, and we'll have no idea how healthy, or effective, Zumdney are till mid-late August.

Why a set-up man, and not a closer? Because it'll be easier to find, and less costly. It's also due to the fact that Todd Jones' value is as a closer. I'd have absolutely no trust in him working the higher leverage 6th through 8th innings. His "Pitching to contact" style of relief is not exactly conducive to putting out rallies. The Tigers need a reliever who can strike batters out, rather than depending almost entirely on his defense.

Dombrowski did pretty well in getting McBride, and Jose Capellan. But they aren't the solution to the bullpen issues. The solution is still out there...

Q: Are the Tigers nervous about Andrew Miller or Nate Robertson following a couple of shaky starts?

Henning: In Miller's case, absolutely not. He looked like a college pitcher Monday, but fans can't appreciate how sharp, and mature, this 22-year-old left-hander is. He handled the meltdown with as much aplomb as you could expect from a young man just 13 months out of his University of North Carolina uniform.

He knew he had been over-throwing his fastball and avoiding his breaking stuff. Lesson learned. It's the kind of lesson the Tigers understood Miller would be absorbing at this extraordinarily early stage of development.

Big Al: As Leyland like to say, "Give me talent." Andrew Miller is extremely talented, and he belongs in the rotation. No if's, and's, or but's.

Did he look out of sorts against the Sox? Sure did, those wild pitches in the 5th were closer to finding the upper deck than the plate were unquestionably ugly. I my opinion, Leyland left Miller in a batter or 2 too long, he was laboring.

But in the long run, Miller is going to win more games for the Tigers than the man he replaced, Mike Maroth. Who, if you haven't noticed, has been getting pounded pitching against the National League junior varsity.

Q: What about Robertson?

Henning: Fans have a tendency to focus on the perceived weak link in a team, which is natural. But remember: Robertson would be an upper-tier starter on a lot of big league teams. The Tigers need for Robertson's fastball to hang in the low 90s with a sharp slider. On most nights, that's going to keep him -- and the Tigers -- in the game. And on most nights, that should be Robertson's capability.

Big Al: Roberston is going nowhere, other than to the mound every 5 days. Put Robertson in the correct perspective, in that he's a 5th starter. The Tigers could do a lot worse than having a legit MLB pitcher, and Robertson is legitimate, in their rotation. Most teams in MLB don't have a 5th starter that is nearly as solid as Robertson.

Don't forget, Leyland trusted Robertson enough to start the 1st games of both the ALDS and ALCS last season. He's also shown stretches of dominance, just as recently as May. As Henning says, Robertson will keep the Tigers in most games. Can you really ask for more than that from your number 5 pitcher?

Q: It's apparent Rodney has recovered from his tendinitis and is close to rejoining the Tigers. Where, realistically, is Zumaya on the comeback schedule?

Henning: If you want to pencil in one man's guess on when Zumaya will make his first appearance since rupturing a tendon in his right middle finger in May, pencil Aug. 25 against the Yankees at Comerica Park.

It would seem doubtful Zumaya will be back much ahead of that date. And it might be closer to Labor Day before he returns. But based on his progress, and on the rapidity with which he has gotten stronger in only the last couple of weeks, one more month seems reasonable in estimating when Zumaya will next throw his one-of-a-kind fastball in a big league game.

Needless to say, a man named Leyland can't wait.

Big Al: As I'm just a lowly blogger with no access, I'm just going to have to take Henning's word that Zumaya will pitch sometime before the end of the regular season. He's not the only MSM'er to say that the Tigers will have Zumaya on the mound, sooner, than later.

But you also have to take the Tigers' word with a big grain of salt. They have no reason to be entirely honest with the MSM, or the rest of baseball, for that matter.

The Tigers need to pick up a relief pitcher. They don't want to be seen as dealing from a position of weakness, and making a trade out of desperation. You do that, you'll overpay. So Dombrowski will play his cards close to his vest, as always, and make the best deal possible.

We may not hear the exact truth about Zumaya's finger till the season's over. No matter what, Zoom's middle digit will be the most watched injury in Detroit since Rasheed Wallace's plantar fasciitis issues during the 2004 NBA playoffs.

Jim Leyland can't wait for Zumaya's return? Needless to say, the Tigers' fanbase can't wait either.