Why all the flip-flopping over the Tigers' Gary Sheffield?

The hate is in thanks to his childish tantrum that showed up both the home plate ump and Jim Leyland, got him tossed from Thursday's Indians game, and has earned him a 3 game suspension. (Currently on appeal, so he's still in uniform)

The Tigers are already short Brandon Inge and Carlos Guillen for the weekend. Most think that this is, well, sort of an important series. Yet Sheff decides to get his anger on, and will sometime soon leave a short handed Tigers team less one of their most important bats. To call his stunt stupid is being kind to stupid folks all over.

But it also made me smile. After the fact, anyway. Thanks to his statement after the game in response to the umpire's claim that Sheffield threw his broken bat at him...


"Umpires do lie, too, He just told a bald-faced lie. He's a bald-faced liar."
I'm sorry, but that's just hysterical! Could Sheffield be anymore blunt? Hell, no.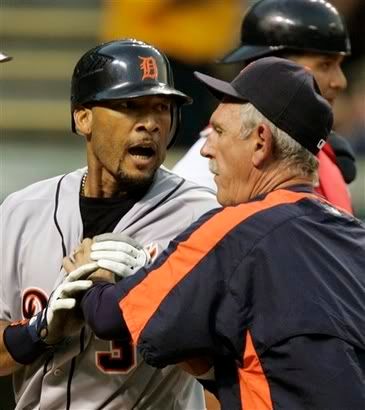 It's going to be one interesting summer with that crazy SOB in town.